Shamrock Cookies
by WebWriter
St. Patrick's Day Shamrock Cookie recipes. We have many traditions in our house. Making shamrock cookies for St. Patrick's Day is one of them.
Shamrock Cookie Recipe
Shamrock cookies. Decorate with icing and crystal sugar or green sprinkles. Serve with a green Shamrock shake. (Shamrock Shake recipe is below) 
Things you will need to make these St. Patrick's Day Shamrock Cookies:
1½ cups butter
1 ½ cups confectioners sugar
6 egg yolks
1 tablespoon vanilla extract
½ teaspoon salt
3 ½ cups all-purpose flour
White icing
Green food coloring
White crystal sugar or green sprinkles, for decoration
Shamrock shaped cookie cutter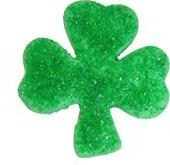 Directions for St. Patrick's Day Shamrock Cookies:
Preheat the oven to 350 degrees.
In a large bowl, beat 1½ cups butter until smooth.
Add 1 ½ cups confectioners sugar to the butter; blend together.
Beat in 6 egg yolks, vanilla extract and the salt.
Stir in the flour and beat until creamy.
Form the dough into a ball; wrap with plastic wrap and chill for 30 minutes.
Roll out the dough to about a 1/2 inch thickness.
Cut out shapes with a shamrock cookie cutter.
Line a cookie sheet with parchment paper and place the shamrocks cookies on them about 2 inces apart.  
Place in the oven and bake for 8-10 minutes or until slightly golden. 
Remove the shamrocks from the oven; cool and then transfer to a wire rack.
 Shamrock Cookie Icing Directions:
Add a few drops of green food coloring to the white icing; mix well.
Ice the cookies with a thin layer of icing. 
Sprinkle the shamrock cookies with white crystal sugar or green sprinkles.
Cookie Baking Tips
Use exact measurements that the recipe calls for.
Use the freshest ingredients for results
If you don't have a non-stick cookie sheet, you can use parchment paper for stick free baking and easy clean up.
Cookies spread while baking so you should always leave a 2-3 inches space between them.
Wire racks work best for cooling cookies
Always cool cooies before decorating them
Let chilled dough adjust to room temperature before rolling out. Cooling first will make it easier to roll out.
Use large eggs unless a recipe calls for smaller ones.
Store cookies in an airtight container.
A Delicious Shamrock Shake - Goes Well With Shamrock Cookies!
Shamrock Shake Ingredients:
3 cups vanilla ice cream

11/2 cups milk

1/2 teaspoon mint extract

2-4 drops of green food coloring for color

Optional: Whipped cream for topping
Shamrock Shake Directions:
Combine vanilla ice cream, milk, mint extract, and a couple drops of food color in a blender; blend until smooth. To make the shake a darker shade of green, add a few more drops of green food coloring until the desired color is reached.

Top with whipped cream.
Makes 2 shamrock shakes.

---
Disclosure: This page generates income for authors based on affiliate relationships with our partners, including Amazon, Google and others.