Snickerdoodles
by WebWriter
Snickerdelicious Snickerdoodles recipe. Snickerdoodles are rich cinnamon sugar cookies that are crisp around the edges and soft in the middle.
About Snickerdoodles
Snickerdoodles are similar to sugar cookies but coated with cinnamon. In comparison, sugar cookies are rolled in white sugar, Snickerdoodles are rolled in a mixture of sugar and cinnamon. Snickerdoodles are crisp on the outer edge with a soft cake-like middle. They are sweet and spicy, which makes them a popular winter and holiday cookie.  
The origin of Snickerdoodles is unknown. They have been around for years though. My grandmother claims to have baked her first batch of Snickdoodles about 50 years ago. 
Snickerdoodles Ingredients
What you need to make Snickerdoodles.
1 cup butter, softened at room temperature
¾ cup granulated sugar
2 large eggs, lightly beaten
1 teaspoon vanilla extract
3 1/2 cups all-purpose flour
1 teaspoon. baking soda
½ teaspoon nutmeg
2 teaspoons Cream of Tarter
salt
3/4 cup sugar for coating
3 tablespoons ground cinnamon for coating
Snickerdoodle Poll
Have you ever tasted a Snickerdoodle?
Snickerdoodle Directions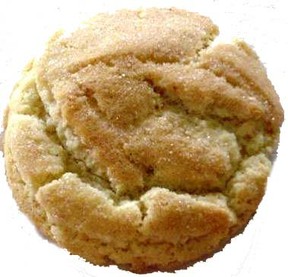 Directions for making Snickerdoodles  
In a large bowl, add the butter and sugar and beat it with a mixture on medium speed until light and fluffy. 
Beat in the eggs and vanilla extract: beat until thoroughly mixed  
Place the flour, baking soda, nutmeg, cream of tarter and salt into a large bowl; mix together.
Stir the flour mixture into the sugar butter mixture; mix well  
Shape the dough into a big ball and then wrap it in plastic and chill in the refrigerator for 45 minutes. 
Preheat the oven to 375 degrees.
Make the sugar coating by mixing 3/4 cup of sugar and 3 tablespoons of ground cinnamon together in a small bowl.
Scoop up tablespoons of the cookie dough and roll into balls.
Roll each ball into the cinnamon sugar mixture and then place on a baking sheet 3 inches apart.  
Bake the snickerdoodles for 10-12 minutes or until golden brown.
Remove the cookies from the oven and let cook for then transfer to a wire rack to cool completely.
 Makes about 40 Snickerdoodles.
Snickerdoodles Tips:
To make a delicious Snickerdoodle sandwich, sandwich white frosting between 2 Snickerdoodle cookies.
To make Pecan Snickdoodles, add ½ cup of finely chopped pecans after step 4 in the directions above.
Store leftover Snikerdoodles in an airtight container for 3-4 days.
Another Tasty Snikerdoodles Treat
Chex Mix Snickerdoodle Snack
A tasty, Gluten-Free, Snickerdoodles snack.
Ingredients:

1/4 cup sugar

1 teaspoon ground cinnamon

2 cups Cinnamon Chex

 cereal

2 cups Chocolate Chex cereal

4 cups popped popcorn

1/4 cup butter or margarine
Directions:
Mix 1 teaspoon of sugar and 1/4 cup of sugar in a small bowl; set aside.

Mix the both of the Chex cereals and popped popcorn in a large bowl.

Microwave 1/4 cup of butter until melted.

Pour the butter over the cereal mix; mix well and until evenly coated.

Microwave, uncovered, for 2 minutes, stirring after 1 minute.

Remove trom the microwave and sprinkle the remaining sugar mix over the cereal mix. Add half the sugar mix at a time, and mix after adding each half.

Place back into the microwave and microwave for 1 minute.

Remove from the microwave and spread out onto waxed paper to cool.
Makes 10-12 servings. Store leftovers in an airtight container.
---
Disclosure: This page generates income for authors based on affiliate relationships with our partners, including Amazon, Google and others.