Summer Activities: Antiques & Collectibles Hunting
Summer is a great time to put on your Indiana Jones hat and go on a hunt for some cool antiques, vintage, and collectibles in your nearby vintage and antique shops and garage sales
For Collectors, Summer is a Great Time to Search for Antique Collectibles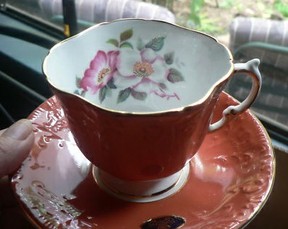 Because the weather is so much better in the summer, it is a good season to go antique and vintage hunting. 
Bargains can be found at garage and estate sales, and if you are an avid shopper, you can often also find some great antiques and collectibles at flea markets, and other summer festivals.
Beyond all that, it is just a lot more fun to shop in the air conditioned antique shops in small towns in vacation spots during the summer in your regional area or anywhere you go on vacation.
Vintage Antique Shopping Guides
You Don't Need to Have a Large Budget to Buy Antiques
Although large pieces of antique furniture can be expensive, small pieces like cutlery, tea cups and saucers, or glassware is often affordable for just about anyone.  When collecting smaller antiques, you can often buy just a single set of glasses, or one tea cup and saucer set at a time, making the hunting and collecting a long term or lifetime passion.
Even more fun is going to the vintage shops with a group of friends, grab some lunch, and stroll around quaint neighborhoods and small towns for some fascinating finds, and just plain fun.
Combining Antique and Vintage Shopping with Exercise
Many antique shops are found in delightful towns that are fun to browse and walk.  You can plan an overnight or weekend trip as an exercise and antique hunting shopping trip with a group of friends or your family.
Spend your mornings walking and hiking in area parks or just in the town itself, spotting all of great places to shop.  After lunch in a local restaurant, you can go and search for your collectibles in the stores you spotted during the morning.
Hunt for Vintage and Antiques Online
Create a Yearly Antique Hunting Trip
Taking this idea a bit further, if you have a group of friends that love to shop for antiques and vintage clothing or home decor, you can arrange a yearly summer trip to a different location each year for a summer get together, antique shopping, and exercise like walking or biking.  If you stay in a smaller town, your expenses will be less, and you can share the car rental expenses so that you can go a bit farther afield for restaurants and evening activities.
Another idea is to start an antique hunting club or group that meets monthly and shares finds or goes to new vintage shops together.  Many people like to shop for vintage items together in order to turn each trip to a day or night out.  You may also find that you can share or trade your finds when something better turns up.  Do your research online or call shops ahead of time to make sure they have the types of antique and vintage collectibles that you are looking for.
---
Disclosure: This page generates income for authors based on affiliate relationships with our partners, including Amazon, Google and others.