Swarovski Crystal Christmas Figurine | Swarovski Crystal Christmas Tree Figurines
Swarovski Crystal Christmas Ornaments and Christmas Figurines make lovely collectible Christmas gifts.
Swarovski Crystal Christmas Collectibles are Timeless
Beautiful additions to any Christmas decor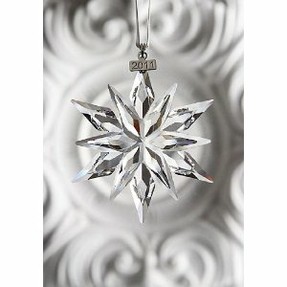 If you are looking for a special gift for a family member, friend, or co-worker, you cannot go wrong with a Swarovski Crystal Christmas collectible ornament or figurine.  Swarovski Crystal is a company that is known as the top of the line when it comes to Austrian crystal work, and their Christmas collection is stunningly beautiful. Swarovski makes crystal that is simply more beautiful than any other crystal.  It is sparklier, shinier, and clearer than anything else you can buy.
Each year Swarovski Crystal comes out with a new limited edition Christmas ornament for the year that resembles a snowflake, and another that is an angel.  The picture to the left is the 2011 version of the snowflake ornament.  Each annual ornament has the year stamped on a tag that is attached to the top of the ornament.  You can see by just looking at the 2011 annual Swarovski ornament why they are so collected by fans.  This year's is one of the best so far.  Besides the annual ornaments, Swarovski also carries several lines of Christmas figurines like the Kris Bear that get added to each year.
In addition, their regular line of crystal ornaments make lovely gifts any time of the year.  This page is an introduction the the Swarovski Crystal Christmas collectibles.  You can click through any of the links for more information.
Swarovski Crystal Christmas Figurine
Swarovski Crystal Magical Christmas Tree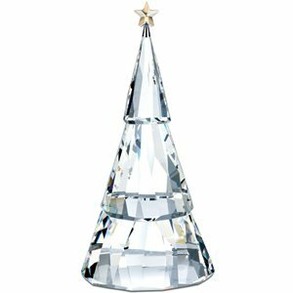 Swarovski Crystal Magical Christmas Tree
Swarovski Crystal Christmas Tree Figurines
Varying sizes and prices
Swarovski Crystal makes a variety of Christmas tree figurines of which some can also be hung as ornaments.  These trees come in a variety of prices and sizes, and many of the designs can be purchased in more than one size.
My personal favorite is the Swarovski Crystal Magical Christmas Tree figurine pictured to the right here.  There is no color on this figurine except the gold star at the top, but to me it shows a snow covered Christmas tree with a glittering star at the top.
Swarovski Christmas Ornaments
Swarovski Crystal makes two series of limited edition Christmas ornaments that are simply gorgeous, and make unique gifts for a special employee or friend.  These are the limited edition yearly ornaments.
I have a favorite here too, the snowflake ornament.  The angel ornaments are also very beautiful, but for some reason I like the snowflake better, maybe because they are trying to catch the beauty of an individual snowflake in the very different medium, crystal. 
The designers at Swarovski Crystal come out with a new design each year, and each design is so completely different than the previous ones, it is easy to see why collectors love them.  In addition, having an entire tree decorated in Swarovski Crystal would be quite. . .well, I am not sure what the word would be.
Swarovski Christmas Ornaments
Swarovski Crystal Bear Ornament
The Kris Bear Christmas Series
Another cuter, and more fun Christmas collectible from Swarovski Crystal is the Kris Bear series.  These come out new each year as well, although they are not limited edition.
These figurines show Kris Bear doing typical Christmas and winter activities.
Some of the Kris Bear series have gold accents, and often Kris Bear is wearing a winter hat and scarf.  These are wonderful gifts for both children and adults, and can start a collection of Swarovski Crystal that a child can build on in later years.
Kris Bear comes in different sizes which can help if you do not want to spend too much on a child's gift.
Swarovski Crystal Star Blossoms
Another Christmas figurine that I like is the Swarovski Crystal Star Blossoms figurine.  It has the clear, red, and gold colors that I associate with Swarovski Christmas figurines, and looks like poinsettia flowers to me.
These come in several sizes which gives a good range of prices depending on who you are getting the gift for.
Swarovski Crystal Star Blossoms
Swarovski Magical Christmas Tree
More Swarovski Crystal Gifts
---
Disclosure: This page generates income for authors based on affiliate relationships with our partners, including Amazon, Google and others.