Tangled Birthday Party Ideas
by emeraldmile
Tips and supplies to help you create a memorable Tangled inspired Birthday Party.
Planning a Tangled Party 101
Ideas for a Rapunzel party
One of the popular themes for Birthday Parties is inspired from the animated movie Tangled.  With adventure, a lost Princess, and great music it is easy to see why it has one over the hearts of many children and adults.  
Planning a Tangled party is easy when you know when and where you are having your party.  After that is decided it just comes down to decorations and party supplies, cake ideas and activities.  Just follow your theme and you cannot go wrong.
Below find party decorations and supplies suggestions, cake decorating ideas, and party game ideas.
Free Tangled Craft Projects
Create Your Own Decorations
Disneyfamily.com shares tons of party decorating ideas, craft projects, and recipes to help you throw a fantastic Tangled themed birthday party.
These are some of the craft projects that they share on their website.  I have made both of these projects and the instructions are easy to follow. To complete the Pascal Party Blower you will need some generic blowers, some foam, and adhesive.  These can be finished quickly and add a great whimsical element to your party.  The Tangled Tower Craft is more labour intensive but instructions and templates help out a lot.  I made this to decorate a birthday present and it worked great, but you could use it as table decorations.
Tangled Party Decorations
Make a statement at your birthday party
disney Rapunzel Tangled Mylar Balloon...

$3.38 $2.25

Tangled Latex Balloons

Only $2.56

Disneys Tangled Plastic Birthday Banner

Only $6.49

Pinata Disney Tangled Rapunzel Star S...
Disney's Tangled (Rapunzel) "Candy Mi...
Cake or Cupcake?
Dress Up Your Cake
If you are going to be baking cupcakes or a birthday cake for your party it is easy to turn a plain jane cake into an Tangled edible master piece,  Just add cake toppers or cupcake rings to give you cupcakes or cake Rapunzel themed fun.  You could also try using an edible cake topper to give your cake a more realstic appearance.
Tangled Inspired Birthday Cake
By Cupcakes & Dreams
Tangled Birthday Cake & Cupcake Supplies
Find the right decoration
Rapunzel, Flynn, Maximus and Pascal Designed Cake
More Cake Inspiration
Introduce Your Rapunzel Party
Help Your Guests Get Tangled
Once you have decided on a guest list and theme it is time to start sending out invitations to your Birthday party.  Sending a Tangled or Rapunzel themed invitation will let your guest know about your upcoming party theme.  It will help your guests prepare for all the Tangled fun they can expect to come their way on party day.
Be sure to add the time, date, and place on your invites.  This is also the time to add special requests and instructions for your guests.  If you add an element of dress up make sure ask your Princesses or Princes to come dressed for the occassion.
Free Printable Invites from Disney
Invitations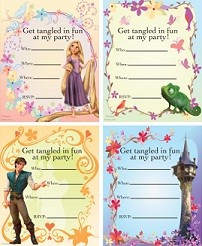 Disney makes planning a Rapunzel super easy and cost efficient.
At DisneyFamily.com you can find these free printable Tangled Invitations for download. Just click and print.
These free printable invites feature 4 designs inspired by the Tangled movie. These  include Pascal, Rapunzel, Flynn and Rapunzel's tower. Which design do you like?
More Invitations
Free invitations
Supermom Moments DIY Tangled Inspired Invite
Supermom will show you how she made her own Tangled inspired birthday party invitation for her daughters six birthday.
3 Tangled printable invitation designs are available.  These include: Pascal, Flynn and a group picture (Flynn, Rapunzel, and Maximus).
Purchase Your Tangled Invitation and Thank You Cards
Standard 8 Count
Close Your Tangled Party with Style
Thank You and Party Favors
At the end of a fun and eventful party it is time to say good bye to your party guests.  Make sure you send them off on a high note.  Put together a loot bag or box filled with fun Tangled inspired suprises.  Be sure to include a Thank You note in your favor box to let your guests know you appreciated them sharing in your daughters special day.  
Games and Activities for a Tangled Theme Birthday
Entertain the Kids
Every Birthday party needs some activities in place to keep the day running smoothly.  Whether you sit the kids down for a screening of the Movie, or set up the Wii to play a Tangled game you need to have a structured idea of how the guests time will be spent.  
If you are the more creative type you can put together a simple Tangled craft project and set up an arts abd crafts table with art supplies; though, you could pick up an activity book to keep the kids busy.  
Or try some familiar party games with a themed twist.  Musical chairs using music from the Tangled movie soundtrack or pin the tale on the donkey replacing the donkey with everyone's favorite horse Maximus.
Tangled Games and Activities
Add Content to Your Birthday Party
Super Mom Moments - Tangled Party
Party Inspiration
See how one Mom transformed her six year olds Tangled themed Birthday into a masterpiece.  From handmade invites and decorations to a tower designed Rapunzel cake Super Mom thought of everything.  If you are looking for more inspiration for your Tangled Party see her article with pictures of every detail.
The door decoration and hanging flags are inspired and set the tone for a fun party every Princess is sure to love.  The cake is a magical center piece that looks almost too pretty to eat.
Additional Birthday Party Themes
Find another Party Theme
Rapunzel Gifts
Beautiful dolls for the Birthday Girl
If you are looking to find a Rapunzel doll for a gift then look no further than Rapunzel Dolls & Playsets.  This page will show you all the latest and innovative Rapunzel dolls available.  Some featured items include Disney Store's exclusive Animators' Collection doll Rapunzel, the sought after Glow and Sing Rapunzel, and a set of Tangled figurines.  You will also find a plenthra of more Rapunzel inspired merchandise.
Disney Princess Gift Ideas
Looking for more gift ideas?
Disney Princess Designer Collection
Features 11.5 inch collector dolls showing the Disney Princess in high fashion. These dolls are not intended for children rather the adult doll collector.
Disney Animators Collection - Toddler Dolls
From the animators behind your favorite Disney Princess comes the Disney Animators Collection featuring your Princesss as her animators imagine she would look as a toddler.
My First Disney Princess - Toddler Dolls
This collection of Disney Princess dolls come from the My First Disney Princess collection and feature your favorite Princesses as toddlers.
Disney Princess and Me Collection - Tween Dolls The Disney Princess & Me Collection features porcelain Princess dolls with their own line of clothing. Kids can dress up like their favorite Disney Princess doll for added fun.
My First Disney Princess - Baby Dolls
This page focuses on the baby lines of the My First Disney Princess collecton. Find 6" -12" baby princesses inspired from you favorite animated Disney films.
Disney Princess Singing Dolls 17 inch Singing Disney Princess dolls sing your favorite movie songs.
---
Disclosure: This page generates income for authors based on affiliate relationships with our partners, including Amazon, Google and others.