The Best Digital USB Voice Recorder?
by WillApse
Digital USB voice recorders offer amazing quality and easy integration with a PC or Mac. Choosing which is best for you depends on what settings you will record in, which files...
Most digital voice recorders will give you adequate results as far as sound quality is concerned. Having said that not all voice recorders are equal. Some have a terrible user interface, some are bulky, some are certainly a lot more attractive than others. Worst of all, not all have USB capabilty.
How to Choose
For simple dictation and recording small meetings you won't need an especially sensitive microphone. For large meetings where people are talking from every corner of the room, the more sensitive the microphone, the better.
USB means quick and easy integration with a PC or Mac- ideal for podcasts, voice messages and many other applications.
A top voice recorder will also capture live music of a perfectly usable quality.
An important Note
Check which files the digital recorder uses when you choose.
The default recording format in many digital voice recorders is VOC. This is a high compression format so you get a lot of hours recording time. The problem comes after you have transferred data to a PC. VOC just won't work with many other programs. If you send VOC as a message, the recipient might not be able to play it back.
WMA files are more convenient but no good for podcasts.
MP3 files are small, perfect for podcasts but you will lose some sound quality (not noticeably on most recorders).
WAV are very big files that are usually only used for top quality music recording. You will a big storage capicity if you want to use WAV.
Audio files are convertible, of course, but this takes time and you will need the software
Sony ICD-PX820 Digital Voice Recorder- Mac and PC friendly.
This Sony has a big memory- 2GB- and records in MP3 format, This makes it ideal for podcasts and sharing.
Overview:
It has 4 sound quality settings. In the lowest quality mode- LP (long play)- it will record for 535hrs.
In the highest quality, SHQ mode (super high quality) it will give you 22 hours.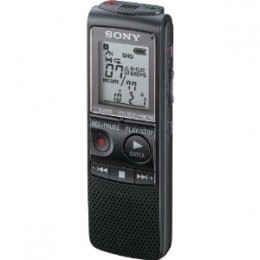 sony
The USB connection is the flip out kind so there are no cables to worry about. Plug it into a USB port and it comes up as a drive on your PC (including Macs).
Automatic Voice-Activated Record (AVR) switches the recorder on and off. So no sound equals a shift to standby which will save your batteries.
There is a noise reduction function to cut out background noises (which genuinely works!).
With an extra microphone it can record stereo.
People especially like the very easy to use interface with quality file management software. And, of course, there are plenty of free MP3 players and file managers available too.
Amazon
Sony ICD-PX820

Inexpensive devise with plenty of storage for voice recording and easy to use...

$69.96 $55.99
RCA VR5220- economical and practical...
This is an inexpensive voice recorder that has been around for a while but still gives good service.
It has a small memory compared to most- around half a GB- but this will give 200 hours of recording in the lower quality VOC file format.
It has its own Digital Voice Management Program for VOC but remember if you share a VOC file most people will have problems listening to it.
It records as WMA (windows media audio) in HQ mode which is more sharable but the files are big so there is much less recording time.
It has AVR and a flip-out USB plug.
This is a good model for a student on a tight budget wanting to record lectures and it won't let you down,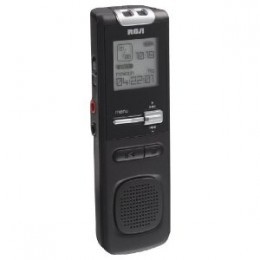 RCA
RCA VR5220

Very well priced but be aware that it only has 512MB of built in flash memory...

Only $22.0
The Very Best? Olympus DS 40- a long time favorite of journalists and writers
 This is many journalists first choice and also good for music recording.
It is one of the more expensive recorders on the market but it is also one of the most highly rated by users of all kinds.
 Overview:
It is smaller than most of its rivals- around 4 inches by 2 inches and less than an inch thick- and offers stereo as standard, The high sensitivity, stereo microphone is of a genuinely good quality and this is the secret of its success. Microphones are one of the hardest things to get right and you will always pay more for the best.
It is recommended for anyone who needs absolutely accurate records of meetings or events. Many journalists will use this model for press conferences. It is also a worthy rival to portable music recorders like the Zoom with file output as WMA, WAV or MP3.
The drawback of small size is that it only has half a GB of memory. Even so, it delivers nearly nine hours of recording time in its most sensitive mode and nearly 140 hours in its lowest quality format. Battery life (3 AAA batteries) is around 30 hours.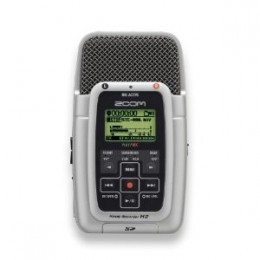 the mighty zoom
For Music
Zoom H2 Handy Portable Stereo Recorder-
This may be overkill for a simple voice recorder, but the Zoom is always worth mentioning when it comes to portable recorders!
This will not only get every detail of a meeting or lecture it will also record your favorite band playing live in better than bootleg quality stereo.
Four separate microphones give excellent sound richness. It will record in WAV for maximum accuracy or MP3 for utility.
---
Disclosure: This page generates income for authors based on affiliate relationships with our partners, including Amazon, Google and others.