The Best Handheld Camcorders 2011-2012
by WillApse
The best handheld camcorders have come a long way since the Flip was the only game in town. Find out what is new and what matters when you choose.
Until recently, the only handheld camcorder worth thinking about for many people was the Flip. While, the Flip is a still a tempting device if you want something inexpensive, there is lot more on offer if you look around.
Kodak, for instance, have continued develop the PlaySport that offers some useful extra features- it is waterproof, for instance. The Sony Bloggie offers a big LCD screen and massively expandable memory.
If you want to make movies with Hollywood style, a thousand dollars will get you a Canon Vixia camcorder that any movie school student would die for. Perfect for promo videos for a band or any business, as well as giving you top home movies.
How to Choose a Handheld Camcorder
The most important things for most people are:
the quality of the video- HD at 720p or 1080p is standard in newer models but some older models on sale are only standard def.
image stabilization
zoom- optical is best
battery time
how easy it is to get the video played back on a PC or TV.
the quality of the image sensor is the single most important thing when it comes to video quality. Figures like 720p or 1080 do not help here. You need to judge by the results- or the assessment of reliable authorities.
Video media and Playback
Videos can be stored on a range of media like flash cards, tape or DVDs. Some camcorders have an internal hard drive. Each approach has pluses and minuses:
Flash Memory cards are easy to slip into a PC. Some formats will also play direct on a compatible TV (see AVCHD at the bottom of this page).
A mini DVD is great for instant TV or PC playback.
Tape is inexpensive and very reliable but needs a USB connection to playback or transfer to a PC. You will also need software like Nero if you want make a DVD of your video.
An internal hard drive can store a massive amount of video but again data needs transferring to a PC for burning or viewing.
MinoHD, UltraHD or SlideHD Flip?
Flip comes in three basic models- the MinoHD, the Ultra HD and the SlideHD. The Mino model offered much more than the older generation of Flip camcorders when it first shipped (HD for example) but the MinoHD and the UlraHD are now broadly comparable. The main advantage of the more expensive MinoHD is that it is a little smaller.
The SlideHD offers a bigger screen- 4 inches as compared to 3 inches and instant playback in a slide out widescreen is available.
The newest generation, UltraHD 8 gigabyte version allows you to shoot two hours of HD video and the whole package is around $180, if you buy online. The older generation of Flip camcorders retail for closer to a hundred dollars but have no image stabilization and many do not offer HD.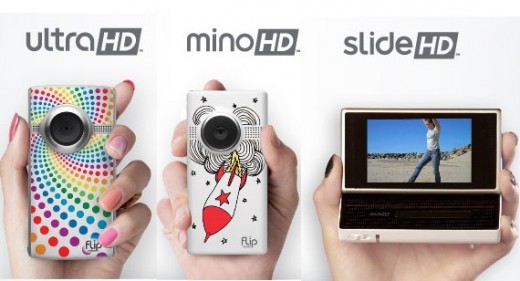 Flip
Flip HD Video Cameras- older tech but a cheap option with reliable results.
Flip cameras revolutionized instant movie making. They are not much bigger than a mobile phone have the simplest controls and the latest models offer full HD video with image stabilization- much steadier movies! The memory is built in so there are no flash cards to lose or go bad- but once they are full you must transfer data to a PC if you want to keep it. There is a flip out arm with a USB plug to slip straight into a PC. The flip software boots up automatically and you can play back or transfer video to your PC.
Manufacture of the Flip is being discontinued but a Flip is an inexpensive option and still gives good results in the point and shoot market. It cannot match the Vado HD for price, though. That is probably why Cisco announced its end in 2011.
The new PlaySport: Kodak Zx5

The Kodak PlaySport offers all the convenience of the Flip but is also waterproof to a depth of ten feet. So if you are snorkeling why not take a video and share it around?

Like the Flip it offers options for different video resolutions. The higher definition resolutions can jump a little if you pan too quickly but no more than other pocket video cameras.

The larest update, the Zx5, offers a closeup mode and an improved battery plus easy share functions. Some people have been disappointed with the apparent reduced sensitivity of the camera in low light.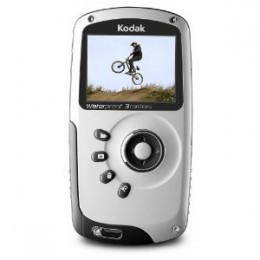 Playsport
Sony Bloggie
| | |
| --- | --- |
| Pistol grip bloggie | Flip style Bloggie |
Sony Bloggie
There are two bloggie models worth thinking about:
The pistol-grip Bloggie CM5: this offers a 5x optical zoom- something the Flip can't give you- and a big, flip-out screen.
The Flip lookalike Bloggie PM5, this has a 270-degree swivel lens. Lay it on a flat surface, and you can point the lens at any scene you want.
They shoot 1920x1080 HD video and take 5 megapixel stills. The LCD screens are around 2 and half inches wide.
Both also feature expandable storage.
Sony MHS-CM5 bloggie

Easy and reliable auto settings make this an ideal pocket camera ...

$16719.00 $499.00
Creative Lab's Inexpensive Vado HD- best for Kids?
The Vado HD is the cheapest handheld video camera around and what you get is a fair reflection of the asking price.
On the plus side. it is lightweight, extremely portable and has easy controls, good battery life and a reasonable amount of memory at 8GB. That gives it 8 hours of standard def or 2 hours of high def video storage. The HDMI output makes for easy viewing of your vids.
On the downside, it is not great in low light. The editing software is buggy. You cannot expand the memory and the USB connection is akward.
This is something the kids will get a lot from.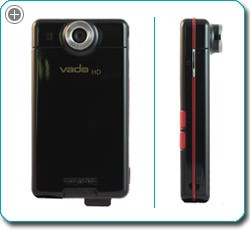 Vado

sanyo
Sanyo High Definition Camcorder and 14 MP Camera
The specifications on this camcorder make most other offerings look puny. Apart from the fact that it is the thinnest and lightest camcorder around right now, it takes full HD and 14 megapixal stills with a massive image sensor.

The 12 times optical zoom easily beats the Sony bloggie and it has a bigger screen at 2.7 inches- so playback is more fun. It also offers expandable memory.

I think we will be seeing a lot of this Sanyo.
Small Camcorders with Semi Pro Results
Okay, this might not be for you right now. There might come a time, though, when someone sees your Flip or Bloggie shot movies and says- hey you have talent!

Then you might want to look into what makes a great video camera.

What makes one camcorder so much better than another?
The image sensor is the key to recording images- the more pixels it captures the better but even more important is the speed and accuracy of the recording.
Better camcorders will give you better colors too- especially skin tones and natural scenes.
The bigger the lens, the more light it will bring to the image sensor, so low lighting (indoors for example) is less of a problem.
The better the zoom, the more control you have in framing a shot especially outdoors or in big auditoria.
Quality wide angle lenses also allow more choice of shot- especially for filming groups of people when you are forced to work close to them (again, this is often the case indoors)
Panasonic HDC-TM700K Hi-Def
This Panasonic offers:
A quality Leica Dicomar Lens lens with wide angle capability
12 times optical zoom combines with state of the art digital zoom to give you 18 times zoom in total.
The image sensor produces 60 images per second- which is very fast indeed.
All that extra data means better, smoother HD with a lot less burring of moving objects.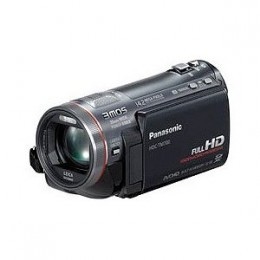 Panasonic
Canon VIXIA HV30 MiniDV Camcorder
I'm going to let the video below do the talking for the Vixia. This camcorder will give you movies of broadcast quality!

A few details-
10x HD Video lens
2.96-megapixel CMOS image sensor
DIGIC DV II processor
---
Disclosure: This page generates income for authors based on affiliate relationships with our partners, including Amazon, Google and others.