The Best Pulse Oximeters for Home Use
by WillApse
Pulse oximeters for home use- or for athletes- need not be expensive. Many are as accurate as professional models- if a little slower.
For anyone whose well being depends on managing the oxygen levels in their blood routinely pulse oximeters are essential tools for home use. For other people, they are a valuable reassurance after a serious illness- if you are on the road to recovery, it is never a bad thing to be absolutely sure!
Oximeters can also be valuable for athletes. If you are in a serious training program, knowing the amount of oxygen in the blood is a great guide to fitness. If you are a climber or mountain hiker, an oximeter can tell you when to take it easy and when to forge ahead.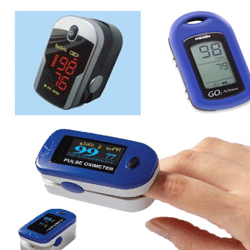 ...
SP 02 and How a Pulse Oximeter Works
Oximeters measure the amount of oxygen in the blood passing through a person's fingertip using light waves- so there is need to extract any blood!. This peripheral oxygen level is usually called SP02. Almost all fingertip oximeters will also measure your pulse rate at the same time and these machines are called pulse oximeters.
Haemoglobin is the chemical in the blood that carries oxygen around the body. Haemoglobin will also absorb certain wavelengths of light depending on whether it is carrying oxygen or not carrying oxygen, The oximeter calculates the oxygen saturation level of the blood by measuring how much light is absorbed when a beam is directed onto the fingertip.
Healthy people have between 97% and 99% oxygen saturation. Below 90% a person is said to be suffering from hypoxia which is a serious medical condition.
Most Popular Pulse Oximeter? The Pulseox 300c

This is one of most popular models for home use. A lot of health professionals will use one of these, as well, and they are considered especially accurate and reliable. The generous-sized LED screen allows for big, easy to read writing.

The construction is a durable plastic and it will stand up to being dropped a few times. There is a neat carrying case for extra protection.
...
Amazon
Octivetech 300c

Provides a fast result with a bright large display that is easy to read in all settings

Only $45.99
Finger Pulse Oximeter SM-110:Ideal for Athletes
This model should appeal to athletes as well as those with medical conditions. It is exceptionally light and comes with a neck or wrist cord so there is no problem carrying one during exercise- whether it is on a run or for a hike in the mountains.

The unit uses 2 AAA batteries which will give 30 hours of continuous use. That means it will take a lot of readings,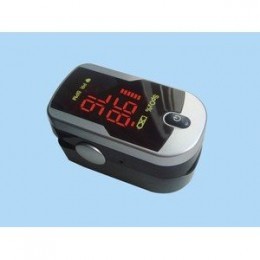 corded
Nonin GO2 Achieve

Nonin make oximeters for hospitals and other clinical settings but they also offer this home use model. It is not certified for use as a medical instrument but employs the same kind of technology as Nonin offer in models costing many hundreds of dollars.

It takes only five to ten seconds to give an accurate reading of blood oxygen and pulse rate. It switches itself on and off automatically, depending on whether it is on your finger or not- this helps enormously with battery time for forgetful people.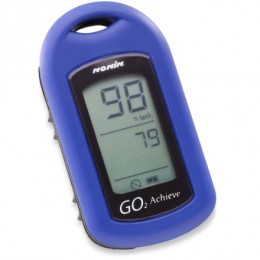 Nonin
Nonin GO2 Achieve

Nonin invented the pulseox and are major suppliers to the medical sector. This is their affordable, home use version.
Ad
Concord Emerald
This is a neat and easy to use machine. There is a protective case if you want to take your oximeter with you on a trip.
The rubber casing will reassure even mountaineers that it will stand up to a few shocks. The round the neck lanyard should also appeal.

It is FDA approved and has a two year warranty.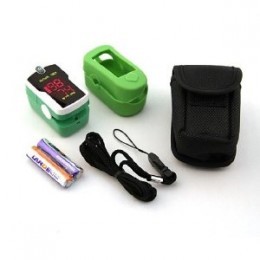 Concord
Concord

For athletes and home users...

$19.95 $18.95
---
Disclosure: This page generates income for authors based on affiliate relationships with our partners, including Amazon, Google and others.