The Best Samsung Galaxy Nexus Screen Protectors
by WillApse
Screen protectors are one of the essentials for the Samsung Galaxy Nexus. If you have the best smartphone, it deserves to be cared for!
If you are choosing a screen protector for your Samsung Galaxy Nexus the issues boil down to:
Is it easy to fix in place without bubbles or creases? The curved surface of the Nexus is a challenge for many materials.
Is it going to affect the viewing experience? Mistiness, rainbows or halos are not much appreciated. A bad screen protector will make your display low res.
Will it affect the responsiveness of the touch screen- gamers are especially picky on this issue
Do you want antiglare?
Is it resistant to smearing/fingerprints?
...
Does it need water to install? (Bear in mind, wet installations are not that scary anymore)
How tough is it?
How thick is it?
The last two questions are related, of course. Some screen protectors are very, very tough. A power drill just skids off them. Often there is a price to pay for this degree of protection, though. Very thick screen protectors can reduce touch sensitivity and cause halos to appear where halos were never meant to be.
Bearing these things in mind, it is worth looking at the 5 best screen protectors available.
Steinheil Flex
The Flex needs a wet application but it is straightforward and stress free compared to some installations. A spray and a little squeegee is supplied. You mist the thermoplastic sheet. put it in place then smooth out with the squeegee.
Immediately after installation there will probably be a few small bubbles. These will disappear within a few days as it cures. The result is a screen that will resist fingerprints almost completely. This might be hard to believe but normally clean hands will not leave a mark! Just don't eat donuts and make calls at the same time...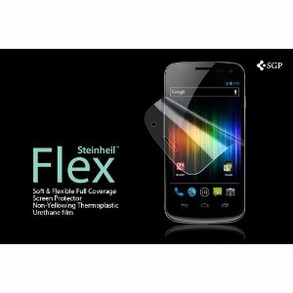 The Flex
The protector is quite fine and very clear so there is no impact on the screen resolution. If you have had a bad experience with cheap generic screen protectors in the past this will renew your faith that protection does not mean a poorer display. You will also find it hard to see any annoying edges as long you have fitted the protector properly.
The feel is similar to glass and there is certainly nothing like the sticky rubber feel some protectors give.
The downside? At around twenty dollars it is one of the more expensive products.
Skinomi TechSkin
The Skinomi has many of the virtues of the Steinheil Flex and is better price at less than ten dollars most places.
The installation process is wet but not too troublesome and they supply a good set of instructions. It is easy enough to get a bubble free application after curing for a couple of days.
The downside is that the plastic card they give you for smoothing out the during installation can scratch the screen protector. It also seems to pick up scratches more easily than other screen protectors.
On the the plus side it is good fit and has little impact on the display.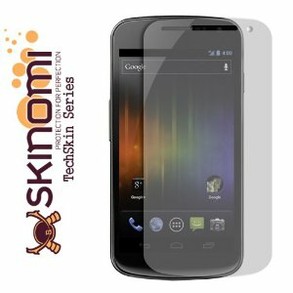 techskin
Halo Screen Protector
The Halo has the benefit of a dry application so there is not the concern about water dripping in to the earphone or any other opening.
You do need to get it right if you want a zero bubble installation so the instructions are worth reading carefully. Certainly, in experienced hands the results will be good.
Scratch resistance is good and fingerprints are easily removed with the cloth provided.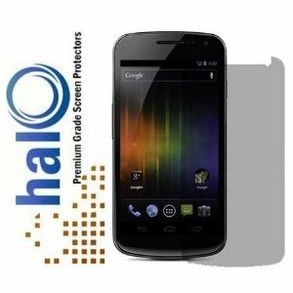 halo
Boxwave
Boxwave are well known for their top quality, innovative phone cases but have less of a name for screen protectors.
This product is a thermoplastic with a very clear finish. It is not anti-glare in any way, so if that is important to you (in a sunny state it might be) this might not be for you. The plus side of crystal clear type screen protectors is there is very little diminution of color intensity or screen resolution.
One complaint is that there are small areas at the side of the screen without protection. This is probably a need to cut the material so it does not ruck up at the edges as a result of the screen curve.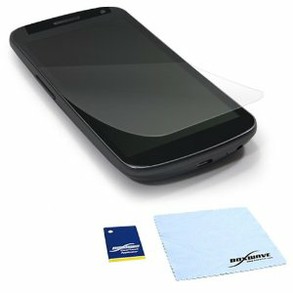 Boxwave
BoxWave Screen Protector

Crystal clear protection for the Galaxy Nexus from Samsung. Keep your screen protected without dimming the display.

$5.64 $2.65
Stealth Shieldz
This is one of the tougher screen protectors and thicker than most. It will not resist fingerprints as well as the Steinheil product above and it is not antiglare. The cut also means you will see the edges of the protector more easily than is the case with many other screen protectors.
On the other hand, the military grade material it is very durable. It will resist scratching and impacts to a higher degree than fine protectors and the two pack they sell should see you through two or three years of use.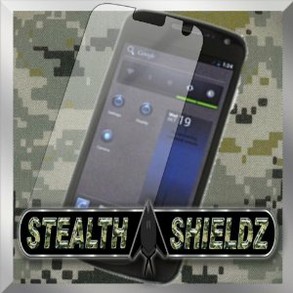 stealth sheildz
---
Disclosure: This page generates income for authors based on affiliate relationships with our partners, including Amazon, Google and others.