The Best Senior Cell Phone
by mulberry
While cell phones are a critical communication tool that can keep seniors safe and connected to loved ones, few of them possess the features seniors really need.
The Truth About Cell Phones
Cell phones are probably the most prized piece of technology that any of us own. They offer convenient communication and portability. They offer security by keeping us constantly connected to others. As time has passed, they've also added on a myraid of other functions that millions of us love and use regularly.
Many cell phones provide their users with entertainment functions for viewing video, listening to MP3 and other music files, taking digital photos, and even recording some video. They're increasingly used for accessing information on the internet, checking e-mail, and messaging others via text rather than voice. Some also give users the capability of accessing GPS services for navigation and location.
Cell phones are beginning to allow us to make purchases, much as we do with credit cards. They are our all purpose device and they will probably continue adding exciting new features in coming years.
The unfortunate side of this of course, is the increased cost, the complexity, and the fact that for some segments of the population, these are not the features they desire. Our phones are designed for a younger, more tech savvy market meaning that the development of these devices ignores some pockets of the population such as the elderly.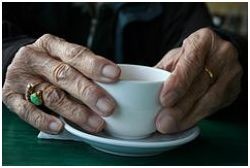 Photo by HWeiling
http://www.flickr.com/photos/hweiling/
Those Who Have Been Left Behind
I wouldn't say that many groups have been completely ignored as cell phones have evolved but they've certainly been an afterthought in most instances. Braille phones are just now being discussed for the blind and visually impaired. Touch screen phones that provide tactile feedback are only a baby step toward making these most coveted devices accessible to the blind. Phones that are hearing aid compatible came on strong in the market place only in the past few years. For the deaf, at least in the US, the ability to use cell phone video for real time transmission that allows the use of signing rather than voice, is only just now emerging.
For the elderly, there are a few options out there that provide a more simple phone. Perhaps one that is easier to handle, easier to navigate, sits closer to the ear to reduce background noise, has larger buttons, and large font that's easier to read. The Jitterbug and the Just5 phones are two examples.
However, there is still much room for improvement. Cell phones with functions that are more useful to these indivdiuals should be considered during the development phase. As an example, I will focus on the elderly population here.
Snapfon "ez ONE" Cell phone for Seniors w/ big buttons, Loud speaking keypad, so easy to see ...

There is no other phone that is as simple to use as the ez ONE from Snapf?n. With its large keys and print, making a call has never been easier! Our design puts you in charge ...

Jitterbug J Cell Phone (Graphite)

Jitterbug J Specifications: Dimensions (closed): 2.17" x 3.87" x 0.98", Weight: 4.06 ounces, Internal LCD Display: Screen Size: 2.10," Pixels: 176 x 220, Color: 262k, Battery: ...

Only $147.00
Doro 410 Black Phone with Consumer Cellular Service (No Contract)

Simple, Practical, Stylish With the PhoneEasy 410, you've got a phone that is simple to use, easy to see and easy to handle. The full color display is large and bright, so ...
Designing a Cell Phone That Seniors Could Love
Certainly many seniors want a basic cell phone for calling purposes, one with fewer bells and whistles to complicate matters. Although there are certainly people over the age of 65 or 70 who may use the internet, may text message, or might enjoy the camera function; many seniors have some difficulty with either fine motor function, reduced near vision, or some degree of hearing loss which make these functions either useless or simply not ones they enjoy.
On the other hand, there may be functions that would be beneficial for seniors who are aging and experiencing other issues. Certainly, the following suggestions aren't the result of a market analysis but they are some hints about the kinds of things that seniors sometimes encounter. In addition, they are the kind of added functions that could drive more seniors toward cell phones.

- Medication Reminders
As people age they tend to accumulate more medications that need to be taken to address chronic health issues. Remembering to take these medications at the prescribed time can be difficult. In addition, remembering that they were indeed taken becomes problematic as well. An auditory reminder to take the medication, a way of indicating once it was taken, and a log to look back on that record, would be useful for many elderly individuals. The caveat of course is that it has to be simple; something that doesn't require navigating multiple screens. There are tools on the market that do this, but adding the function to a cell phone might make the phone itself more useful.
-- Blood Pressure or Glucose Monitoring

Again, the need to monitor blood pressure and glucose sometimes crops up as we age. The tools to do this are out there, but once again, this function is still more useful for hundreds of thousands of seniors than the ability to stream MP3 files.


-- Fall Sensor
The biggest safety risk (and fear) for many elderly individuals is a fall. A fall can spell the end of independence or can end in death, if help isn't on the way soon. There are medical alarm systems that allow individuals to press a button to get help. But what happens if they're unconscious or unable to activate the button? Perhaps a cell phone could have a fall sensor. Obviously, this would have to be a very "wearable" phone, so that it was on the person nearly all of the time. When a fall is perceived, it could call a pre-programmed number. The person receiving the call could attempt to speak to the person, or if there is no response, to send EMS. Having this sensor in the cell phone is also better than current medical alert systems as the phone could accompany the senior wherever they go. Even seniors who are relatively healthy could consider this a great benefit if they live alone. Of course, this phone would also need to be completely waterproof so that it could accompany them in the bath tub or shower, where falls are most likely to occur.


-- Appointment Reminders

Yes, not only do medications have a tendency to increase as we age, but medical appointments do as well. Auditory reminders of upcoming appointments might be very useful for many elderly. Again, simplicity in getting the information entered is critical.
-- Auto On

This is more of a feature than a function, but it at least partially addresses a common complaint I hear from family members of elderly individuals who carry cell phones already. The concern is that they are unaccustomed to carrying the phone and turning it on regularly. Perhaps some cell phones should have a feature that gives out an auditory/visual alert at a given time to assure the individual is reminded to pick it up. It could have an "auto on" feature, so that it turns on once picked up for the day.

Certainly the needs of any individual are quite specific, but these are some of the common types of cell phone functions and features that I've envisioned as I've dealt with the elderly.
Photo by Giopuo
http://www.flickr.com/photos/giopuo/
---
Disclosure: This page generates income for authors based on affiliate relationships with our partners, including Amazon, Google and others.