The Far Side by Gary Larson
by Angel
A look at The Far Side cartoon and its creator Gary Larson.
The Far Side Will Make You Laugh For Sure!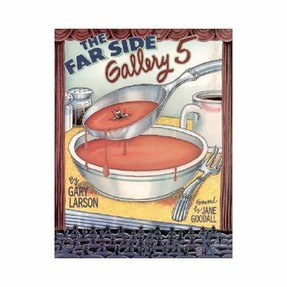 Cows, dogs, scientists, insects and ducks, Oh my. The Far Side cartoons give these animals, insects, and people life and puts them in situations that involve natural disasters or extreme peril. Being stranded on a deserted island is a common place to be if you are in a Far Side cartoon. Gary Larson created the funniest single panel cartoons in the world when he created The Far Side.  His love of animals and paranoid sense of humor shines through in each one. If you are sad, in a bad mood, or just need a laugh, you can find recovery in these cartoons.  
Photo credit:  Amazon 
The Far Side History
The Far Side cartoons ran from 1980 to 1995. Gary Larson became bored with his day job and started cartooning on the side to make extra money. He created a cartoon called Nature's Way in 1980 and was being produced by The Seattle Times. It was running next to a puzzle for children every week. There were many complaints about it being inappropriate for children to see the cartoon. So the cartoon was dropped. He was vacationing in San Francisco at that time and submitted it to The San Francisco Chronicle for publication. They bought it, renamed it The Far Side, and promoted it for syndication.   
The Far Side's Success
The Far Side can be found on calendars, posters, greeting cards and coffee mugs all over the world. It was published in 1900 daily newspapers. Larson also published 23 books. Every single one of them was on the New York Times Best Seller's List. Over 45 Million copies were sold. You won't have much luck finding many of his cartoons online. He and his lawyers have been successful at convincing people that putting his cartoons on their websites is not a very good idea. He sent out an online letter explaining how it affected him to have his work displayed on websites without his approval. He described his cartoons as being his children and it was like not knowing where his children were.                                                                       
Gary Larson's Awards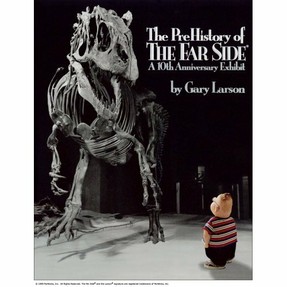 Gary Larson has won many awards for The Far Side. This includes The Newspaper Panel Cartoon Award in 1985 and 1988. He also won The Reuben Award in 1990 and 1994.
Photo credit:  Amazon
What in the World is a Stringiphilus Garylarsoni?
Gary Larson has three insect species named after him.
The Committee of Evolutionary Biology at The University of Chicago named a biting louse of a genus found on owls after him. It is the Stringiphilus Garylarsoni.
The Serratoterga Larsoni is an Ecuadorian rain forest butterfly named after him.
The Garylarsonus Beetle is also named after him.
Keep The Far Side Close
The Far Side will make you laugh every time. From gross insects to crazy bears and scientists, the cartoon is a masterpiece. Keep a calendar on your desk for a daily laugh. Keep a book on your coffee table to encourage hilarious conversation. Don't go through life without The Far Side close by.
Related Links
Copyright Letter from Larson
This is the letter that Gary Larson distributed to online copyright offenders about displaying his cartoons online.
Updated: 02/15/2012, Angel
---
Disclosure: This page generates income for authors based on affiliate relationships with our partners, including Amazon, Google and others.