The Kitchen Composter: Beginner's Tips for Composting
by mulberry
A kitchen composter can make composting easier. Find more composting tips and the composter you need here.
Do You Need a Kitchen Composter?
If you have a compost pile or compost bin outdoors, then a kitchen composter can help you accumulate that "soft" organic material that you need. However, even if you aren't a composter, there are places where you can take that organic waste for use rather than just throwing it away.

A kitchen composter offers a number of advantages. You can learn more about them on this page, get some tips on choosing one, and find a few that consumers seem to like. If you are a beginner, you may also find some basic information on composting included in the videos below, to help you get started.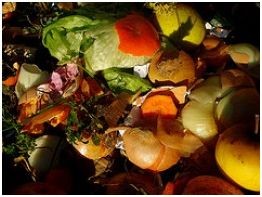 Photo by Net_Efekt
About the Kitchen Composter and Composting
A kitchen composter is basically a storage device for organic kitchen waste. It's usually a temporary place to keep this waste before taking it out to a compost pile or bin. They allow you to avoid going to the compost pile as often and are particularly useful when weather is bad and it's difficult to venture outdoors.
Compost is most often used for fertilization and the suppression of weeds in gardens, flower beds, and so forth. The compost produces humus which is rich in the organisms that help keep vegetables, fruits, and flowers healthy. It's not a difficult or time consuming task, nor does it create unwanted odors or attract undesirable pests. You can learn more about composting in general in the video posted below.
Of course composting is also a great way to dispose of, and recycle, waste from your kitchen. Egg shells, tea bags, coffee grounds, peelings from fruits, vegetable scraps, herbs, and more can be disposed of using a kitchen composter and then used to fill your outdoor compost pile.
A good kitchen composter will provide a place to store organic waste without creating unwanted odors or attracting fruit flies inside your home.
Buying Tips
Choosing a kitchen composter requires you to decide what kind of capacity you need. If you live alone and don't have much food waste, a gallon or two is generally large enough. However, if you cook two or three meals a day for a large family, you will probably want something around 5 gallons. Of course, size is also dependent upon how often you will want to empty the composter. If you make a daily trip out to your pile, then you generally won't need a very large pail indoors.

If you need something very large, then a plastic pail or bucket may be ideal. They will be much lighter weight for a given size.

You will also want to be sure that the composter you choose can handle odors. You don't want the waste it stores to make your home environment unpleasant. A tight fitting lid matters. A charcoal filter can also be very useful, but remember these have to be replaced or washed and reused every few months.
You'll also need to think about where you will keep your compost pail. If you just want it to set under the sink, then a plastic pail is probably sufficient. They aren't very attractive, but they are certainly the least expensive in general. However, if you want to be able to keep your kitchen composter right on hand where it's easy to access on the countertop, then a more attractive stoneware or stainless steel pail may be the better option.
Ease of clean up matters too. Know whether or not the compost pail is hand washable or dishwasher safe. Some people opt to incur the added expense of bags for use inside the pail to make it easier to keep it clean and odor free.
How to Compost: The Basics
Stainless Steel Kitchen Composters
Long lasting, attractive, and easy to clean, stainless is popular choice when it comes to these pails. They are, on the other hand, more expensive than plastic models.

NoPro offers a full line of kitchen composter pails. This first one is a one gallon pail and it measures 11" x 7" x 7" and can easily fit under your sink. However, it has stainless steel construction with an attractive satin finish which means it will also look nice setting on your counter top. The tight fitting lid also includes a charcoal filter which assures that no odor will escape. Filters should be changed every 6 months.
Busy cooks can open the composter pail with a single hand thanks to the center knob and the carrying handle makes it easy to take to your outdoor composter for disposal. A little soapy water and a cloth is all it takes to wipe it clean again.
The second NoPro item is another 1 gallon pail and offers similar features as described above but it comes with extra filters, a polished finish, and a cushioned easy grip carrying handle. The third NoPro item is made of high quality 18/10 stainless steel but it holds a full 6 quarts (1.5 gallons) and has a brushed finish. It measures 8.5' x 8.5" x 12".
The final kitchen composter offered here is for a household where counterspace is at a premium or less organic waste is produced. It is a .5 gallon composter pail and it measures only 7" x 7" x 6". It is constructed of 18/8 polished stainless steel, has two charcoal filters to eliminate odors, and is dishwasher safe for easy cleaning.
Ceramic Composting Pails
Ceramic is also long lasting and attractive. Their design, pattern and colors, can be selected to complement your kitchen. They are heavier, can scratch over time, and are a more expensive than plastic.
These attractive kitchen composter pails are perfect for the countertop. The first one offers a blue and white design. It is a 3 quart pail which measures 7" x 7" x 10". It weighs just over 5 lbs and is hand washable. Placing a filter in the tight fitting lid assures no odors.
The second item is made of stoneware and has a black finish with a fluted design. It offers a full one gallon capacity and measures 11" high with a 7" diameter. It includes 2 odor eliminating charcoal filters and is dishwasher safe. It is also available in white.
Plastic Composters
Plastic is very lightweight and the most affordable option. They are easy to clean as well although not as attractive in most instances as stainless or ceramic models.

This first plastic kitchen composter offers a 2.5 gallon capacity and an odor eliminating replaceable charcoal filter. It's dishwasher safe and will fit easily under most sinks.
The ProBiotics K100 item has a 5 gallon capacity and comes with one bag of Bokashi to accelerate the composting process and reduce odors. It has an air tight lid, a strainer to drain accumulated moisture, and a spigot to remove that moisture to dispose of or use as a fertilizer for house plants. The Home Accents composter further down has similar features but a 4.75 gallon black bucket versus tan.
The third plastic kitchen composter here is a 2 1/3 gallon bucket with lid. It's a very affordable option to store compost under your sink for a day or two. It measures 10" tall with a 10.25" diameter.
---
Disclosure: This page generates income for authors based on affiliate relationships with our partners, including Amazon, Google and others.