The Nerf Rayven
Awesome powered shooting action in a compact bullpup design. Plus, glowing darts. What's not to love?
If you love semi-automatic Nerf weapons and shoot in the dark, you'll love this one.
The Nerf Kicks off 2012 Right!
I was going through our local Wal-Mart's toy aisle when I got distracted by Nerf's newest line-up, which includes the new Nerf Rayven.

You've probably heard me say it before, but I love Nerf guns.  As a kid, they were one of my favorite toys, and now, as an adult, they are one of my favorite gifts to give to kids.

Nerf guns never go out of style, and, thanks to the creativity of Hasbro, they are stronger than ever with cooler products constantly being released.


Cool, Bullpup Design
The Nerf Rayven uses a fun, bullpup style which means that most of the gun's length is over your arm for ease of maneuverability. I really like bullpups as they give you the feel of being in control, and make rapid shooting action easier -- without sacrificing accuracy.

If you are going for compact, you definitely want to stick with a Bullpup design.
The Nerf Rayven Unboxed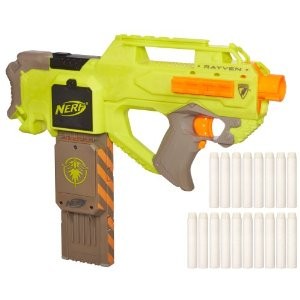 As always, be sure to buy extra darts
Important Points About the Nerf Rayven
The Nerf Rayven Darts

The Nerf Rayven is basically a newer incarnation of the well-known Nerf Firefly - and even uses glow-in-the-dark Firefly darts.  Since it is a clip load gun, its pretty easy to reload it under fire, and 18 darts gives the shooter plenty of ammo to make a mark before taking cover.

Since the darts are glow-in-the-dark awesome, the Nerf Rayven has 2 LED lights at the top which illuminate the top dart in the clip and get it prepped for its glowing flight.  3 AA Batteries are required for the clip.

Reviewers say it takes about 3 seconds to fully "charge" a dart, so you can expect that some darts won't be fully glowing before you shoot it.


Where to Buy The Nerf Rayven
After all, I like to pay as little as possible for my toys
Nerf N-Strike Rayven

Are you ready for some serious night action? You will be with the Rayven CS-18 Blaster! The acceleration trigger on this 18-dart blaster lets you fire off your whole clip with ...

$128.98 $175.0
Nerf N-Strike Double: Blast Bundle

Double the Missions, Excitement and Value Electronic Arts and Hasbro's joint NERF N-Strike franchise for Wii blends arcade style video game rail shooter action with classic ...

Only $29.99
Hasbro Nerf N-Strike Jolt EX-1 Blaster

Micro Size! Mega Power!

Only $4.99
Shooting Range
Thanks to its Bullpup design, which lets it pack more control and features into a compact space, the Rayven can get about 25-30 feet of distance on each shot. Its battery-powered accelerator is critical for this and by timing the amount of time you wait between each shot, you can get the most range out of each dart.
The accelerator requires 4 AA batteries. This gun is solely battery powered and will not shoot without batteries for the accelerator.
One of the really good things about the accelerator is that it is a lot quieter than other Nerf guns. So, combined with the range, you can still do a lot of stealth attacks without constantly being given away by your gun.

Tricky Shooting Configuration
The one downside with the Rayven is that the accelerator has to be revved up before it can shoot.  This slight amount of lag time can cost you points in a Nerf game and means that it requires to fingers to shoot it.  

While this doesn't interfere with the one-handed shooting operation, it can still leave more room for error - those moments where you try to pull the trigger but forgot to pull the accelerator button first. 


Perfect For Dual Wielding

The Nerf Rayven is inexpensive enough that about anyone can afford to get  one - or two.  The compact design, accelerator shooting mechanism, 18 dart clip and well-balanced feel makes it perfect for those dual-wielders out there.

I mean what is more terrifying than a glowing Nerf dart?  Double glowing Nerf Darts!
---
Disclosure: This page generates income for authors based on affiliate relationships with our partners, including Amazon, Google and others.