The Professional Window Cleaner vs. The Wanna-Be
It takes more than a ladder and an ebook to make a true professional window cleaner!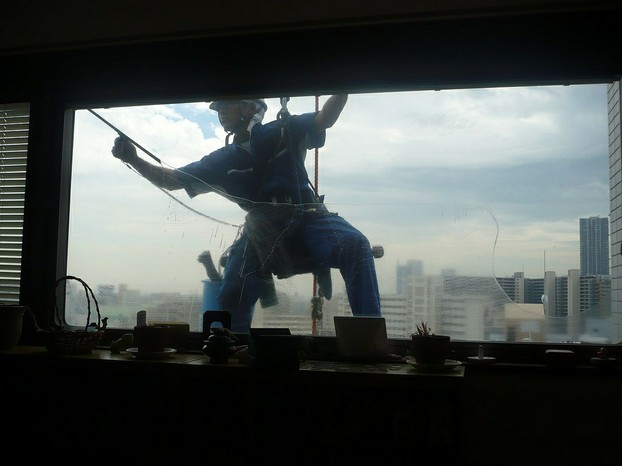 Flickr - dichohecho
You see the flashing ads, the obnoxious websites and the hyped up squeeze pages all the time. They all say the same thing, "Buy this ebook. I'll tell you how to clean windows and make gobs of money with no start-up cash". After 20 years in the industry, I feel the need to clear some things up.
Yes. Window cleaning is a profession that only requires a small financial investment to get started. But, it is still a profession. Fly-by-night companies, college students and any Joes needing some extra cash always think they can "just" clean a few windows to make a buck. It can get downright frustrating to the rest of us. Why? The reasons are numerous but the one you are thinking of is not on the list.
That's right. Professionals are not concerned that the constant ebb and flow of wanna-bes will take work away from them. There are so many dirty windows out there that a shortage is not likely. Plus, one cleaning and the wanna-be won't get the call back anyway.
You see, as I stated in the beginning, window cleaning is a profession. A legitimate profession.  A skilled trade. Yes, anyone can learn to clean a window but only a true professional can leave it streak-free. Every. Single. Time. We're good. In fact, we have a contest every year at our annual convention (yes – we have a convention and a trade show and a trade association and not one, but two trade magazines and safety training throughout the country and certification programs. I bet not one fly-by-nighter knew that). The pros can clean a bank of windows, streak-free, in seconds. Nope. Not a typo. Seconds! Don't believe me? Check it out for yourself.

The Wanna-be shows up without a uniform, without a professional window cleaning ladder, without professional window cleaning supplies and, listen up, without insurance. Didn't think about that one, did you? Neither did they. If they damage your home, you have no recourse. You can't place a claim with a non-existant insurance company and good luck trying to sue that wanna-be.
It's all about reputation. Window cleaners have dealt with this for decades. It's not manual labor, people. It's not something you do for extra cash on a Saturday. It's a talent. A skill. A calling. Yea, that's it, a calling! We don't clean windows because we didn't go to college. We don't clean windows because we don't like sitting in an office (ok – we don't but that's not the reason). We clean windows because we love it. Each and every day. We take care of clients, year in and year out. We develop relationships. We make the world a more beautiful place to live in our own little way. We make smiles.
Who else gets to say that about their day? We make smiles.   

---
Disclosure: This page generates income for authors based on affiliate relationships with our partners, including Amazon, Google and others.