The Spring Pressure Washing Ritual
by caniwi
After a winter of grit and grime, pressure washing your garden equipment, decks & driveways become a necessity.
Cleaning off the winter's grime
Pressure Washer Time Again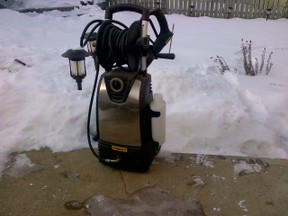 I actually think it's the period between the dead of winter & actual spring that causes the grime accumulation as this is when we get a lot of wind that blows the winter's dusty remains everywhere & anywhere. March can be a bitch!
Every spring brings on what used to be one of my least favourite jobs, that being hauling out my little electric pressure washer, and devoting an entire day to washing off a winter's worth of accumulated grime from pretty much everything in our backyard. 
Winter is rough on stuff around here, especially any garden products that inadvertently get left outside, or sometimes that I simply don't have a place to store them. Things like some of the bird feeders, outdoor bird baths, and outdoor patio furniture especially seem to get pretty grungy. 
The Entire Day?
And a face full of muck
Rather than blasting the grime, I have to really "get into" the washing, up close, front row and centre, upending patio chairs, tables etc and spattering stuff everywhere. It's what happens when you don't have the best tool for the job!
Yes, by the time I'm done, it's taken an entire day, and I finish up with mud and junk splattered from head to toe. I've learned it's not a smart idea to wear any decent clothes, so I usually just wait for a warm day, put on a pair of shorts & tee shirt, some flip flops and just get at it, knowing full well I'll be quite a sight by the time I hit the shower at the end of the day.
Part of the reason for the mess is the little pressure washer I have. Of course I've had it for years and it was all I could afford at the time, one of those electric models that don't cost very much, but also don't wash very much. (Hey, I'm a poet & didn't know it!
A great way to try out something new.
Rent it
Last spring I hauled out the little washer, and found I'd forgotten to drain it properly last year, and winter had done it's magic, and cracked the pump housing. Oh well, it was cheap, and had been my most hated apparatus for too long anyway.
I didn't want to waste the nice spring day, so decided to simply rent a pressure washer from the our local rental shop. And I am ever glad I did!
I ended up with a small commercial sized gasoline engine powered washer that was soooo much more powerful than my little electric jobby!
Not only did this baby actually blast stuff off the deck chairs with just one  pass of the wand, it actually did it from a distance, so I didn't have to be right in the midst of all the spraying and splattering. My spring cleaning took literally half the time I was used to, and was actually a fun day. I could actually come in for coffee without having to hose off too!
From Good to Great
One simple accessory - One big feature
Knowing these undesirable features was pivotal in why I ended up with this great new Gasoline Powered Pressure Washer.
Click here to check it out further
Home Essentials Pressure Washer 3000psi Gas
What not to buy
As important as what TO buy
Renting is a great way to really test a new product or tool that you're intending to buy, and will often show you what NOT to buy as well. 
While my rental washer did a great job, a day with it revealed some features that weren't so appealing, thus giving me some good hands on information to arm myself when I set out to research buying a gasoline powered pressure washer for myself.
One unexpected "undesirable" feature was my inability to maintain a constant distance with the wand from the surface I was cleaning, and with the higher pressure than what I was used to, I ended up with streaks over my deck and concrete driveway. 
---
Disclosure: This page generates income for authors based on affiliate relationships with our partners, including Amazon, Google and others.