Top 10 Fashion Mistakes
by Angel
Top fashion mistakes to avoid.
We have all gone out of the house not looking our best from time to time. It is not a good idea to make a habit out of it or the Fashion Police will come arrest you. I used to work with this young lady that would call anyone out when they make any of these mistakes. It kept me on my toes for sure. She was so funny about it but the things she pointed out were so true. So don't get caught doing these things!
1. Visible Panty Lines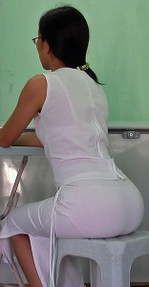 This is something that will get you busted for sure. There are undergarments that will help you. If you are having a problem with visible panty lines then try a thong or g-string type of underwear.
Don't wear your pants too tight or your thong or g-string will even show.
If you are not someone who is comfortable wearing a g-string or thong then go for a full coverage type of underwear that hugs your bottom cheeks.  Don't let them shine through like this young lady.
Photo Credit:  Wikipedia Commons, Public Domain
Underwear Options for a Line Free Bottom
2. Wearing Clothes Too Small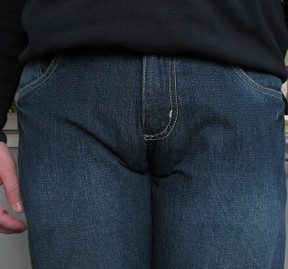 This is a mistake I see all the time. Come on. Wear clothes that fit you properly.
Shirts that are way too tight and show every bra line you have is not attractive.
Neither are pants that are so tight that you can see everything you have. Clothes that fit always look best.
You can be sexy and attractive in clothes that fit properly more than those that are too tight.   
Photo Credit:  Wikipedia Commons, CCSA,, Richiex
3. Wearing Clothes That Are Too Big
I have even been guilty of this. As I have gained weight I want to cover up more. The problem is that wearing clothes too large makes you look larger and frumpy. I slowly started to find clothes that fit me properly and I feel so much better in them. I don't feel as large anymore because they fit. I am 5'9" tall and not a small girl by any means. I made a quick visit to Lane Bryant and found many new pieces that fit me so well that I am going back. It is amazing how good these clothes look compared to the larger pieces I had purchased from a regular clothing store. The Lane Bryant clothes hug my curves but don't squeeze the life out of them.   
4. Wearing the Wrong Colors
Wearing the wrong colors can make your overall look bad. Find those colors that bring out your eyes or bring out your hair color. Don't choose clothes that will wash you out. Someone who is pale and has blonde hair will not look so good in a bright orange sweater where someone with dark hair can rock it. Go to your favorite clothing store and try clothes on. Ask the associate for their advice. They are more than willing to help. Ask your friends. They will tell you the truth. You are the best critic and should be able to tell immediately if something is the right color for you or not.   
5. Chipped Nails
Please don't walk around for days or weeks with chipped nail polish on your hands or feet. It is okay on your feet if you are not wearing open toed shoes. No problem. But when you are showing your hands and feet you should keep them looking nice. Just take off the nail polish if it is chipped up. Or go for a re-painting them. If you are showing your feet make sure you have had a recent pedicure. Nothing is worse than sporting dry and scaly feet when the rest of you is in place.
Nail Color Options to Keep Your Nails Chip Free
6. Roots Showing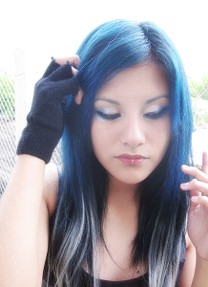 This can be a tricky one these days with all the new hairstyles that are of the Ombre type. This is where the roots are darker and the ends are lighter.
If you did not do it on purpose then please color your roots. You can usually tell by the hairstyle if it was meant to be or not.
Keep your hair colored and up to date. It will make all the difference in the world.
This young lady may have a problem with her dark roots shining through soon.  However, due to the style of her hair it may not be a noticeable thing.  
Photo Credit:  Wikipedia Commons, CCSA, Metalnicole
7. Wearing Too Much Makeup
Please don't sport the clown look. Some of us can pull off more makeup than others. You know where your limits are. Don't cake it on. Your goal is a flawless look. You can achieve that and wear your eye colors and lip stick. Make sure the colors compliment you and are put on correctly. There are many cosmetics counters that will give you a makeover and make recommendations for you if you need help with this.
8. Hair In Need of A Cut
Long hair is beautiful. It is not beautiful when it is full of dead ends. Keeping your ends trimmed will actually make your hair grow more and it looks so much better. It is fresh and the style is so much better than if it is full of dead ends. Your ends can be trimmed without taking a lot of length off. It will be more manageable too.   
9. Pajamas Out in Public
Don't wear your Pajamas to Walmart please. I have seen this one too many times. I have seen more younger people doing this lately. I am not so critical of kids doing it. But a grown woman in the store with her Hello Kitty pajamas and bright pink fluffy bedroom slippers is not cute. Throw on a pair of jeans and a t-shirt before you leave on those Pajamas.   
Don't Wear Your Super Hero Pajamas and Slippers Out to the Store
10. Leggings That Show Your Toosh

Don't mistake a pair of leggings for a pair of pants. They are meant to be worn with a long shirt over them covering up your butt. Wikipedia says so too.
You will also be dealing with panty lines and clothes that are too small when you wear them without a long shirt.
Leggings are usually quite snug so your panty lines will show unless you wear a long sweater or shirt over them.   
This young lady seems to have it right.  A short skirt over them instead of nothing.
Photo Credit:  Wikipedia Commons, CCSA, Safedom
Leggings
are a type of fitted clothing covering the legs, which can be worn by both men and women. Originally leggings were two separate garments, one for each leg. Modern leggings are typically made from a blend of Lycra, spandex, ...
Bonus Fashion Tips
Always wear the appropriate undergarments. If wearing a t-shirt then wear a bra that doesn't show every line. Wear shaping wear that will keep you rolls tucked in and not hanging out. A lot of the shaping wear will also keep your panty lines from showing. Give it a try and you will feel so much better about your look.
 
If you get your nails done at a salon with acrylic or gel then please keep them filled in. Don't go too long before going back to have them filled in. Nothing looks worse than nails that have grown way out with a huge gap between the cuticle and gel line. Go back every 10 days or so and get them filled in. It looks much better.
Related Articles
1 Big Girl's Curvy Fashion and Beauty Spot
Updated: 01/04/2013, Angel
---
Disclosure: This page generates income for authors based on affiliate relationships with our partners, including Amazon, Google and others.