Top 5 Senior Dog Foods For Older Boxers
by LizzyHannah
Older boxers have different nutritional requirements than younger dogs. Feeding him a senior type dog food will meet his dietary needs.
The Aging Boxer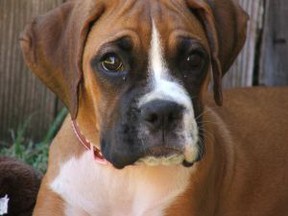 As your boxer grows older, his nutritional requirements change due to the fact that he isn't as active as he once was and because of aging issues. When your boxer begins to age, it is important that you feed him a senior type dog food that will give him all the necessary nutrients to keep him healthy and happy.
Keeping your boxers weight under control is a key factor. Boxers are prone to developing arthritis as they get older and the added weight puts more stress on their arthritic joints. Feeding your boxer a dog food with added glucosamine and chondroitin supplements will help with joint problems. A dog food that contains vegetables gives your boxer plenty of fiber without all the calories. Vitamin and mineral supplements are also important for overall health.
Feeding a nutritious senior dog food will keep your boxer healthy in his golden years, which is important to prevent illness and disease which can be fatal for an older dog. These top 5 senior dog foods for older boxers contain the necessary ingredients that these dogs need in their diet.
Canidae Platinum Formula
Canidae is an all natural dog food with reduced calories, fat and protein to keep your boxer at a healthy weight. The added glucosamine and chondroitin helps his arthritic joints while the psyllium adds fiber to his diet and helps with digestion.
This dog food is available in 5, 15 and 30 pound bags at Amazon.
Diamond Naturals Senior 8+
Diamond Senior dog food also has added glucosamine and chondroitin for joint issues. Antioxidants including Vitamin E and selenium are added to help cells fight off heart disease and cancer, which is common in older boxers.
This 35 pound bag ships free from Amazon.
Blue Buffalo for Senior Dogs
This dog food contains Omega 3 and 6 fatty acids to give your boxer a shiny coat and healthy skin. Vitamins and minerals are added to help his immune system fight off illness. Blue Buffalo contains whole grains to keep his energy level up and vegetables for added nutrients.
Take advantage of Amazons free shipping on this 30 pound bag.
Chicken Soup for the Dog Lover's Soul Senior Dog Formula
For arthritic boxers this dog food also contains glucosamine and chondroitin for joint health. To help your dog fight off disease and illness, which is harder on older dogs, Chicken Soup dog food has Omega 3, which strengthens his immune system.
Amazon ships this 35 pound bag for free.
Petcurean Now Senior/Weight Management
To keep your older boxer from becoming obese, this senior dog food has just the right levels of fat and protein he needs to maintain a healthy weight. Petcurean Now is loaded with fresh ingredients that are easy for your older dog to digest.
This dog food is available in 1, 6 and 25 pound bags at Amazon.
---
Disclosure: This page generates income for authors based on affiliate relationships with our partners, including Amazon, Google and others.