Valentine's Day Gifts Under 20 Dollars
by Natasha
Searching for a cute valentine's day gift under 20? This page lists all the popular valentine's day gifts under 20 dollars.
Who says that you can't get a decent and beautiful gift for your valentine under 20 dollars.  You definitely can; there are loads of good choices available on the internet.  After careful researching, I have highlighted some of the better and popular valentine's day gifts under 20 dollars.  These are unique and personalized and are bound to make your valentine feel special.  Just browse through them and select the one you like the most for your partner.
Interlocking Hearts Mug
This interlocking hearts coffee mug is simply so cute.  You can personalize this mug by giving your partner's and your name.  Your valentine will remember you forever.  This coffee mug is:
Made of ceramic
Microwave and dishwasher safe
You can customize this mug by adding your and your partner's name on the mug
Exclusive product from Personalcreations.com
Costs $12.99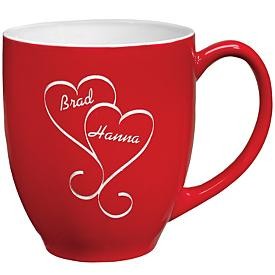 Interlocking Hearts Mug
Personalized Jigsaw Puzzle
Build the excitement and fun on Valentine's day by giving this personalized jigsaw puzzle to your partner.  They will have to assemble the pieces of the puzzle to decipher the message and trust me, it is really fun.  You can help your partner "piece together' the puzzle and see the reaction on their face when they complete it.  This personalized valentine jigsaw puzzle is:
7 1/2" x 9 1/2"
It features your Valentine's name, their special message, your name and sentiment.
It is a 30 piece puzzle and it is shipped unassembled in an envelope, sealed with a red heart.
This game of love puzzle costs $14.99, shipped and sold by Personalcreations.com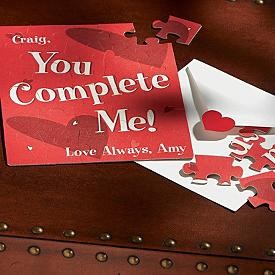 Personalized Jigsaw Puzzle
Romantic Message in a Bottle
If you are looking for a very romantic and unique gift, then this is the best gift you can get.  This gift is a classic.  If you havn't already conveyed him/her about your love, this is the perfect way to do it.  Love letters never lose their charm and when you receive one in a bottle, you will never ever forget that moment.  The recipient of this gift will cherish it forever.  This romantic Message in a Bottle includes:
A parchment scroll carrying your message
A 7"H glass bottle where the parchment scroll is inserted
You can give the recipient name, a 5 line message and 2 line sentiment
This item is a Personal Creations exclusive and costs $14.99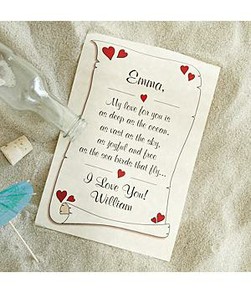 Romantic Message in a Bottle
Love Pillow Case Set
This love pillow case set is an ideal valentine's day gift for husband or wife.  This pillow set will serve as a constant reminder of your everlasting love to each other.  It is really a cute gift and it comes under 20 dollars.  This love pillow case set is made of:
Soft, machine washable, 100% cotton
Has "LOVE" written in big, bold letters
You can personalize the heart by 2 names
It is sold at $19.99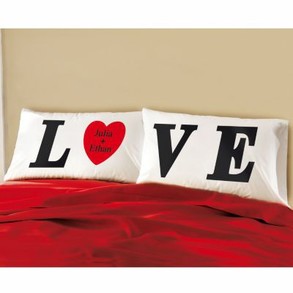 Love Pillow Case set
Valentine Devil Bear
If you looking for a cute naughty little gift, then this devil teddy bear is your best bet.  This irrestible cute teddy bear sports a red satin cape and horns and clutches a heart which can be removed.  The heart is customizable and you can give any two names you want.  Your valentine would really appreciate it.  Personal creations is offering a 50% discount on this product and you can buy this for only $11.98.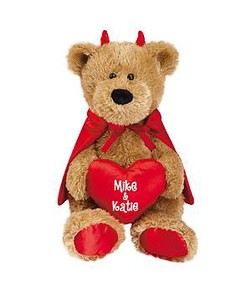 Valentine Devil Bear
Love Greeting Card
Greeting cards may be a common gift on Valentine's day, but they never seem to go out of fashion.  They still have their own charm, you just have to make sure that you choose a nice card and personalize it so that the receiver can connect to your emotions.  Tinyprints.com is the best resource if you are looking for unique valentine's day cards.  I have just featured one, if you like it click on the card and you will be directed to the page or you can browse through all the available options by visiting the tinyprints.com link below:
---
Disclosure: This page generates income for authors based on affiliate relationships with our partners, including Amazon, Google and others.