Valentine's Party Supplies & Decoration Ideas
by Tehreem
Decorate your home for a smashing valentines party! Find cute and hot party supplies and decoration ideas here.
Valentine's Party Supplies
Happy Valentines Day!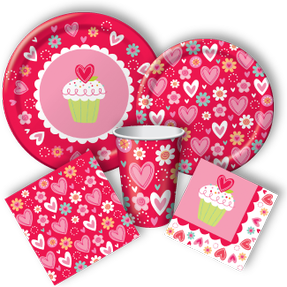 February is the month of love. With Valentines Day approaching everyone will be busy in planning different things they want to do for their loved ones. Couples will be deciding how to surprise their sweethearts and friends will be planning on hanging outs and parties. Everyone wants this day to be a special one.
A Valentines Party is always special and a lot of fun. This day holds importance for everyone and people love to be together with their families, friends and loved ones. If you want to turn your house into something fantastic for a 14th Feb party then we will not disappoint you. Here you will find lots of fantastic ideas to decorate your party place.
Heart themed party tableware, decoration ideas, decorative supplies, party invitations, cake ideas, cake decorations, cupcake stands and everything you would possibly want for a smashing valentine party will be found here.
Read on to find what you can do to make this day memorable.
Valentines Party Invitations
Come to my party!
Party Invitations for a this party should be really special ones. You can easily buy them from any shop or can make them your selves. Party invitations should be themed with everything else you want to buy for your party.
Some of the most popular valentines party invitations are featured below.
Valentines Party Tablecovers
Decorate your party table
For a valentines day party, the party table should be decorated with all pink, red and hearts! A huge variety of valentine tableware can be found in markets. Plates, cups, napkins, tablecloths in pink, red and other hot colors designed with hearts, stripes, checked squares and even really simple designs are now very easily accessible.
For your help a few most popular and pretty party tableware supplies have been featured below. The first one is the table cover with swirls and hearts. This table cover will be perfect for you to set your dishes on. It will speak of the love and care with which you prepared the party.
The plates featured here are really pretty and will be perfect for a valentines day party. These pinstriped plates have a heart on it and are of hot pink color. Perfect for a girly gathering. Check out other items also.
Valentines Party Decoration Ideas
Brighten Up Your Place!
To decorate your party place for a valentine bash. You will need everything to be pink or red and full of hearts. Your party place should shout "HEARTS" everywhere!!
Heart balloons, Hearts Confetti, Hearts Banners, Valentine hangings, Balloon bouquets, curling ribbons, crepe papers, and more balloons will make sure your place looks glamorous.
The party decorating kit featured below will full fill your requirements and will also cut off your total expenses by atleast 50%. It includes
18 Hot pink latex balloons
3 Hot pink crepe paper rolls
3 Hot pink curling ribbons
A disposable helium tank
Balloon Pump/ Sticky tack
Spread hearts confetti on the table, all over the floor, on sofas and be sure to have a love couch!! Hearts balloons will look fabulous floating on the ceiling and lying around the floor. Contrast your party colors to give a more vibrant look. And don't forget to make balloon bouquets to tie on the chairs.
More Valentines Day Decorations
Assorted Heart Cutouts
Red Hearts Confetti
Happy Valentine's Day Latex Balloons ...

Only $11.99
Valentines Cakes & Cupcake Ideas
A Sweet way to express your love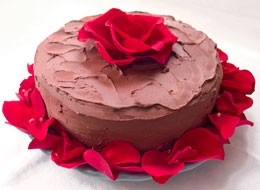 Valentines day is all about expressing your love to your friends, family and sweethearts. Chocolates are said to be the best way to say 'I Love You' but cakes and cupcakes baked by your own hands will really tell how much affection you have for your loved ones.
Preparing a cake or baking lots of cupcakes will be time taking but the end result will be worth all the time spent. Your creation will say all that you can never express in words.
For cake decoration, you can easily use fondant. Red fondant heart cutouts will look fabulous and lovely on a white cake.Candy hearts can be sprinkled on top or a Heart topper can be placed on the cake. The cake will look even greater if you put in some of your own creative ideas.
Cupcakes can easily be decorated using cupcake toppers or candy hearts. Cupcake stands will also make the presentation good.
A great option for cake decoration is to have your own cake decorating kit at home. A very popular cake decorating kit has been featured below. This cake decorating kit by Wilton includes:
12-piece press set for creating intricate patterns
Sturdy plastic pieces for simple-to-use convenience for beginners
It includes Fleur-de-lis, heart, medallion, scroll, crest, vine, and other shaped cutters
These items are also great for pressing patterns into cookie dough, fondant, and more
Valentines Cake Decorations
Valentines Cupcake Decorations
Valentines Day Cards
Be Mine!
Greeting cards are the best way to express your love and emotions for someone. They pass your message to your loved one with a strength that penetrates their hearts and touch their souls. 
You can make some stunning cards at home with your own hands.To make the greeting cards at home, buy these items:
Red or Hot Pink construction paper or cardboard
Sprinkling glitter
Aluminum Foil
Heart Stickers or template
Scissors
Glue
Ribbons, Buttons,or anything you want to decorate your cards with.
Cut out some simple square or rectangular cards. You can use the template to cut out heart shapes. If you want to keep it simple, then decorate the cards with stickers and sprinkle some glitter on them. For a more creative card you can do any of these things:
Stick a square of aluminum foil on the cardboard and glue a cardboard heart on it. Glue one or two buttons on the card or ribbons can also do.
Cut out differently colored hearts and stick randomly on the card. Sprinkle some glitter on it.
you can use checkered fabric heart cut outs and outline it with ribbons.
Some examples are shown below
Click for a larger image
| | | | | |
| --- | --- | --- | --- | --- |
| Handmade card | valentines card | Valentines cards | hearts card | valentine card |
Try Making This One!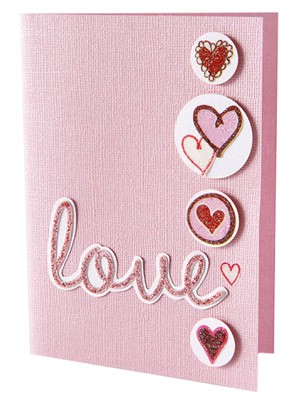 Valentines Card
Make Your Own Valentines Day Greeting Cards
Valentines Cards & Adhesive Foam Hearts... Your Very Own Card Decorating Kit
---
Disclosure: This page generates income for authors based on affiliate relationships with our partners, including Amazon, Google and others.