Victorinox Swiss Army Knife - A gift for Him
An amazing Swiss army Knife - Helps any man to save the day. What can it not do?
History of the Victorinox Brand
The Real Deal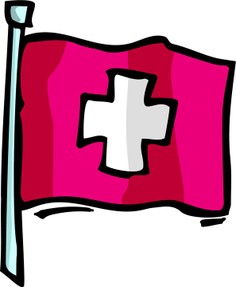 A company formed in the 1800s, it has been around quite a long time.  It was originally named Victoria after the mother of its founder.  The name of the company was later changed to Victorinox as a combination of Inox (Stainless Steel) and Victoria.
The headquarters of the company are in Switzerland and they exclusively (at least at time of writing) supply these knives to the Swiss Army.  
This ultimately means they are the real deal.  People's lives are dependent on their products and they seem to be standing the test of time.  Some other companies carry the Swiss Army logo but they license it from this company so Victorinox is the real deal.
Victorinox Swiss Army Knife
This is the product the company is best known for.  They exclusively supply the knives to the Swiss Army which, I think, lends it a lot of credibility.  Also, NASA astronauts carry one of these as a matter of course.  The company definitely makes great, versatile instruments to make any 'real' man feel great.
They produce a variety of knives but the one that really drew my eye was the Victorinox Swiss Army Champion Plus Pocket Knife.  Have a look at this baby...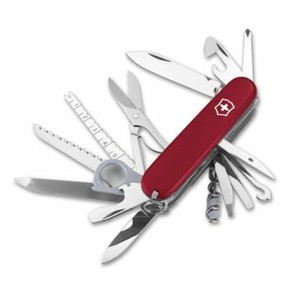 Is there anything it cannot do?
It has thirty tools in that little three and a half inch body.  Amazing, I think!
Tools include:
Nail file, Screwdriver - not just the one screwdriver; Mini, small, large, fine and Philips, scissors,metal saw, wood saw, reamer, toothpick ( absolutely essential after any meal - Now you can just pull it out of your pocket.), pen, sewing eye, corkscrew, tweezers and a lot more features.  Everything for a guy who wants to be prepared.  Some girls might like it too but I know I wouldn't.
Now, we all know someone who loves to be useful in various hands-on situations so this would be a great present for that person.  I personally find it pretty difficult to buy presents for my partner but as soon as I saw this item, I knew I was on to a winner this time.
Setback of the Victorinox Champion Plus
The one small issue with the Champion Plus Swiss Army Knife is the weight.  This, really , is to be expected as it does contain so many useful things, its weight is just about comfortable to carry around easily.  It definitely fits in a pocket but it all depends on personal taste as to how much weight they want to carry.
Overall...
If you are looking for a present for the guy who wants to be prepared at all times, then this is the one for you.  If you or your partner are into camping, hiking and other outdoor pursuits then this Swiss Army knife is definitely an appropriate gift.
With a lifetime warranty, you really cannot go wrong.
---
Disclosure: This page generates income for authors based on affiliate relationships with our partners, including Amazon, Google and others.