Victorious Birthday Party Supplies & Decoration Ideas
by Tehreem
Create a rocking rock star party with Victorious Themed Party Supplies. Make your party shine!
Victorious Party Supplies
Make it shine!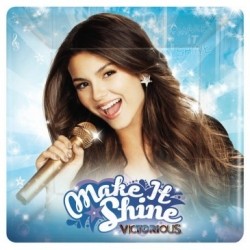 Victorious Themed party will be a real blast! If you have a kid in love with this amazing TV program, then this will be one of the best parties she ever had. This TV program revolved around an aspiring singer, Victoria Justice. Many kids have become fans of this program.
This page will help you plan a successful Victorious Themed Party. Party supplies of this theme are given below. The products featured here are less expensive, durable and easy to purchase. Many decorating ideas are also given to make your party perfect. Ideas for Victorious Themed Birthday Party Cake will make it easy for you to make a fabulously delicious cake.
Victorious Party Invitations
Come to a rockstar party!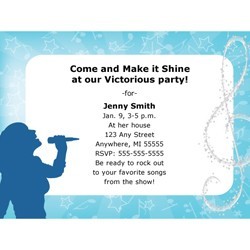 Victorious Party Invitations will really cause an excitement in the guests who are invited. Victorious Themed Party Invitations will be a real source of pleasure for them. Official Victorious party Invitations are not yet available but making your own party invitation will be lot of fun!
Simply get some cool victorious stickers or some other rock star themed stickers . Victorious images can also be printed out and used. Cut out folded cards from construction paper or cardboard and stick the decorations on them. Use markers or glitter pens to write the details of the party. Ta Da! You have your very own Victorious Themed party Invitations!
You can check online for personalized printable Victorious party invitations.
Victorious Party Invitation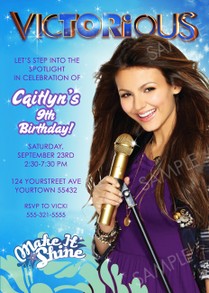 Victorious party Invitation
Victorious Party Tableware
Get the best of them!
Complete your rockstar theme with Victorious Themed Party Tableware. The party table should be covered with victorious themed table cover and plates, napkins, cups etc. You can put some posters as a table backdrop and blow blue and purple balloons to make the party table lively.
Victorious Party Pack would fulfill your needs of 16 party guests. It includes:
16 Paper cups
16 dessert plates
32 lunch napkins
1 paper tablecover
Purple and Blue Balloons To Match Your Party Theme
Victorious Themed Birthday cakes
A Victorious themed birthday cake would make a Victorious party worth living for! You can order a victorious cake from a bakery or make one yourself!
Not many victorious cake toppers are yet available but we'll tell you how to make a paerfect cake for the theme!
Bake a simple square, rectangle or circle cake and cover it with purple or white icing. Decorate it with cut out decorations of guitars, mikes, music notes and put in center a victorious printed image. You can paste the image on a cardboard and prop it in the center of the cake. Victorious Themed Cake id ready!
Victorious Birthday Cake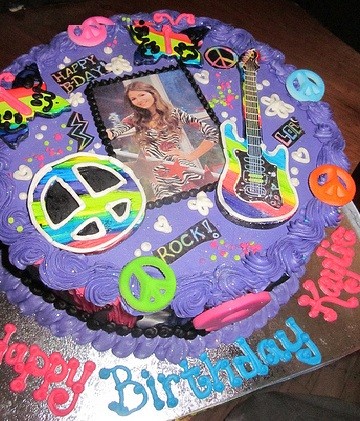 Victorious birthday cake
Victorious Cake Decorations
These will help you make a rocking Victorious cake!
---
Disclosure: This page generates income for authors based on affiliate relationships with our partners, including Amazon, Google and others.