Wedding Day Fashion Guide for Guests
by Pinkchic18
Choosing what you're going to wear to a wedding can be important, as there are plenty of faux paus that you want to avoid. Here is a guide to help you eliminate any confusion.
Why Does It Matter?
It's not my wedding...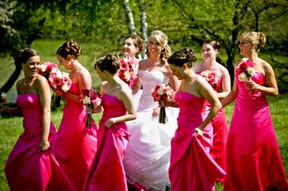 Just because all eyes will be on the bride doesn't mean the rest of us get to slack off! In fact, these special occasions typically make people want to look their best. But what is "best"?
Do you need to wear a suit and tie or formal dress? What if you're going to a beach wedding? What if the invitation gives you no clues?
Here is your wedding day fashion guide: if you show up under- or over-dressed, you can blame me! But I have a feeling you'll be just right.
Taking Your Cues
What should I wear?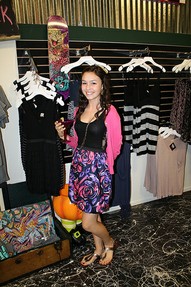 Before you delve into your wardrobe or go shopping, look at your wedding invitation. This has a few valuable clues that can help you choose the right look. It used to be thought gauche to instruct guests as to their attire on wedding invitations.
Today, some etiquette experts believe it is still a faux pas to do so but others feel it is very helpful because there are so many different types of weddings.
You don't want to show up in your heels if you're at a beach wedding, for instance. Nor do you want to wear your flip-flops to a formal affair.
After the date, time, venue, and other vital information, you may see a notation about attire.
Black Tie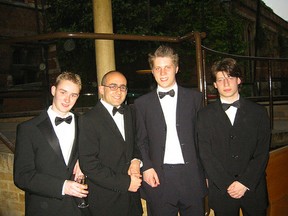 A black tie invitation indicates that the couple expects formal attire: tuxedos for the men and evening dresses/cocktail dresses, or dressy evening separates for the ladies.
If you are unsure what to wear, remember, it's a little black dress to the rescue. This is perfectly suitable for black tie weddings.
If you don't have a little black dress, then it's time to go shopping!
Black Tie Optional
This differs slightly; the couple may wish for everyone to dress formally but they understand that many of us don't own a tux or have an Oscar de la Renta on hand. Black tie optional indicates that you won't be out of place if you wear a tux, but you can also wear a dark suit and tie. Women can rely on the little black dress again!
Creative Black Tie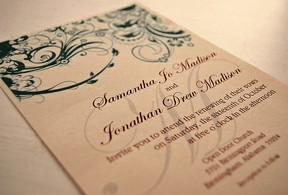 You may also see "Creative Black Tie". This is formal wear but allows room for interpretation: a male guest, for instance, could wear a tux with a black shirt and no tie.
Women's dress can be a bit shorter as well. Today, most couples will indicate a black tie, black tie optional, or creative black tie in their invitations because they are not the "norm" anymore.
Semi-Formal
We're starting to get a little more laid back. Tuxes and long dresses are not required, but guests of these evening weddings will want to wear dark suits and cocktail dresses. During the day, a suit is recommended, and women can wear a shorter dress or dressy suit. Now, when you see "Informal" it does not mean you can get out the jeans; it really means the same thing as semi-formal: suits and dresses.
Cocktail Attire
There's no surprises in this wedding attire phrase. This means you are able to wear short but elegant dresses for the ladies and suits for the men. Simple and easy, and usually pretty comfortable.
Dressy Casual
A good choice for a woman may be a sundress or dress pants and a nice blouse. Men can wear pants (even khakis are fine) and a sport coat or polo shirt.
Casual
There are weddings in which the bride and groom will be dressed very casually. If they bother to note "casual," it usually means most anything goes. While you could technically wear jeans, though, step it up a little and go with dress pants or a dress.
The Jist of Wedding Attire
When attire isn't addressed
If attire is not specified, look at the invitation. Sometimes you can discern the level of formality from the type of invitation (colors, fonts, styles, etc.). If you feel comfortable, you can ask a member of the wedding party if semi-formal, cocktail, or casual attire would be best suited for the occasion. It is typically better to be a little overdressed than a little underdressed, but going too far in either direction is no fun either!
Look for clues from the invitation, and if you can, check with other guests about their planned attire.
More Wedding Fashion
Check these posts out!
Top Five Celebrity Wedding Trends
What's Up with Groomsmen/Grooms Wearing Sneakers?
Wedding Hair: Up or Down?
Wedding Nail Trends
---
Disclosure: This page generates income for authors based on affiliate relationships with our partners, including Amazon, Google and others.