What Workout DVD is best for you?
Everything you need to know about workout DVDs! Reviews, advice and more...
Why I love workout DVDs?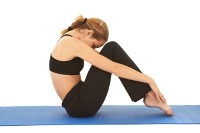 Hi, my name is Linda. I have been a fitness enthusiast all my life! I have worked in the diet and exercise industry for many years and I love helping people reach their fitness goals!

My absolute favourite way to work out is using workout DVDs! In fact I love them so much that I even decided to start a website selling them, so that other enthusiasts get a great range of DVDs for great prices.

One of the main reasons I love workout DVDs so much is definitely because I prefer to exercise in the comfort of my own home. I found that I was too self-conscious at the gym and didn't get as good a workout as I do when exercising along. It also means you have no excuse, cause you can get straight out of bed and don't actually have to drive anywhere! I have over 50 workout dvds and am known to do one every morning 5-6 days a week. I am constantly adding to my collection!

I take my workout dvds everywhere! I went on holiday to Europe, and you guessed it, i had at least 10 workout dvds packed in my bag! With most you need surprisingly little room so you can even do it in a small hotel room. If you have a laptop or portable dvd player you are set to workout anywhere!

It is my secret addiction - and a pretty healthy one I think! I am sure once you buy your first workout dvd you will never look back and you will definitely want more and more! So if you are about to enter the wonderful world of working out at home then I will be all too happy to try and source whichever dvds you want to add to your collection!

Here are some awesome Pilates DVDs on ebay
How to choose a workout DVD
There are so many workout dvds available that it can sometimes be a bit overwhelming to choose which one is best for you. I guess to start off with the best thing to do is to ask yourself what your fitness goals are. Are they to lose fat, to gain muscle, to gain flexibility or perhaps all three? Then you would ask yourself what sort of workout you enjoy doing; do you like fast paced aerobics routines that really make you work up a sweat, or do you prefer the mor leisurley pace of yoga or pilates? Finally you would be realistic about your fitness level; have you ever attempted this sort of exercise before or are you a beginner?
Once you have decided on these answers you can start to search for a workout DVD that specifically caters to your needs. So if you want to tone up using Pilates and you have never tried it before, then you would search for a Pilates for Beginners dvd. If you have exercised all your life and really want to up the anti, then you might search for an advanced cardio training dvd.
One of the great things about most sites that sell workout DVDs is that there are plenty of reviews to read. It is highly advisable that you read a lot before you buy! If the majority of the reviews are awesome, then go for it - if they are not so good, then give it a miss!
Once you have found a dvd you like it is likely that the instructor has more available, so you can slowly expand your collection. For me instructors are very important! If I find them annoying I won't persevere with the DVD no matter how good a workout it is. If I like an instructor, however, I will be a cult follower and buy all their dvds.
So that's my method anyway. Hopefully you will find it helpful!
Come visit my awesome workout DVD site!
Workout DVD World
workout DVDs, workout equipment, workout clothing, books, articles, personalized advice and much more...
Pilates or Yoga?
Which is better for weight loss - Pilates or Yoga?
Pilates Workout DVDs
Why Pilates?
If you are anything like me then you really like to break a sweat when you work out! That's why at first I wasn't that interested in trying Pilates. As I got older, though, I thought I would give it a shot as I figured I can't be jumping up and down with all those high impact workouts forever! To tell you the truth I was pleasantly surprised. Pilates can actually be quite difficult! It is a great way of strengthening and toning without using weights.
The great thing about Pilates is that anyone can do it! There are no age or fitness restrictions. Many dvds even give multiple variations so that different fitness levels can keep up. Pilates can even be used to rehabilitate people with injuries as it is gentle and effective for strengthening the muscles in a safe way.
The great results you achieve with Pilates include: leaner longer muscles, great core stability and strength, weight loss benefits if done consistantly, as well as increased flexibility to name a few.
I highly encourage you to add Pilates to your workout routine. You can still do your weight training and cardio and use Pilates as a unwinding, lengthening workout at the end of the week. It is great to incorporate longer stretching sessions into your workout regime. This will help you avoid injury during your other workouts and will also give you a great toned body!
My Favourite Yoga and Pilates DVDs
MY FAVOURITE PILATES WORKOUT DVD
The Hollywood Trainer's Pilates DVD is definitely my favourite Pilates workout. It is a workout you can grow with!The instructor, Jeanette Jenkins, gives really clear instructions and modifications for all levels. The workout flows continually for 45 minutes so you are getting a good cardio workout at the same time. It is a total body workout that focuses on strengthening your core and lengthening and leaning out your muscles. I highly recommend all of the Hollywood Trainer dvds for a well-rounded workout regime…

MY FAVOURITE YOGA WORKOUT DVD
I hope I am not sounding biased, but my favourite Yoga workout dvd is actually The Hollywood Trainer Yoga! Once again I like it best because it is a little more fast paced, but still uses all the traditional yoga moves and focuses on deep stretching and correct breathing. It is a long workout, about 50 minutes and definitely a challenge. The first time I tried it my legs felt like jelly the next day lol!  I feel like it has taught me to breath a lot more deeply when I am working out and has definitely been beneficial in stretching and lengthening my muscles. I highly recommend incorporating yoga into your exercise routine, especially if you are doing weight training that tends to shorten the muscles. This dvd has proven to me that you can definitely work up a sweat doing Yoga!

Workout DVDs on Amazon
Zumba Incredible Slimdown Weight Loss Dance Workout DVD System

INCREDIBLE SLIMDOWN CARDIO DANCE SYSTEM DANCE YOURSELF FIT AND BURN UP TO 1000 CALORIES The weight is over! Zumba Fitness brings the party home with the Incredible Slimdown DVD ...

Only $24.95
Body Groove Delicious Dance DVD Collection

The Body Groove Delicious Dance Collection includes... Workout 1 (7 routines - 39 minutes) Workout 2 (6 routines - 28 minutes) Workout 3 (6 routines - 27 minutes) PLUS You'll al...

$29.00 $28.95
Zumba 101 Dance Fitness for Beginners Workout DVD

Target Audience Adult Duration 30 min manufacturer_part_number 101 Model D0D00244 Fitness Goal Lose Weight, Tighten & Tone Brand Zumba Movie Genre Sports & Fitness

$9.99 $7.15
Dance Your Heart Out DVD Collection

Your Dance Your Heart Out DVD Collection includes... 3 Complete Body Groove Workouts Each Body Groove Dance Your Heart Out workout series consists of six dance routines and each...

$29.00 $22.19
Zumba Country Dance Fitness Music Workout DVD

Burn up the dance floor with Zumba Country feat. two 30-min workoutsA sizzling cardio workout featuring easy-to-follow dance steps set to favorite country chart toppersFeaturing...

Only $9.99
My Favourite Cardio Workout DVD
Cathe Friedrich Intensity!
My Favourite Instructor at the moment!
I love Cathe Friedrich!!
Cathe Friedrich has been in the fitness industry for 20 odd years and she gets better and better! I recently discovered her workout DVDs as I really wanted a challenge! I was never really one for step aerobics, but seeing that it is actually quite a bit more intense than regular aerobics I thought I'd give it a go. Don't get me wrong, Cathe's routines can be pretty complicated at times, but as with everything, practice makes perfect and soon I had the moves down packed! 
I have a huge collection of workout DVDs and I add to it pretty much weekly. I kind of feel guilty because my pile of Cathe DVDs seems to be ever growing and some of my other old favorites are getting dusty! I can't help it though, the workouts are the bomb. They are advanced, fun and really really effective. And the other thing is that a lot of them are super long so you keep going and going until you literally can't go any more!
One of my favorite Cathe workout DVDs has to be Intensity. I am a bit of a plyometrics junky. I love being totally out of breath - literally gasping for air (is that a bit weird?). Well Intensity will do it for you every time. It starts out with a step segment where she only uses one step riser, but i have graduated to two plus 1kg hand weights for max intensity! Then the second segment is high intensity HIIT training where you jump and plyo and tuck and air jump until you think u can't go no more! Then comes a nice break, a low intensity HIIT, which still works up the sweat, but allows your heart rate to drop a little bit from 110% to maybe 90% (just joking lol)! If you want an added challenge there is a 15 minute Bonus Boot camp segment which alternates between cardio hits and weight training - it also includes the dreaded fire-walkers, ouch!! I always try to challenge myself and do the entire workout, which ends up at about 70 minutes. The first time I did it it defeated me! I had to stop 3/4 of the way through! This made me more determined than ever not only to get through the entire thing, but to do it with higher intensity by adding the extra risers and hand weights. I am happy to say that I have now conquered the Cathe Intensity! My next challenge may be 1.5kg hand weights, but for now I think 1kg is good enough.
So if you want to take the Intensity challenge go and buy a copy of the DVD. You will not be disappointed! I couldn't recommend it more if I worked for them!
Interval Training Workout DVDS
Maximum calories burned and maximum fat lost!
If you want to cick your workout routing up a notch, then i suggest incorporating some interval training. The basis of interval training is to alternate high intensity blast segments with lower intensity, active recovery segments. You can either do this with cardio only or alternating weights and cardio. This type of workout is designed to keep your heart rate in that ultimate fat burning zone so that you maximise your calories burned and therefore optimise your weight loss potential.
There are so many fantastic workout dvds out there that use interval training as their basis. I prefer using the DVDs so that I don't have to think about my workout. I just stick a different one on every morning and go for it! I love variety because it means I don't get bored and really enjoy every workout. If I find an excellent instructor I tend to buy their whole range of DVDs and stick with them until someone else peaks my interest. 
The Firm has used interval training as their main weight loss principle for many years. Their signature workouts always included weights and cardio. Incorporating both strength and aerobic exercise increases your calories burned significantly so your workout becomes more efficient. The Firm has a huge range of awesome workout dvds. Some that I hightly recommend would be The Ultimate Fat Burning workout, The 500 calorie workout, Bootcamp maximum calorie burn, Total Body Time crunch and Calorie Explosion.
The other guru of interval taining is Cathe Friedrich. She has a huge collection of DVDs that are advanced and will challenge even the most seasoned veteran exerciser. Cathe is my favorite instructor at the moment and I am in the process of acquiring her whole range of dvds. Even the DVDs she produced in the early 2000's are awesome!
So there you have it, if you want to see results fast and love a challenge, then interval training is definitely for you!
Buy Interval Training Workout DVDs
The Firm Interval Training Workout DVDs
The Firm have a huge collection of fat burning workout DVDs that will help you to get into the best shape of your life. They signature style is based on combining cardio with strength training to maximize calories and fat burned!
Tae Bo Boot Camp style interval workouts
Tae Bo is one of the leading Boot camp style workouts that will guarantee results. Kick and punch your way fit and watch the fat drip off your body to reveal the lean new you!
Tae Bo Kickboxing Workout DVDs
Why is Kickboxing great for burning fat!
If you love workout DVDs then you have probably heard the name Billy Blanks somewhere in your travels. He is the creater of the revolutionary fitness style Tae Bo. It is basically a cardio style kickboxing workout that blasts fat as well as tones your body to give a nice lean look. The great thing about Tae Bo is that the moves are quite easy to master, but they are really effective. You twist, punch and kick your way into shape. 
Billy Blanks is an awesome motivator. He does the workout with you, not like some of those other instructors who just watch and yell out instructions! He is really enthusiastic and pushes you to the limit and sometimes beyond! 
The Tae Bo series has heaps of different workouts, long, short, cardio only, cardio and toning, floor work, and some with various equipment. There really is something for everyone. And guys, you will definitely benefit from this style of workout as well. If you have shyed away from workout dvds because you always expect pink leotards and leg warmers, well you might change your mind after doing one of these hardcore workouts!
So if you want to get serious about getting in shape and you want to shake up your boring exercise routine, grab one of the Billy Blanks Tae Bo DVDs and you will not be disappointed!
---
Disclosure: This page generates income for authors based on affiliate relationships with our partners, including Amazon, Google and others.