Who Am I? Why Am I Here? When's Lunch?
In which we introduce this lump of protoplasm which is me.
I'm taking a big chance here, writing this before lunch.
If I stop suddenly, in mid sentence, then you know I've abandoned the keyboard and have gone to get some chow.
I admit, starting a relationship with a new writing community with a warning like that is pro
Num Num Num Num
Num Num Num Num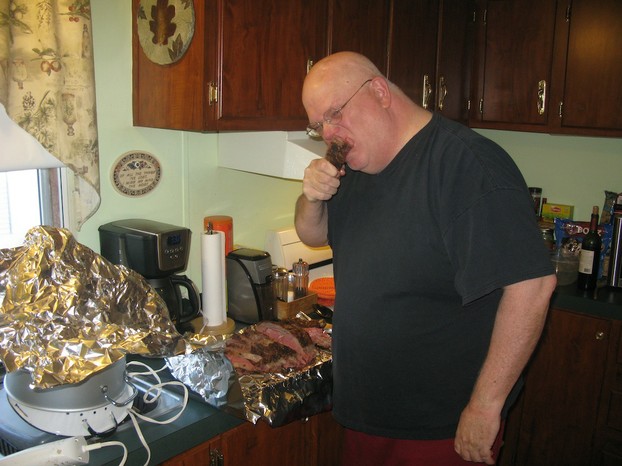 Food, Glorious Food!
Sorry about that.
What were we talking about?
Oh, yes.  I was introducing myself.  But then the oven went "ding" and that meant the ribs were done.  I love you all dearly, my new writing friends.
But these were RIBS!
So, now that we've answered one of the questions in the headline, let's address the others.
Strong Men Tremble When They Hear It!
They've got cause enough to fear it. It's much blacker than they smear it. Nobody mention's...
My name is Bill Schmalfeldt.  I'm a humorist, satirist, smart guy, reprobate, smug so-and-so, wiseass and former US Federal Government employee.  (I'm usually hesitant to mention that last one on first introduction.)
Wait a minute...
I have the TV on in the background.  They just mentioned a guy who had a heart attack while eating something called "The Triple Bypass Burger."
HILARIOUS!  See.  That's the kind of person I am and the sort of stuff I find humorous.
Maybe that is why God is smiting me and my family.
But probably not.
I'm Just a Bill, Yes, I'm Only a Bill
And I Live Way North of Capitol Hill
Elkridge, Maryland, to be exact.  Just on the southern rim of Baltimore County, which surrounds the City of Baltimore which, in its smug, arrogant way, refuses to participate in being associated with Baltimore County which is just as well since Baltimore County is a much nicer place.
Elkridge is in Howard County, which I like to tell people was named after one of the Three Stooges.  Shemp, in particular.
I'm lying when I say that, but does it really matter?
I'm a 57-year old guy who has had Parkinson's disease for 12 years.  I was diagnosed three weeks after my 45th birthday.  And now, the disease has progressed to the point where my mobility is severely limited and I can no longer manage the commute to and from my former gig as a writer/editor for the National Institutes of Health in Bethesda, Maryland.
I loved that job.  And I loved the people I worked with.  Still do.  Love them, that is.  I don't work with them any more.  I'm retired now.  Had to.  Couldn't handle the commute.  But I said that already.  That's another thing about Parkinson's.  It makes me ramble.
But God wasn't done with me yet!
There Sits Me Wife, the Idol of Me Life
She is trying to get my attention by pointing to a bit of pastry. That generally works.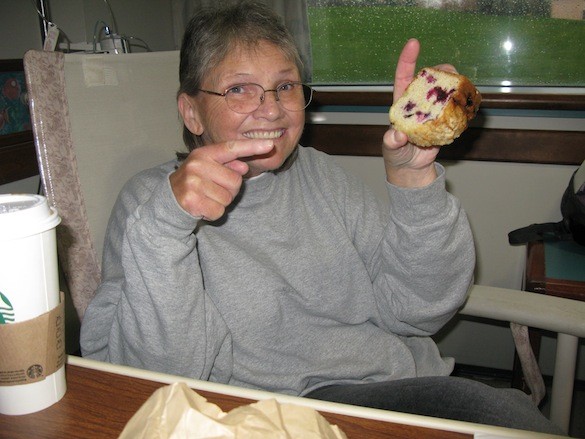 Bill, Bill, Bill, Bill? Look! Look! Bill? Look!
Nope. God Wasn't Quite Done with Me or My Family Yet.
We love God. And I'm not kidding about that. But his sense of humor leaves us... befuddled?
My dad died of cancer at age 54 in 1983.
My twin brother died of a stroke at age 49 in 2004.
My older brother died of cancer at age 54 in 2008.
My older sister died of cancer at the age of 57 in 2009.
Now, God has decided that one disease in my immediate family isn't quite enough.  So, to complement my Parkinson's disease, God has decided to show us his love by giving my wife throat cancer.
HA HA HA HA HA HA HA HA HA!  Such a funny fellow, this God.
But I don't actually believe that.  Oh, I believe in God.  I believe in my wife.  I believe in Parkinson's.  I believe in throat cancer.  But I just don't think God has all that much to do with it.
Remember, this is GOD we're talking about.  The Omnipotent, All Powerful, Creator of Everything.  I just don't think he's all that concerned with our petty concerns, although I do believe he answers prayers... as long as you pray for the right thing.
And the right thing... the ONLY right thing to pray for...
Ya Gettin' Any of This, God?
Knock once for yes, twice for no.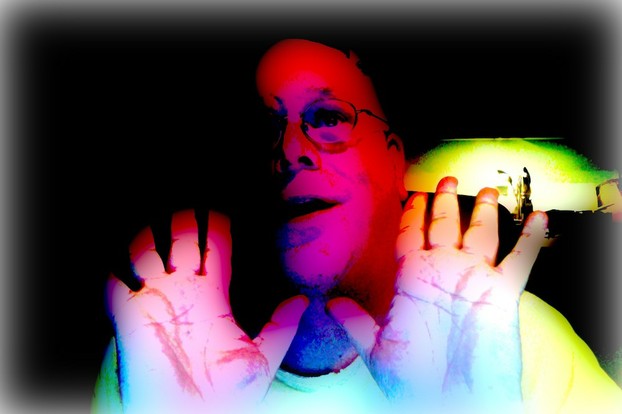 Amen and Amen!
Give Us This Day Our Daily Poke in the Ass
Or bread. Whatever you have handy.
...is the strength to deal with whatever random thing happens to you and the people you love.  Gail and I both believe that humor is a key component with dealing with stuff.  That's why we attack our various ailments with a sense of humor.  You can see this humor put to work on these websites.
Here's Where We Deal With Our Various Ailments with Humor
Because, if we've learned ANYTHING from the Readers Digest, it's "Laughter is the Best Medicine."
OK, That's Me!
And now that we know each other a little better...
Watch for me to pop in from time to time to either whine about one of our various ailments or to vent my spleen about Conservatives or Right Wing Morons.
Glad ta meet ya!
I write books, too!
Maybe you would care to purchase one?
---
Disclosure: This page generates income for authors based on affiliate relationships with our partners, including Amazon, Google and others.