Whole Wheat Blueberry Muffin Recipe
by Jimmie
How to cook homemade blueberry muffins from scratch using whole wheat flour and honey. These muffins are clean eating and full of nutrients.
Clean Eating Whole Wheat Blueberry Muffins
Made From Scratch With Real Foods
Forget store bought muffins. It is not difficult to make homemade muffins, and the results are so worth the small effort. Blueberries are nutritional powerhouses. So add more to your diet with these decidedly healthy muffins.
Whole Wheat Blueberry Muffins Ingredients
Recipe Makes One Dozen Regular Sized Muffins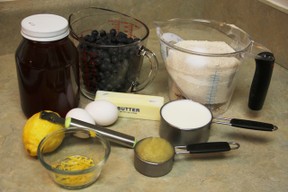 Dry Ingredients
1 cup whole wheat flour
1/2 cup oats, blended in food processor or blender until fine
1/4 cup white flour
2 tablespoons ground flax seed (optional, but adds nutrition)
1 teaspoon salt
2 teaspoons baking powder
Wet Ingredients
1/4 cup unsweetened applesauce
3 tablespoons melted butter, plus additional butter for greasing the pan [or omit the applesauce and double the butter to 2/3 cup]
1 egg
1/2 cup honey [OPTIONAL additional 1/2 cup sugar]
zest from one lemon (approx. 1-2 teaspoons)
1/2 cup milk (any kind will do)
 The Berries
1 1/2 cups fresh or frozen blueberries
Whole Wheat Blueberry Muffins Directions
Preheat oven to 375°.
Grease 12 non-stick muffin tins with melted butter, using a silicone pastry brush. (You can see my Wilton pan and Le Creuset pastry brush below. Love them.)
Mix dry ingredients. Toss a few spoonfulls of it into the blueberries and toss gently to coat.
In a large mixing bowl, combine wet ingredients except milk. Whisk well and then add milk. Whisk again and then put away the whisk. You are finished with it.
Add dry ingredients and fold a few strokes with a wooden spoon. Stop before it is fully mixed. Add blueberries and gently mix. Stop as soon as the flour is mixed in. Do not over mix, and by all means do not beat. (Muffins get tough when overworked.) This batter is thick.
Spoon batter into the greased muffins tins, using a 1/3 cup measure. That's about how much batter to put into each tin, and it makes scooping it easier.
Bake in center of oven for 12-15 minutes.
These muffins, because of the whole wheat flour and honey will be much darker than a white sugar and white flour muffin. 
When the muffins test done, allow the pans to cool for 3 minutes. Then remove the muffins from the pans to cool completely on wire racks.
These are great slathered with butter.
Makes 12 regular sized muffins.
Note about sweetness
These are not a very sweet muffin. For me, they are perfect. I don't like super-sweet baked goods. The tartness of the berries plus the lemon rind makes these only slightly sweet. If you have a sweet tooth, add the additional white sugar.
Favorite Tools from My Own Kitchen
That I Used to Make These Blueberry Muffins
Get the Butter
The Muffins are Ready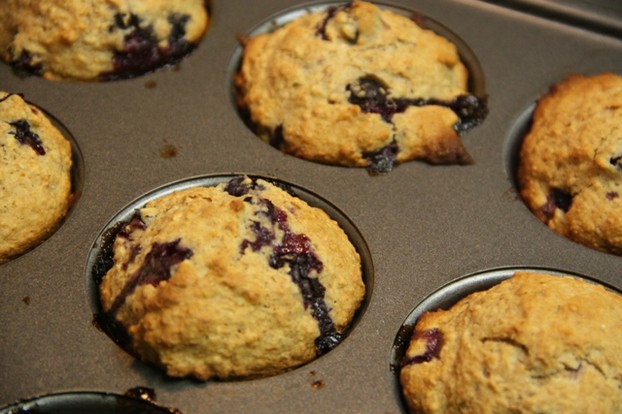 Muffins Ready to Eat
Sweetening Your Muffins
What Do You Use?
Blueberries -- Fresh or Frozen?
Which are better for muffins?
Only logged-in users are allowed to comment.
Login
Frozen are better.
Fresh is always best.
---
Disclosure: This page generates income for authors based on affiliate relationships with our partners, including Amazon, Google and others.