Why Put Wood Laminate Flooring in the Baby's Room
by ProHomeTips
There's no doubt that you want everything in your baby's nursery to be perfect. From the baby linens to the window treatments to the flooring, everything deserves careful selection
Choosing a Floor for a Comfortable and Stylish Baby's Room
One of the most difficult decisions is the type of flooring that will be in baby's room. At one time, parents believed that the cozier and softer, the better, but today's parents think differently. With an increased awareness regarding allergens and VOCs, parents are shifting their focus away from carpet and onto more practical flooring options such as wood laminate flooring.
1. Easy to Clean
There are many reasons why wood laminate is an optimal choice for baby's room. First, it's easy to keep clean and sanitized. We all know that other floor types such as carpeting can be difficult to clean, and when stains set in, there is really no way to remove them or the odors they bring. With laminate however, all it takes is a simple wipe using a floor cleaner and sanitizer designed for wood flooring. When you put baby down to crawl or roll around, you can feel confident that the flooring is just as clean as you'd want it to be.

Furthermore, because small toys, pieces of fuzz and lint can get trapped in carpeting, it's more difficult to keep free from choking hazards. Even vacuuming skips over these small elements, as any mother who has Legos lying around the home understands. With laminate, it's easy to vacuum over the hard surface and remove any loose debris so that the floor is safe from choking hazards.
2. Durable
Wood laminate flooring also has perks over hardwood, as it's more durable, less likely to be scratched and more resistant to moisture. After all, babies are wet messes for the majority of their first year, so you can expect a lot of random accidents to occur. With hardwood, you have little time to clean up any wet spots, as the floors will begin to warp or discolor. With laminate, choose a quality underlayment, a moisture barrier and thicker boards, and you'll have plenty of time to clean up accidents, while tending to your little one beforehand.
3. Gender-Neutral Style
Finally, wood laminate flooring is fitting for a nursery. It's gender neutral so it looks appropriate for a girl, a boy, twins or siblings that will eventually share a room. Plus, wood never goes out of style, so you can expect the flooring to continue to grow with your child as he or she embarks through childhood and even the preteen years. Knowing that you won't have to replace the laminate flooring to fit your child's growing tastes will allow you to get the most out of your investment. And, you can't beat not having to replace flooring in the near future, as this isn't a project most of us enjoy.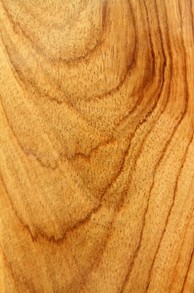 Laminate Wood Flooring
How to Make it Cozy
To make the flooring cozier for your little one, purchase a few area rugs. You can place several on the flooring and designate areas for playing or reading, or you can purchase one large area rug to place in the center of the room. Area rugs will also tie in color or a theme of your choice, as well as add warmth to the nursery. If you are concerned about the room being too cool with a laminate floor, consider that by installing a high-quality underlayment, you will be sealing in warmth and absorbing sound. For these reasons, you do not want to skimp on a quality underlayment, as it will make all the difference in baby's room.

With all the expenses of planning for a baby's nursery, you'll be happy to learn that wood laminate flooring is one of the most economical flooring choices. You can install it on your own, saving the cost of professional installation, and the materials are much less than solid hardwood. Plus, you get a durable floor that is moisture- and scratch-resistant and will continue to complement your infant as he or she grows into a toddler.
Example of How a Baby's Room with Laminate Wood Flooring Can Look
---
Disclosure: This page generates income for authors based on affiliate relationships with our partners, including Amazon, Google and others.