How To Turn A Women's Jean Jacket Into A Fashion Statement
by leeann
Take a women's jean jacket and turn it into a fashion statement. You can go edgy or elegant and make your favorite denim look expensive.
A women's jean jacket is a must have wardrobe item. It can be used to give any outfit instant flair. You can wear it to jazz up a simple white t-shirt or throw it over a slip dress for a night on the town. It's time to take out the one you probably have stashed in the back of your closet and turn it into a fashion statement.
There are simple ways to transform your clothing by using materials you either already have or can find at your favorite hobby store.  You can use pieces of velvet, lace, sequins and silk flowers.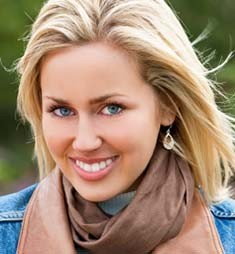 Custom Women's Jean Jacket
A Luxury Look For Less
Luxury looks are easy to create if you use faux fur and add it to the collar or cuffs of your jacket. Faux fur is attached to fabric strips and you sew through the fabric. Simply measure around the cuffs, cut the strips to size and hand baste them onto the cuffs. If you prefer you could even do the cuffs and then add a black faux fur scarf to your neckline. You'll love the way it makes you feel.
Velvet pairs beautifully with denim fabric.  Imagine beautiful red velvet paired against blue denim.  Cover the collar and cuffs of the jacket and it will look like you've spent a small fortune on it.  Deep pink velvet or a berry shade look spectacular.
Instant Style Secrets
Here are three ideas to give a women's jean jacket a new look. Whether you want to add a little romance, indulge yourself in luxury or go vintage there are easy ways to transform the style of this essential garment. Once you know how versatile it can be you'll never toss it aside again.
Corsets and women's jean jackets go hand-in-hand. Pairing a piece of lacy clothing with one that has a rugged attitude is a way to set off both pieces. You can find a gorgeous black lace camisole at a reasonable price to wear under your special blazer.  Pin a a vintage brooch to the front of your garment and it will tie the look together.
Sequins and denim were made for each other.  You can use iron-on sequins to add that special sparkle.  They come in beautiful designs and you can choose a one color design or combine different colors to make your own pattern.  Metal studs are perfect if you find that your clothes get rough wear.
Use small silk flower petals to cover any stains or discolorations and then use sequins for the center of the flowers.  It's a great way to recycle that favorite piece of clothing so you can wear it again.
Tips For A Great Fit
Sometimes older denim jackets just don't fit the same on you as when you first bought them.  It may be that the style looks a little dated or it may be that you've either gained weight or lost it.  If you'd like to save the piece of clothing and wear it again you might be able to change the shape.
Lengthen it by adding a wide piece of lace or velvet to the bottom.
Make it wider by slitting the sides and inserting another piece of dark fabric.
Restyle it completely by cutting the sleeves to three-quarters and clipping off the collar.
Cut the sleeves off and turn it into a vest.
Vintage Women's Jean Jacket
Vintage jackets are all the fashion rage. You can take your women's jean jacket back in time by simply replacing the ordinary buttons with elegant ones. You can do this with button covers. Then take some long ivory or black lace and sew it to the inside of the cuffs so that it looks like you are wearing a long sleeve lace blouse.
You can enhance your style instantly by simply updating your favorite women's jean jacket. You might enjoy restyling your clothing so much that you decide to start your own business.
---
Disclosure: This page generates income for authors based on affiliate relationships with our partners, including Amazon, Google and others.