How To Find Your Best Bronzer Makeup
by leeann
Step-by-step guide to find the best bronzer makeup for your skin type. Discover which ones will work for you and get a gorgeous glow today.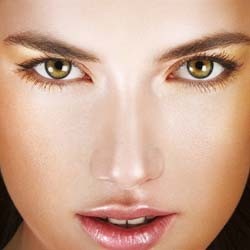 Bronzer Makeup Enhances Your Look
Get ready to have the best tan of your life just by using face bronzer makeup. When you select the right one for you then you'll look amazingly healthy and feel great about your appearance. This is the cosmetic of choice professional makeup artists prefer for giving their clients that instant healthy glow.
Once you try it you might just find that it is the one makeup item you grab to enhance your complexion. You can even use it in winter just to give your face a little more color. Discover how to select the right one for your skin type and make it work for you.
Determine Your Skin Type
There's an easy way to find the right bronzer makeup for you. Do you have oily skin or dry? It makes a difference, so first determine which type you have. Start by washing your face and then after a few hours try this experiment. Gently swipe your fingers over the skin on your t-zone. So, it will be from your cheek, across the bridge of your nose, and finishing with your other cheek. Ask yourself this question. Does it feel a little slippery? Oily or combination skin often will make it seem like your fingers are gliding on a thin film.
           Identify Your Skin Type
Do you have oily skin?
Do you dry skin?
Is yours combination skin?
Best Bronzers For Oily Skin
The best bet for oily skin is matte bronzer makeup. It looks natural. If you think your skin isn't oily, but isn't dry either, it's possible that you actually have a combination skin type. This type of skin tends to be a little oily in only the area of the t-zone. If that's the case you can wear powder bronzers and take it one step further. Shimmer bronzers might just work for you. You have another option, too. Wonderful liquid bronzers are available for blending into your skin, but they can be a little tricky. Your best bet for experimenting with liquid bronzers is to get a few samples before you commit to one brand.
Bronzer Makeup For Dry Skin
Skin that is dry tends to have a different feeling. It feels soft or tight. Do you think you have oily skin? Powder bronzer makeup is your best choice in terms of looking natural longer. You've got a great choice here because you can choose either a loose bronzing powder or go for something more convenient in a pressed form. Remember, when you have oily or combination skin the main thing is to get a product that will last. Liquid bronzers can make your complexion look outstanding, but they tend to fade faster and if you have oily skin it will wear off during the day. However, you can apply a light coat of bronzing powder over for a touch up.
Make It Work For You
If you want to create an amazing glow, apply your product lightly and blend, blend, blend. This is what makes it look natural and not like the powder or liquid is sitting on top of your skin.  There are two basic ways of applying bronzer makeup and which one you choose will depend upon the type of product you use:
Blend it with your fingers.
Use a large makeup brush.
Fingers are the preferred method for liquid, gel and shimmer bronzers.  Start with a very small amount and apply it in an outward motion. You'll need to blend quickly for this type of product.
Fluffy makeup brushes are the choice for powder products. A very light dusting is all it takes for a healthy look.  If you want to add a little more color then add another layer rather than trying to apply it all at once.
Bronzer makeup can be counted on whenever you want to give yourself a quick makeover.  Select the right one for you and quickly apply it. You're ready to go!
---
Disclosure: This page generates income for authors based on affiliate relationships with our partners, including Amazon, Google and others.