Wooden Swing Sets are the Greener Choice
Choosing a wood swing set over a metal one has many benefits to our environment, and to your kids!
Using Wood for Building Projects is a Great Idea!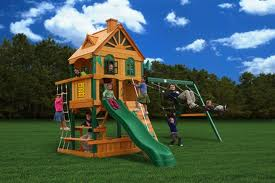 A Wooden Swing Set from GorillaPlayse...
wooden swing sets sold in all-inclusive boxes
Wood is a GREEN choice!
Wooden swing sets have grown in popularity in the last few decades by being practical and affordable. Wooden play sets offer more play accessories and options for kids and are easy to build. This is because wood is a familiar building material that is very manageable to work with. Wood is also readily available and isn't expensive to buy.
As an added advantage, by choosing a wooden play set, you can feel good about your choice to conserve resources and energy costs, since wood gets its energy from the sun! By using wood for a swing set instead of metal, you lower your carbon footprint. Think about all of the energy and extra expense that is used to produce metal or iron materials. Since lumber is harvested from forests, it is a natural renewable resource.
Because the U.S. uses so much lumber in the building industry, there are laws in place that govern over harvesting. Today, the U.S. insures that forested lumber is replanted, by regulating the wood and timber industry. The Forest Stewardship Council (FSC) and the Sustainable Forestry Initiative (SFI) are agencies that insure our forests are replanted.
As a benefit to our environment, trees help our air quality by cleaning it of carbon. When a tree is harvested, it still continues to hold onto carbon, keeping it out of our atmosphere. A typical Redwood deck can store up to a half-ton of carbon! As a tree grows, it reduces carbon emissions in our
air. By using and replanting trees, you are insuring cleaner air. Wood is a Renewable Resource that you can feel good about using in building projects.
Which wood should you use: REDWOOD, CEDAR or PINE? All wood types are different, and which wood you choose depends on the project you are building, the look you want to achieve, and the cost allotted to your project.
Redwood is beautiful, it doesn't split or warp easily and is naturally resistant to decay and insects. It is lightweight and strong, therefore it is a great wood type for building projects. It also holds stains and coatings very well.
The Coast Redwood is one of the fastest growing softwood trees in the U.S., and the forests are renewed every year. The California Redwood Association states that there are more Redwood trees now than before logging took place. Using Redwood is a good choice, however, it is priced higher
because of the demand. It is widely known to be one of the most maintenance-free wood types.
Cedar is similar to Redwood in durability and natural resistance to rot, decay and insects. Cedar is, however, weaker than Redwood in strength, so it is used for decorative trim work in wood projects. Cedar will cost less than Redwood, but still costs more than pressure treated wood.
Pine is a pressure treated wood, and it is the Southern Yellow Pine. Pine will have a grade rating associated with it for building purposes (grade 1 or 2). Pressure Treated Pine is best when it is kiln dried, and not air dried. It is more consistent in shape and size when a kiln is used. Just look for the KDAT stamp to check for kiln dried Pine. Some companies kiln dry their wood twice as an extra benefit to the buyer, and to insure its quality and performance.
Pine pressure treated wood is the least costly of all 3 wood types, which is why it is preferred by builders. Pine performs well and has a good life span for building projects.
All lumber has the benefit of being a natural resource, so it is easier on the environment and can be recycled after use. Growing trees help the quality of our air by storing carbon. They don't emit CO2 like other building materials. In comparison to steel, concrete and aluminum, lumber actually has a
negative carbon emission rate. Steel, aluminum and concrete give off emissions of .05-5.00+ into the environment. Plastics and composite materials burn up fossil fuels, which increase greenhouse gasses. If we all contribute to reduce our greenhouse gasses and reduce our carbon footprint, we are effectively helping the environment and combatting global warming.
---
Disclosure: This page generates income for authors based on affiliate relationships with our partners, including Amazon, Google and others.