Raising a Happy Child
Doing the right things as a parent can help you avoid major mistakes and meltdowns.
Raising Great Children, Using 3 Rules
The big 3 rules for raising happy, healthy children.
As a parent of 3 children, I have seen that what works for one child doesn't work for the others. The same challenge that motivates the oldest child, can seem defeating to the middle child. Kids are difficult to understand. As they grow, we must grow with them.
When you have more than one child, you may seem like you need different brains to interpret what each child needs. It's hard for the parent, and confusing for the child. There are some consistencies, however, that every kid needs to be happy and mentally healthy. Read the list below to see a suggested list of what every child needs and deserves.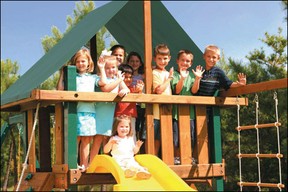 Mental Development: The Big Three
Each child needs love, discipline and direction. You can't give discipline without a balance of love, and you can't give direction without discipline. Starting with love and affection, all other actions should be grounded in that secure emotion. All disciplinary actions should have a purpose and an end-result, and stem from care for the child's well-being.
All discipline should result in the direction you want to teach, and the love will be shown through the process. The encouragement, the strength to catch them when they fall (or fail), and the patience and care, should be seen in your actions.
The amount of affection that a child needs will change with their age, however, the amount of direction may not. One child may need constant hand-holding to accomplish daily tasks, and one child can be extremely independent. Gauge your responses based on their age level, learning capacity and personality.
The discipline that you use should be for the purpose of teaching a lesson. Remember not to act in the middle of something that makes you angry. If they misbehave, give yourself time to cool down, so you don't ever do anything rash that you regret. This is a lesson for the adults to learn! Some children enjoy "pushing buttons" to get a reaction from you, so keep your cool.
Each child needs affection in the form of hugs, and eye-contact with genuine smiles and encouragement when you are proud of them. Try to find a moment when you are proud of them on a daily basis. Otherwise, they have no motivation to do what you ask. You have to back up what you do with positive reinforcement. Don't be negative all the time. The child will just quit trying if there is no reward.
Your child will need direction to achieve their personal and scholastic goals. You almost have to be a "cheerleader" sometimes to motivate them to finish what they start. You will need to motivate the older children intellectually, by showing them or having them picture the goal they want to attain at the end. Don't give up. It gets harded as they get older, since the personal goals are much more challenging.
Create age appropriate goals for each child. For the small child, you may say "eat your vegetables so you can be strong" and that will work for them. However, for the middle school child, that won't work at all. Give them goals for daily tasks and goals for long range tasks. Discuss the difference and the outcomes of each. This is a life-lesson that they need to learn. Kids need to know the difference between what a big goal is and what a long range goal is. Show them both, and offer both as a reward for personal discipline that they have mastered.
Rewards:
Rewards come in the form of love and care. I love giving rewards to my kids when they have earned it. This makes both of us happy! You can reward the young child with an outing to the playground on a Saturday, or reward the middle school child with a small item that they wanted. For the teenager, rewarding them with monetary gifts is always appreciated.
Use the reward to spend time with your child. Take the young child to play and enjoy the playground or playtime along with them. For the middle school child, go to the store with them and help them pick something out. For the teenager, offer to take them somewhere with you so you can catch up on conversation.
Use your time with them wisely, and remember The Big 3: Love, Discipline and Direction. By following up with rewards for a "job well done", you are being an awesome parent!
A Great Book to read with your children, ages 8-13
"The Adventures of Booger Malone"
A Cool Gift For Pre-Teens
Kendama Novelty Toy
Baoblaze Wooden Kendama Toys Cute Baby Doll Face Purple Ball Toy for Kid

Description: - A Japanese traditional game Kendama - Very helpful to improve your hand eye coordination as well as your timing, balance and concentration - Suitable for hobbyist...

Only $18.00
Ooh La La Pink Matte Kendama

They're back by popular demand. These Kendamas have a matte finish and are made of birch wood with a rope attachment. Your kids will spend hours coming up with new tricks and ch...

Only $12.99
Ooh La La Purple Matte Kendama

They're back by popular demand. These Kendamas have a matte finish and are made of birch wood with a rope attachment. Your kids will spend hours coming up with new tricks and ch...

Only $12.99
---
Disclosure: This page generates income for authors based on affiliate relationships with our partners, including Amazon, Google and others.