Zebra Print Shoes
by Angel
Zebra print shoes have become very popular over the years. A look at a variety of zebra print shoes.
Zebra Print Shoe Obsession
Zebra print shoes became popular with other animal prints during the Bohemian Movement in the 1960's. Artists especially wore animal prints to express themselves.
Zebra print has found its way onto handbags, jewelry, clothes, scarves, belts, and most importantly shoes. The likes of Betsey Johnson, Roverto Cavalli, and Prada have been fans of animal print and zebra print evident in their designs.
Less is usually more when wearing zebra print. An all over zebra print outfit just wouldn't cut it. It is better to accessorize with zebra print. Wearing a pair of zebra print shoes with a matching handbag would be just enough to make you stand out.
I have had this obsession with zebra print shoes lately and wanted to share my picks with you.
Get wild and exotic! Wear your zebra print shoes!
Let's Talk About Animal Print
Heart Heel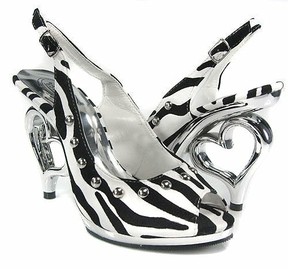 This would make a great shoe to wear for Valentine's Day or on a date with your partner. It is made from all man made materials with a rubber sole. The heel is 3" with a 0.5" platform. These super slides are a show stopper. This shoe is studded with little silver rivets and an adjustable slingback buckle. The insoles are padded for comfort.   
Photo credit:  Amazon
Anklet Zebra Boots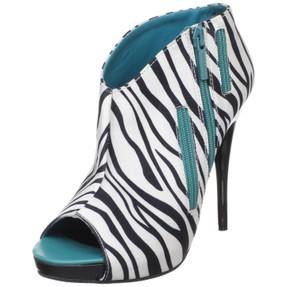 These are my absolute favorite. I have become fond of anklet boots lately. This boot also comes in grey zebra, tan zebra, blue zebra, and white zebra. This is fierce fashion right here. It has zipper details and zebra stripes all over. The heels are 4 1/2".
Photo credit:  Amazon
Zebra Print Rain Boots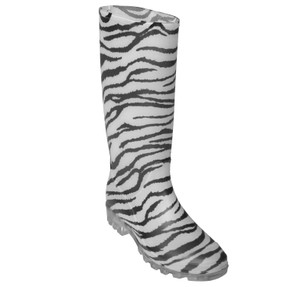 These are absolutely adorable. Who wouldn't want zebra print rain boots?! These will definitely make a fashion statement for a shoe that is normally not that fashionable. They are mid calf rubber boots with rugged texture sole for ultimate traction in the rain.   
Photo credit:  Amazon
Pink Zebra Striped Boots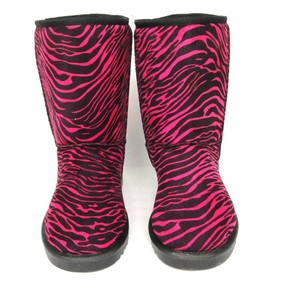 These are another cute pair of throw on boots. In hot pink zebra stripe no less. They are fashionable and warm with all man made materials.   
Photo credit:  Amazon
Debutante Pump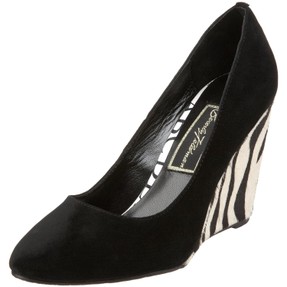 This pump from Beverly Feldman is a designer shoe with flair. Its unique design with all suede upper and eye catching zebra print heel will make the necessary fashion statement.
Photo credit:  Amazon
Zebra Print Wedge Boot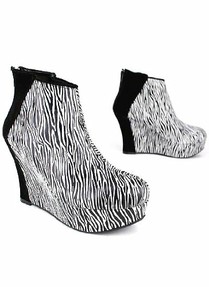 This is another one of my favorites. It looks like a pair of shoes that Kiss would wear. I love Kiss so it is natural for me to love these shoes! They are a velvet wedge boot with all over zebra print design. Zipper closure at the back and 3 3/4" heel.   
Photo credit:  Amazon
Updated: 02/13/2012, Angel
---
Disclosure: This page generates income for authors based on affiliate relationships with our partners, including Amazon, Google and others.