5 Reasons You Will Love Karaoke
by wizpro
Never tried karaoke before? Give it a shot and discover why you might love it for life!
Karaoke might be an activity that will always be on the fringe for a number of reasons. It came over from foreign countries with a bunch of stereotypes attached to it, and in some ways it has never recovered. People still see it as a silly hobby and there are plenty of folks who think they're above it. At the same time, it's an incredibly scary proposition for a lot of people to get up on stage and sing in front of others. Some people who criticize it are actually hiding the fact they would love to give it a try if they weren't so scared. We might never be able to get rid of the popular conception that karaoke singers have no vocal talent, but that shouldn't stop you from giving it a shot anyways. If you've ever been even slightly curious about picking up a microphone and getting under the spotlight, here are five reasons why it might turn out to be one of the best things you ever do.
Sing for Fun
Great People - there is a subculture that surrounds karaoke supported by great people and friendly folks. If you get to know regulars at your karaoke bar, you'll eventually form great relationships and make friends. These people are eager to welcome newcomers who have a healthy interest in karaoke because they want to share their hobby. It's also a great chance for you to hang out with your own friends whether you want to watch the show or have a few refreshing drinks.
The Rush - it doesn't matter how cool you are, when you're up on a stage in front of total strangers you're going to feel an adrenaline rush. Depending on your personality, it will either terrify you or be really fun. If you happen to like it, there really is no other form of entertainment that will give you this type of excitement. Think about it, when are you ever going to get a chance to be the star of the show again? It's your chance to feel like Lady Gaga or Michael Jackson, and you should milk it for all it's worth.
Music Makes the Night
The Music - these days the selection of karaoke is more expansive than ever, and that means you don't have to listen to old songs anymore. While you can certainly enjoy some of the classics, companies are better as coming out with karaoke versions of popular hits of today. It's also nice to hear classics that you might not have thought of for quite some time, and that's exactly what happens when other people choose music. It's your chance to show your own personal taste in music while sharing others as well.
Try it Once
A Challenge - it's clear that karaoke isn't for everyone and it's definitely a challenge to work up the courage to get on stage. But once you do it, you feel a sense of accomplishment that not everyone can claim. This is one reason why you might want to put aside your bias or fear and just give it a shot. It could be something that you absolutely love, and it might just be the start of a wonderful relationship with his unique hobby. The anticipation is the worst part anyways so once you get over it, you might just have the time of your life.
Sing Anywhere - one of the reasons why karaoke has been growing is the fact you can do it in public or at home. Singing in front of others is one thing but having a private party with people that you know is also extremely enjoyable. These two activities have helped to perpetuate the overall karaoke scene while drawing in more fans than ever. People who are too afraid to do it in public can always purchase a simple karaoke machine without having to risk anything at all. Just look for good reviews and ratings to find one that suits you. Portable machines have also become popular features for casual dinner parties, backyard barbecues, and of course office parties.
A Karaoke Machine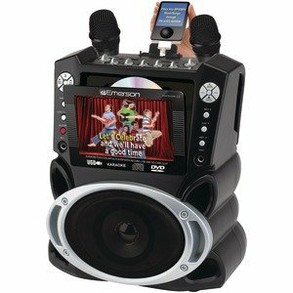 karaoke machine
Are you Ever Going to Try Karaoke?
---
Disclosure: This page generates income for authors based on affiliate relationships with our partners, including Amazon, Google and others.