A Drawing Tablet and a Dream
by buttonhead
a non-gifted artist's journey toward creating cool art.
Some people are born with the gift of being able to draw. I am not one of those people. In 2007, I started my entrepreneurial journey. I am the full-time owner and operator of Buttonhead custom button pins, custom pocket mirrors, and and custom temporary tattoos. Along the way, I accidentally backed into a career in graphic design. For the first 3 years, I was able to piece together graphics in Photoshop to get the job done, but I was never comfortable creating shapes from scratch. One day, I stumbled upon a website at lynda.com that offered software training courses. After I finished several courses that significantly improved my Photoshop skills, I started learning Adobe Illustrator, an intense and powerful drawing program (among other things). To really be able to get a hands on approach, I wanted to be able to physically draw objects with a pen. Here is where my Wacom Intuos entered into the picture.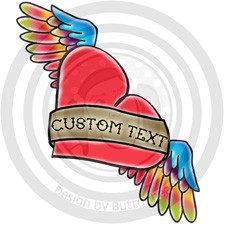 Winged Heart Temporary Tattoo Design ...
As with all major purchases, I agonized over the $200 price tag of the Wacom Intuos4 Small drawing tablet. I remember finally deciding to take the plunge on December 23, 2010. I sped out to Best Buy, completely forgetting that it was 2 days until Christmas! The store was packed. I stood in line for an hour before finally reaching the register to make my purchase. It was loud, obnoxious, and exhausting, but I finally got my prize.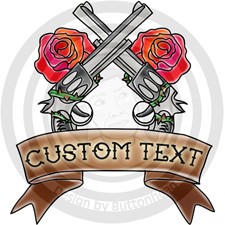 Guns and Roses Temporary Tattoo Desig...
When I got home with the drawing tablet, I cracked open the box and plugged it into my computer's USB port. I was immediately impressed. Many artists live and die by the sensation of pencil on paper. They have a hard time adjusting to the action of making strokes on a tablet while looking at the screen to see their work. I won't argue that it takes some getting used to. Still, I would argue that it is an altogether unique artistic experience. It really can't be compared with the traditional method. It's a completely different medium. As a novice at drawing, I'm sure it was much less difficult for me to pick up the skill, because there were no habits to break. I very much enjoy the feeling of the nib pen gliding across the surface. Plus, it is such a luxury to have the ability to adjust the stroke, the pressure, and the color with just a click. In both Photoshop and Illustrator, the Wacom tablet made creating artwork easier for me.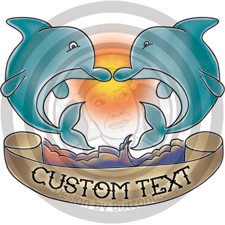 Dolphins at Sunset Temporary Tattoo D...
I won't lie. There was about a year-long learning curve before I was able to really get the hang of using my new tools. There were many times when I shut down my computer in a huff, because I was frustrated by anchor points, Bezier curves, and the like. However, after having taken several courses learning how to use the Adobe software, now I am now really able to unleash some creative power. The combination of using the Wacom tablet, Adobe Illustrator, and Photoshop gave me the ability to design artwork from scratch that I never thought possible. I recently completed a collection of dozens of customizable temporary tattoo designs, which are pictured within this article. So, not only has my art improved, but my business is improving and expanding too!  With each new image, I've become increasingly surprised by the results. I've gone from feeling overwhelmed to feeling confident, and I owe it all to having the right tools, taking the time to train myself, and of course, perseverance.
---
Disclosure: This page generates income for authors based on affiliate relationships with our partners, including Amazon, Google and others.