Adventures of a Drummer (Hanover Fist March-May 2010)
by odomirok
Chapter 5 start "Bike Nights" and Hanover Fist with new bass player to brake in. Here are stories of how the dedicated band played three nights a week to gain popularity.
Bike Nights
Hanover Fist 2010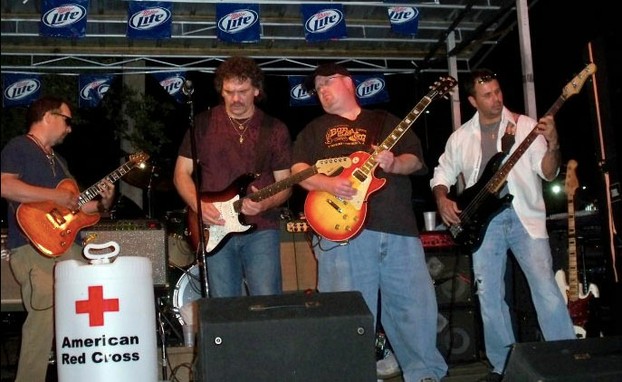 William Butler, Roger Hay, Les Emert, Gary Davis, and Tommy O'Domirok in the back.
Bike Nights Begin and the Crowds Get Larger.
2010 Summer Tour Starts Cold But Heats Up Quickly As The Band Gets Confident.
3-27-10 Bike Nights 2010. My first Bike Night on Thursday since October '09 and I was not enthused, but glad to out of the house. We played on the patio on a rainy night with 75 people. Gary had a chance and played with the three piece band previous Thursday while I watched. Didn't like that but didn't know he was playing and I didn't bring drums. But Thursday was good for practice but the sound is always terrible on the patio. Gary did well learning more songs each gig. 
 The band played a small place called Southside Bar on Chapman Highway in Knoxville last week. Here was another tight set up and quiet volume, but again, another chance to practice and get paid. The audience was responsive and loved the band this was a one time deal and the band may not have an opening. The band is not tight yet. Not by our standards and need more playing time. Just one more week till Bike Night season officially starts and we go to Quaker Steak & Lube in Concord NC to open the season, then the next evening in Knoxville to open the season at Quaker Steak and Lube. The band will be ready and getting tighter each gig. Each night is a different sound on stage and many distractions to trow Gary off , but it will click one day.
 4-23-10 The April Knoxville bike night was the biggest crowd for a pre season. The weather was great and bikes came out by the hundreds. About four hundred. Last night's bike night was about the same as June with good weather. A live remote from WIMZ with Billy the Kid introducing the bands second set was great promotion. Hanover Fist played Concord NC Quaker Steak April seventh with about nine hundred bikes and two thousand people. Again great weather for early spring and the people came out.  The band was loved by all the employees at The Lube in NC. The band is just another vender in the event. About fifty people paid attention to the stage and the other one thousand and ninety five wondered around. Can't expect much. I had a good trip, we stayed in a Hampton Inn which was great and next to Quaker Steak were we ate. The band is coming back May twelfth. The Knoxville opening bike night at Quaker Steak was a rain out for me and Gary as Hanover Fist played three piece inside on a cold rainy night. I hate to get left out of a gig but William is taking orders from Jeff at Quaker Steak and that is what Jeff wanted. I didn't say any thing just unloaded my drums from the trailer because Gary and I got back to Knoxville and hour before the others and I drove from home to Knoxville to get my drums out of the trailer. The trip was tiresome a six hour drive on interstate.  I wasn't mad not playing that night. I needed the rest. Gary Davis is not progressing in this band. Not learning songs and doesn't have his chops up to standard. Five months and he is making mistakes and not remembering songs and cord changes. This is becoming a problem to me on stage trying to keep tempo with the bass stumbling and Roger wondering. I ride to rehearsals with Gary and I know he doesn't put as much time into music as I do. This makes it hard to work.
 4-27-10 Hanover Fist had another great gig at Quaker Steak in Knoxville, Thurday's bike night, about four hundred bikes and good weather. The band played well in my opinion and the audience like the show, but my wife went and she was not impressed with Gary's playing. She very seldom comes to a gig with me, but after twenty six years she has been to many gigs with me and other bands. Her opinion is critical and correct. The band did great entertaining the audience as we always do and Gary is improving each week. Saturday we pulled a double header as the band played Knoxville Harley Davidson retirement party from three to seven that afternoon, then Smokey's in Fountain City (not Halls) from nine to one am. This worked well because William and Roger set up the big pa at Smokey's before the Harley gig where all we needed was a small mixer/amp and two speakers. I was the one with all the drums setting up and tearing down, but it worked and we pulled off both gigs and every one was happy. Tired but happy.
 Next Wednesday we open bike nights at Lovel road Harley Davidson and the spring weather is cold and wet. The forecast is for dry weather but chilly and windy. We'll make it. Playing two night a week for the next two months. I'm putting time into music and keeping my day job which has vacation I can use. I've used it. Don't work on Fridays during April and May, some in June and by July I start Fridays again. The bike season levels off by mid summer and ends by October.
5-9-10 Thursday at Quaker Steak was another big night with radio and beer promotions with the band being the attraction. Over a thousand people at this bike night and Hanover Fist was helping the Red Cross raise money for flood victim in Nashville. Bike nights are growing as the weather warms up and this year is starting with big crowds. The band played with great timing and song selection. An introduction with Billy Kidd from WIMZ and girls throwing tee shirts from atop the stage helped. Hanover Fist did play well I played an acoustic drum kit that belongs to Gary. I took them to Spicy's the next night because they were already in the truck. It was different but I think the band likes the electronic sound, a dependable sound every time, no mic, no tuning. It was a good time at Spicy's, not the usual crowd but we made new friends. Next week Hanover Fist travels to Concord North Carolina to play Bike Night at Quaker Steak & Lube on Wednesday. We had a good time last trip and the weather is looking good for this trip, I expect a large turn out. I will take my electronic drums on the road trip as we come home Thursday and play Carryville Friday and Smokey's Saturday want to keep a consistent drum sound and easy to pack. 
 Hanover Fist is doing the gigs and keeping schedule, but constant changes in schedule and travel are tiresome. Takes longer to rest than last year but I'm making the gigs and putting on a show, earning my money. Rehearsing during the week with two bands and playing gigs with Hanover Fist, start gigs with Wicked Garden in July. I have held those dates open with Hanover Fist with the excuse of vacation and not explaining about the other band. Hanover Fist is still doing three piece gigs (no drums) between the band, so this is my side project. If those gigs do well I will make a decision on "witch band" to concentrate.
5-16-10 Made another trip to Concord NC and a big night at Quaker Steak & Lube with about fifteen hundred motorcycles. Many promotions going on at this event and the band was one of them. We are popular now and people in NC have heard of Hanover Fist and like the old music. The band played very well and all are working hard on this seasons tour. After the NC trip on Wednesday and Thursday we played Saturday at Smokeys in Halls. A small night club that has become popular, not the profile gig like Quaker Steak, but Smokey's keeps the band in gigs during the winter. Yes this has to do with money or I wouldn't play in the night clubs. Over all Hanover Fist has a busy schedule that brings in two hundred dollars or more a week and the whole package looks great. I put up with the little "hole in the wall" gigs for the whole picture and pay. The busy time is upon us as the bike season hits full swing and next week we play three gigs, two are major bike rallies and one night club. This continues to June and July before slowing down. 
---
Disclosure: This page generates income for authors based on affiliate relationships with our partners, including Amazon, Google and others.