Who is AJ Styles
Find out more about the Phenomenal AJ Styles
AJ Styles
Do you know AJ Styles?
On June 24, 2011 I was able to meet the Phenomenal AJ Styles! It was an Impact wrestling event in Fort Wayne, IN. The event was held in the Memorial Coliseum. This was a great experience to say the least. I have been watching TNA wrestling for a few years now. It was great to be able to take my children and father to see our television heroes and superstars.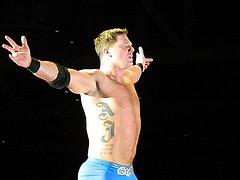 AJ Styles at the Coliseum
Wrestling Matters
AJ Styles believes Wrestling Matters and so do I
One day, I was watching TNA and it showed an interview of him that made me want to follow him even more. It was his exceptionally short interview on 'Wrestling Matters'. This struck a cord with me because if you go back in the year you will find that older wrestlers would fight to fight and now it seems that they only fight to entertain.. or just talk. I, like AJ Styles, believe that wrestling matters.
I actually grew up watching wrestling. It was one of my fathers pastimes. We would even wrestle in the living room, jumping off the couches on top of each other. Everyone in my house watched the world Champ and wanted to be the Living Room Champ. We watched wrestling as it progressed thought the year. 
I have seen many wrestlers over the past few years and many come and go. One in particular, however, constantly stands out in my mind, AJ Styles. AJ Styles is an amazing wrestler that started working for TNA when the company began and has not left. I actually believe that he will not be going anywhere for quite some time. 
Other great links to AJ Styles
AJ Styles is a wrestler that matter
The Wrestling Matters interview with AJ Styles
I bought some of these DVD's at the event
You can get a great deal on them here
WWE: AJ Styles: Most Phenomenal Matches$14.97 $12.86
TNA Wrestling: Phenomenal - The Best of AJ Styles

There are professional wrestlers and the there is AJ Styles who can best be described as phenomenal. Since the inception of Total Nonstop Action Wrestling no there superstar has...

Only $9.98
WWE: TLC: Tables, Ladders and Chairs 2016Only $2.99
AJ Styles Accomplishments
AJ really had to fight to get where he is today. He has won multiple world, heavyweight, and tag-team championships in his career as a professional wrestler. In fact he has won over twenty-eight championships since 2011. He is the only TNA superstar on the roster that has ever completed the Triple Crown Championship more than once. He is also the first person in TNA to win the X Division Championship as well. AJ Styles is without a doubt one of the most talented wrestlers on the TNA roster entirely. 
What do you think about the Phenomenal AJ Styles?
AJ Styles has all the Moves
AJ Styles also has a wide assortment of interesting wrestling finishers as well. The most notable is the Styles Clash. This is a move where AJ Smashes his opponent into the ground upside down and uses his own body weight and gravity to put his opponent under. 
He also has a move where he leaps from the top ropes and spins in the air before he land on his opponent in the middle of the ring. It is called the Spiral Tap. This move is super crazy to see in person and not many have got the chance to ever see it up close. !
The move that he dose, that I like the best, is called the Stylein DDT. He spring boards off the ropes doing a back flip and grabs his opponents head making them arch backward. He then slams them down to the mat in a reverse DDT. Awesome
Check out the 6 finishers of AJ Styles
Can you find my favorite move in here?
Let me know what you think. If you liked this or thought it was cool or intiresting give me a Thumbs Up at the top of ther page.
Tell us about your personal encounters
---
Disclosure: This page generates income for authors based on affiliate relationships with our partners, including Amazon, Google and others.