Art Therapy For Stress Relief
by marciag
While art therapy for stress relief has been practiced since ancient times, it has recently been recognized in medical and scientifical fields for great results in lowering stress.
Can Art Therapy Really Help With Getting Rid Of Stress?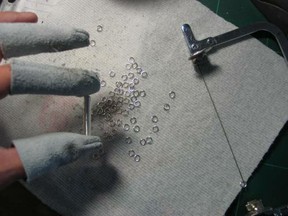 By doing anything artistic, you effectively train and engage your right side of the brain, which is your creative side. What scientists have found recently is that engaged creativity can effectively lower the levels of stress in anyone.
Things like painting, sculpting, scrapbooking, jewelry making, pottery, woodworking, even making greeting cards are great in minimizing high levels of stress.
Being an artist as well (jewelry artist to be exact in handmade sterling silver jewelry), I can only agree with this assessment. At times when working on this or that jewelry piece, I simply forget about everything else around me, I get immersed in what I'm doing, and by the time the piece is done, I'm as calm as the sea with no wind.
Something else that helps me greatly when I'm stress is immersing myself in parchment crafting, which is a way of making handmade greeting cards. By the time the Christmas card or Birthday greeting card is finished, I have to struggle to remember what I was angry about before in the first place!
Dong something creative with your hands while being really into it with full mind and soul is akin to having a deep meditation session.
(In the picture it is me cutting silver coils for making chainmail jewelry - a great form of art therapy if there is one! The action of coiling that silver wire and then cutting every single little ring takes a lot of time, but it is truly therapeutic in nature!)
Have you had any experience with art therapy for stress relief before?
How Exactly Can Art Relieve Stress?
There are several ways that contribute to lowering high levels of stress when it comes to art therapy. For example it offers a well needed distraction from the daily problems that the mind is trying to deal with.
A much needed distraction
Just like with meditation for anxiety relief, you need to let go of the daily chit-chatter of your mind in order to really see the problems for what they are. In most cases they are much less of a problem than you think they are!
By providing a need distraction away from the issues you're struggling with, you give your subsconsious mind time to actually work on them and come up with a solution that your active mind simply can't see.
Changes emotions
Art therapy also has a way to change negative emotions into positive ones. You might be angry, upset or simply sad, and once you start working on your creative project, when you finally get up from your desk after having worked at it for a while, you will realize that you no longer harbor such negative feelings - or if you do, they are rather muted and distant.
And this is exactly the state you should be in. Have you ever sent an angry email coming from a negative emotional state only to be sorry later that you did? I'm sure you did - I did it too and I so wished I could have simply deleted that email before sending it.
Now try to write the same email when you are in a much more positive frame of mind. I bet you can get your point across in a much milder and more efficient way - one that in most cases can actually persuade instead of angering the reciepient of said email.
Useful Books On Art Therapy For Stress Relief And Healing
Additional Benefits For Art Therapy To Get Rid Of Stress
Art therapy, however, can do so much more when it comes to stress relief.
Express your feelings right away
With art you can express your feelings instantaenously. Once you put them down in your work, once all that angry energy is transferred into the piece, it will actually transform into creative energy. How many people have created beautiful and haunting works of art simply because they were in a very tumultuous state of mind and they sat down with their easel or clay and did something about it.
Lets you become a child again
We don't realize it much, but becoming a kid, even for just a bit, it's so much fun! We are so busy with serious adult issues that stepping into the shoes of a child for just a bit will shift your emotions and feelings, and will let you experience anewed what it feels to not have the weight of the Earth on your shoulders.
Interesting Videos About Art Therapy
Do You Have To Pay For An Art Therapist?
You can certainly find an art therapist if you like, however you don't have to. You can get all the art therapy from the comfort of your own home that you need. For example this will allow you to explore a new hobby that you've always wanted to try out but never really did.
Anything that is creative and has some tangible results is art. And anything that heals through art is art therapy. So don't let anyone tell you that you have to go to some therapy sessions for stress management. It is not needed at all.
Learn About Art Therapy From Books
Handbook of Art Therapy

This essential handbook provides a complete and practical overview of art therapy: how it works, how it can be used, and with whom. Demonstrated are interventions for ...

The Guilford Press /

$49.99 $2.82
The Art Therapy Sourcebook

Art therapy is a process that helps people of all ages to express and understand feelings, interests, relationships, and self-perceptions through art activities. It has been ...

McGraw-Hill /

$6.31 $28.0
Art Psychotherapy

The long-awaited new edition of the landmark text defining art therapyArt therapists use the creative process and the issues that surface during art therapy to help their ...

Wiley /

$51.99 $39.0
Do I Have To Be Good At A Craft For Art Therapy To Work?
You don't have to be good at something creative in order to do it. You might want to try sketching or painting even if you've never had a paint brush in your hands before. Your final pieces don't have to be art gallery ready. You don't even have to show them to anyone. They are yours, and they are there to help you release your accumulated stress. And if something is good enough to sell, then go for it.
For example art therapy can also be done with scrapbooking, creative writing, journaling or even writing down your last night's dreams in a worn, old diary.
And what about tumbling rocks? I'm certainly not an expert at it but I had great fun learning this new hobby. It's fun and it takes your mind away from your daily problems in a jiffy.
---
Disclosure: This page generates income for authors based on affiliate relationships with our partners, including Amazon, Google and others.