The 10 Best iPod Speakers in 2012
by WillApse
There are so many different ways to listen to music from your iPod but which ones are right for you? Check out some of the contenders for best iPod speakers, 2011-2012.
Picking out a single best iPod speaker for 2012 is no easy task and gets more difficult as time passes. There are more and more ways to listen to music from your iPod every month.
What is best for you will depend on where you want to listen- in your home, car or a friend's place. This page is an introduction to what is on offer and includes:
iPod Speaker Docks
Ultra Portable Speakers
Airplay Speakers
FM transmitters that allow you listen to your iPod on car and home FM radios
iPod Speaker Docks
Speaker docks can charge your iPod and keep it out of harms way as well as playing great music.

One of the most innovative and arresting designs is the Zeppelin Loudspeaker Dock from Bowers & Wilkins, pictured below. The latest model offers airplay as well the usual dock.
One of the most exciting docks to arrive is Beats by Dr. Dre Beatbox.
Both these docks are high end products with audiophile quality sound. There are plenty of less expensive models that will still fill a room with sound and power a party.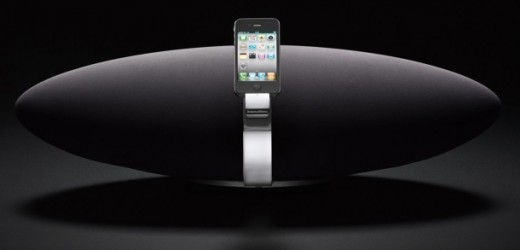 B&W Zeppelin
Bowers & Wilkins Zeppelin Dock
Even without the airplay option. the Zeppelin is an impressive machine. The design is unforgettable and the sound is flawless. This comes from two one inch aluminum tweeters, two 3.5-inch fiber cone mid-range drivers, and one five inch bass driver. A well engineered five inch bass will get a crowd dancing!
The dock is supplemented by a 3.5-mm jack for those iPods without a Universal Dock like the Shuffle. It also has optical digital USB 2.0 slave, with a software upgrade, plus an output for S-video (mini DIN)
Beats by Dr. Dre Beatbox
Beats technology is renowned for the bass it acheives and the sheer volume. This sound dock scores high with party lovers. It does not offer the same faithfulness of sound reproduction as the B&W above but many users will never want to listen to Beethovens fifth symphony or Miles Davis in a quieter mood.
You will also be paying purely for sound here- there is no alarm clock or radio, just top speakers including dual five and a quarter inch, long throw, bass drivers.
Crank it up without fear!
Most Fun Speakers- the iPig or iBoo?
Some of the big successes in the last year have been fun speakers like the iPig and iBoo from Speakal.

The iPigs are plenty cute enough but they also offer quality sound with a 4-inch bass reflex system, 2 tweeters, a pair of 1.5-inch mid-range drivers and a state of the art sound stabilization system.

To hike up the volume you touch one ear and to quieten the piggy down you touch the other ear.

There are 4 colors to chose from including pink.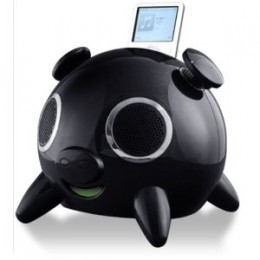 fun speakers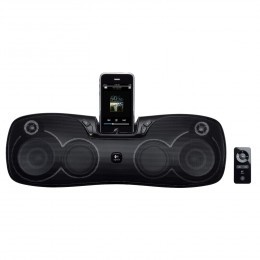 The latest Logitech
Logitech S715i Rechargeable Speaker
If there was a measure of sound quality per dollar, this Logitech would win best iPod speaker in that category. Eight separate drivers deliver excellent sound for a very reasonable price.
The downside for some people will be the lack of frills. There is no radio or clock, for example.
One thing you do get is a tough carrying case, so you are equipped to party anywhere.

The system is trayless (no finding the right tray for your iPod, iPhone etc) and will work with any kind of iPod that has a Universal Dock Connector.

One great plus, is that it is compatible with the iPhone 4. Most speaker docks for the iPod are only compatible with the iPhone 3 and earlier.

Another plus is the 8 hour rechargeable battery.
Altec Lansing Digital Boom Box


A boom box will not appeal to everyone. For one thing, boom boxes in the day had terrible sound! This model avoids that fate and delivers a loud, deep, clear bass that will power a party.
It also has the frills that the Logitech lacks, like an FM radio and EQ.

If there is a downside, it is the lack of video outputs.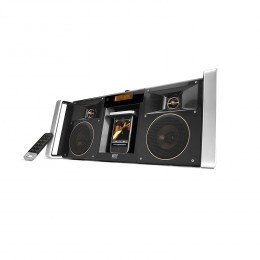 boom box
Altec Lansing iMT810 Digital Boombox

Massive amplification. Horn-loaded tweeters for wide sound dispersion. Fierce bass. Digital FM radio. Dual AUX IN jacks. Clip-on remote. Music pauses for calls from iPhone. ...

Only $995.0
Bose SoundDock Portable
The original SoundDock was one of the first iPod speaker systems to appear. It was pricey but the classy design and first rate sound meant big sales- attracting other manufacturers to produce docks, Few ever got to the same standard.

The latest SoundDock retains the minimalist design and excellent sound quality. It is still expensive unless your only concern is the best sound a portable can deliver. Like the Logitech, it is short on features with no radio and only a low resolution video out function but, for audiophiles, these details will not matter.

It is compatible with all iPods that have a click wheel, such as the nano, mini, photo and video models.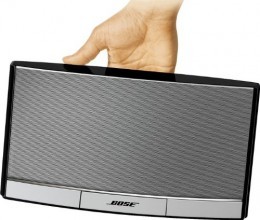 bose
Cyber Acoustics- compact and economical
This is a highly portable system at a very good price and, not surprisingly, one of the best selling portables around. The sound quality will not rival a Bose but for a bedroom it is good enough for most people and has a reasonable bass.
One of best features is the rugged nature of the construction. The dock will keep on working even with a little rough treatment and the carrying case is solid.
There is also magnetic shielding of the electronics so it can be used next to a PC without problem.
Just don't expect frills like a graphic equalizer.
Ultra Portable Speakers for the iPod
The speaker docks above are 'portable' but not the kind of thing that  you can carry in a bag or backpack. If you want to be sure of music anywhere, these ultra portable speakers deliver.
Altec Lansing iM-237 Orbit
Altec Lansing produce some of the classiest speakers for all kinds of applications- from movie house systems to this tiny portable.

There is a single driver but it is cleverly designed to spread the sound and fill a room. The elegant design, surprising bass and clear mid and upper ranges has made this one of the most popular speakers around for the iPod.

Compatible with all iPods via a 3.5-mm connection. It also accepts music phones with 2.5-mm adapter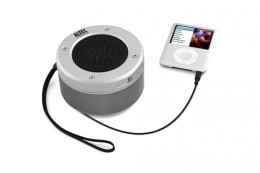 altec lansing
FM Transmitters
FM transmitters don't always give the best quality sound in city environments- the airways can be crowded and interference can be a problem. Most places though, they provide a quick and easy way to get music from your iPod to radio speakers in either car or home.
The Griffin iTrip Auto is one of the popular devices for cars and is compatible with most iPods. At under fifty dollars it is one of the cheapest ways to get quality sound from your iPod on the move.
---
Disclosure: This page generates income for authors based on affiliate relationships with our partners, including Amazon, Google and others.