Blogging for a Green Christmas
by annieangel
This article showcases a new blog, one that advocates a greener, healthier Christmas that tries to minimize commercialism.
I'm dreaming of a Green Christmas
introducing a new blog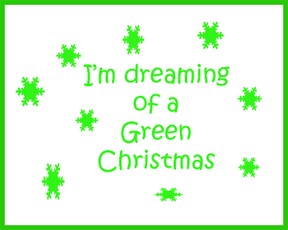 It isn't only people who are concerned about the environment that are dreaming of a green Christmas.  Many people are rethinking how they celebrate Christmas in these days when money is pinched and often the greener option is also the cheaper option.
As a way of helping along those lines and also for those who want to go down the green route, author AnnMackieMiller has started a blog called
What creating a green Christmas really means
top tips to having a green Christmas
You can create a greener Christmas in all sorts of ways, from buying a rooted tree to offsetting your carbon footprint travel.  The possibilities are endless.  Here are some of my top tips:
Make do with the decorations you already have.  You can spruce them up with some simple craft ideas.  Or make your own with the kids.
Only buy rooted Christmas trees or better still, grow your own!  Buy a small one and keep re potting it as it grows year by year.  
Make your own gifts.   
Make your own cards.
Be creative with wrapping - tons of paper is bought and thrown away every year.  the same goes with gift decorations.
If you do buy cards and wrapping paper make sure it is biodegradible or can be recycled. Why not include a note on your gift asking the recipient to recycle the paper. 
Buy only the food you need and try to buy food that is produced within a relatively short distance.
Use energy saving fairy lights and turn them off at night when you go to bed.
Give people an idea of what you want but if you do get gifts you don't like, then give them away to a charity shop.
Consume less!  That includes not just eating and drinking but using energy and petrol - only travel where you have to and walk whereever possible and in that time when everyone is at home, don't up the central heating to the point everyone is stripped down to tee shirts, make them wear a jumper and socks!
As the blog grows there will be articles on green gift ideas, on green decorations and on how to reduce waste with alternative gift wrapping to name just a few - be sure to visit often. and have a Happy Christmas.   
Guest bloggers wanted
Are you interested in free backlinks?
Annie is looking for guest bloggers to write about A Green Christmas.  If you have an article on Wizzley, Squidoo, Hubpages or elsewhere on the net and if you would like a backlink to it - this is a great opportunity.  Simply send Annie an email with 'Guest Blog' in the title and a link to the article.  If it is suitable she will ask you to write a 100-200 word summary of it and she will post it on the blog.
Give Green Candles this Christmas
soy wax candles are all natural, burn longer and cleaner
Ad
Where to find more articles by AnnMackieMiller
Green Gift Ideas: Reusuable shopping bags
from Just Totes - the eco-friendly tote bags
---
Disclosure: This page generates income for authors based on affiliate relationships with our partners, including Amazon, Google and others.