Shoes | A Best Picture Book Review
by tandemonimom
I have a lot of favorite picture books, but the sweet, bouncy Shoes is absolutely at the top of my list!
Shoes, A Reading Rainbow Book Selection
by Elizabeth Winthrop, with illustrations by William Joyce
You must have a copy of this utterly delightful picture book for your kids or grandkids. It's still available new from some venues, or find one of the many used copies available online. If you're lucky, you'll find it in the sturdy board book edition as I did, and not have to worry about torn pages.
Now put your shoes on your skinny-boned, wiggly-toed feet and go find a copy of this book!
Shoes: The Story
Shoes is a book for very young children. It has a bouncy rhythm and bright, colorful, fun pictures. It is not a story per se, but a celebration of, well, shoes, as you might imagine ... but despite the apparently dry subject and bland title, there is nothing dry or bland about this book!
The reader and audience get to go on a rollicking adventure, following every sort of shoe accompanied by a delightful illustration of an appropriate accompanying activity.
There are shoes to buckle, shoes to tie, shoes too low and shoes too high ...
Shoes for slipping, shoes for sliding, high-top shoes for horseback riding ...
Pages and pages celebrate every kind of shoe, and the exuberant activities of the wearers! It is impossible not to giggle when reading this book, a giggle you'll feel all the way down to your very own skinny-boned, wiggly-toed feet!
Believe it or not, I wrote all those quotes without even opening my copy of the book for reference. Yes, that is how many times I have read it! You'll find yourself reading it that many times too, with your child delightedly dancing out each activity to the rhythm of the book.
Reading Rainbow
Shoes was a Reading Rainbow book selection.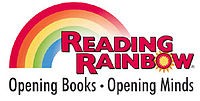 Reading Rainbow, one of the best children's programs ever made, is sadly off the air now. On PBS for twenty-six years, from 1983 to 2009, Reading Rainbow garnered over 200 broadcast awards, among them dozens of awards for Outstanding Children's Series and other Emmy Awards.
Author Elizabeth Winthrop
Elizabeth Winthrop writes fiction for all ages and has published more than fifty children's books and picture books, adult novels, short stories, and poems. Ms. Winthrop is the recipient of multiple writing awards including the Dorothy Canfield Fisher Award, a child-selected book award, and the Pen Syndicated Fiction Award, which honors outstanding voices in fiction.
Illustrator William Joyce
William Joyce has written or illustrated over fifty children's books, including the book series Rolie Polie Olie and George Shrinks, which were made into television shows on Disney Channel and PBS, respectively. He has also been involved with Disney/Pixar in character and story and development on movies such as Toy Story, Ice Age, Robots, and Meet the Robinsons.
Find More Great Children's Picture Book Reviews
All book reviews on this page are personal favorites of my family!
Great Library Book Tote Bags!
---
Disclosure: This page generates income for authors based on affiliate relationships with our partners, including Amazon, Google and others.