The Great Arizona Haboob of 2011
by tandemonimom
On July 5, 2011, Arizona was hit by an enormous haboob! What's a haboob, you ask? Read on ...
What the Heck is a Haboob?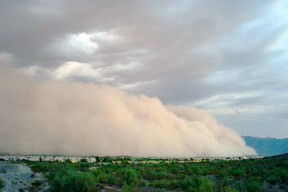 A haboob is a giant dust storm, but a very specific type of dust storm. When a big thunderstorm collapses in a certain way, in a dry area of the world, it causes a powerful downdraft forward of the storm, in the direction the storm is moving. In a dry and dusty area, this enormous poof of wind stirs up a massive dust cloud that can be a mile high and sixty or more miles wide to run before the storm, coating everything in its path with dust. Precipitation usually evaporates in the dry heat before hitting the ground, but if the water does make it to the ground it can cause a mud storm.
What Happened in Arizona?
On July 5, 2011, a thunderstorm in the southern part of Arizona began to collapse near Tucson. This sent a downdraft out to stir the dusty desert landscape and triggered a haboob of historic proportions: at least a hundred miles wide and over a mile high, with wind gusts over 60 miles per hour, the haboob raced from Tucson up to Phoenix. Flights were grounded as visibility throughout the region dropped to zero.
"No words to describe this. I've lived in Phoenix
for 35 years and seen tons of dust storms.
This was something else entirely."
~ Mike Olbinski
Time-Lapse Video of Haboob Engulfing Phoenix
Videographer Mike Olbinski
The Morning After the Phoenix Haboob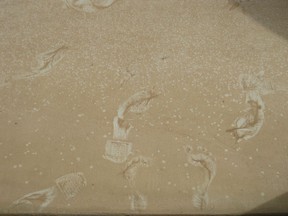 The dust was so thick everywhere! You can see there were a few sprinkles of water after the dust was laid down, but just a few. In places it looked like snow drifts. Pools were clouded and muddy. Cars were trailing clouds of dust from their roofs as they drove along, and windshield wipers were industriously sloughing dust from windshields - without water, which would just have created a mudbath on the windows! Anything left outside had to be hosed down.
More About Haboobs
Surviving a Haboob
Winds in a haboob can whip the dust around at thirty or more miles per hour. It is vital to protect exposed eyes, nose, throat, and ears! Better yet, just GET INSIDE and if you are driving GET OFF THE ROAD! Each year, an average of five people lose their lives and many more are seriously injured as a result of sudden, violent dust storms, according to the Arizona Department of Transportation.
Why "Haboob"?
This type of dust storm is prominent in North Africa and the Near East, where it goes by many regional names. "Haboob" is from an Arabic word meaning "strong wind."
I Survived the Haboob!
Where were you in Arizona when the dust storm hit? Phoenix or somewhere else in Arizona? Get the t-shirt!
I Survived the Dust Storm!
... and all I got was this lousy t-shirt.
Haboob Shirts from Zazzle
"I survived the Great Arizona Haboob! July 2011" tee shirts from Zazzle! Choose your favorite style and color of tee shirt, in sizes from infant to adult 6XL, as well as camis, hoodies, and all sorts of apparel. Choose any design in black or white to print on light or dark tee shirts. Also on hats, magnets, mugs, and more items!
Have You Heard of Haboobs?
Helpful Links for Haboobs
Washington Post Phoenix Haboob Slideshow
Great photos from the July 2011 Arizona dust storm!
Dust Storms in Arizona
Driving safety in Arizona during haboobs, or massive dust storms, from the Arizona Department of Transportation
CNN WeatherFX
What causes a haboob?
Arizona Highways
Historic magazine Arizona Highways is collecting haboob photos for a "Dust Bowl 2011" slideshow!
---
Disclosure: This page generates income for authors based on affiliate relationships with our partners, including Amazon, Google and others.