Branding You, Branding Me, Branding Wizzley
by ronpass
You are branding yourself in the eyes of your readers and Google when you write articles, comments and other online content.
Branding through Content Creation
What we write brands us in the eyes of our readers and Google.
Branding is a two-way street.  You build your brand through your activities such as writing articles and commenting on social media sites.  However, the effectiveness of your branding is determined by the reader/observer and the ever-present Google bots.  Essentially, your readers and Google are branding you.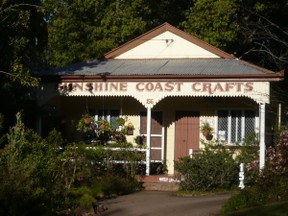 Branding You
Readers are branding you
We often think of branding as something you do to brand yourself.  Effective branding, however, is in the eye of the beholder – it's the impression created in their minds and hearts.  Just think about the products or services you love – you associate something positive with them such as warmth, ease, comfort, reliability or friendliness.  They are "branded" in your eyes.
People are branding you through everything you write and through what they read about you.
Think of the people you admire – how have they shaped that image in your mind?  What have they done or written that has led to your impression of them?  Is it about their turn of phrase, their humor, their helpfulness, their insight, their different perspective, their understanding of issues, the clarity of their writing, their openness?….what is it that is "branding" them in your eyes?
Now just think about how people might be branding you.  What are you doing to shape their perceptions, their image of you?  Do you have a niche that you demonstrate depth in, or are you spread across the board?  Whether you are conscious of it or not, you are building a brand – people are watching you and "reading" you.  Day in and day out you are being branded both by your behaviour on the Internet and by what you write and how you write it…and also by what others write about you (they promote your brand for you).
Google is Branding You
Google Is Building Associations Between You and What You Write
Google through "semantic indexing" is building associations between you and what you write/publish.  I have yet to see an intelligible definition of "semantic indexing", but in essence it means that Google (through a mathematical process) is able to develop associations between words and between words and people.
Thus Google "knows" (through artificial intelligence) that "cycling" is associated with terms such as bicycle, bike race, bicycle gear, bike parts, cycling track and annual bike races.  This is, in part, why long tail keywords came into vogue – because Google can link them by association with a primary keyword.
Google is watching the words that you write and is building up an association between you and the written word.   
The more focused your writing, the more Google recognizes your expertise.  If you are recognised as an authority in an area, then you get indexed faster, visited more often by Google bots and your site is indexed deeper.
 [Google's representation of you and your semantic relationships was best illustrated by the Google Wonder Wheel.  However, this search facility has been removed by Google - but may yet return.]
...And Google is Indexing Your Comments
Google Indexes Comments on Wizzley Articles
Google is also indexing comments that you make on Wizzley articles.  I addressed the issue of adding value through commenting in another Wizzley article. 
A search on Google for "branding commenting Wizzley" bought up my article.  When I checked the "cache" link beside the search result, it highlighted where those three terms appeared in my article (each in a different color).  Here is what it highlighted from the comments section: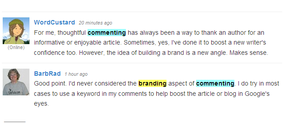 Google is Branding Wizzley
Google Indexes and Monitors Wizzley
The Google Farmer Algorith changes and the resultant fallout showed clearly how Google had "branded" some sites.  Google "knew" what sites had a lot of duplicate content or excessive spammy content (thousands of articles on the one topic like "weight loss").  These sites suffered badly in the Algorith Change through a loss in rankings and traffic.  Ezinearticles.com, for example, lost up to 35% of their traffic almost overnight.  So, Google had been quietly building up an image of these sites and decided that they would put a stop to poor quality content and force the major sites to clean up their act.  Respectable sites like Ezinearticles.com responded quickly and brought in new author guidelines.
We were designing Wizzley as this fallout was occurring, so we had the benefit of hindsight.  That is why we are so insistent on quality and word length.  This builds our value in Google's eyes and helps us gain better search results from Google.  The more we are able to insist on this (and that people write about our insistence), then the more "value" we will have in the "eyes" of Google and potential readers.  So everyone benefits – you benefit as a writer, the reader benefits from the quality and the owners benefit from their investment of time and effort. 
Related Articles on Social Networking
---
Disclosure: This page generates income for authors based on affiliate relationships with our partners, including Amazon, Google and others.