Bride T-Shirts
Fun, Creative, and Custom rhineston T-shirts every bride would love on her wedding day.
Dazzle Yourself on you Day!
Bride T-shirts
A girls wedding should always be a day to be remembered and cherished. As a bride she should always sparkle from begining to end. 
Bridal T-shirts the a great way to get everyone excited with you, that you are going to be a bride. At Just Jen you can find bridal t-shirts for the whole bridal party. Starting with the bride all the way down to the flower girl. Dont settle for a boring old printed shirts. Its a wedding, everything need to sparkle. Make your next bride shirt a custom rhinstone bride shirt with your name on it. 
Bride t-shirts are not just for the day on your wedding, they can be used to everyday purposes until the day you say, "I do." 
Even get personal and get your future name rhinestone on a t-shirt. Dont hide your excitment show it with a custom rhinestone T-shirt. 
Bride T-Shirts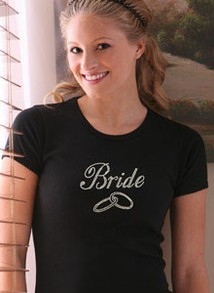 Bride
Lets Get Personal!
Personalized T-shirt
There are so many creative ways that you can make your bride Shine. Not every bride likes tradition and Just Jen knows that. They allow you to personalize and customize a simple bride shirt.
Bride to be the next Mrs. Smith or whatever name you are lucky to take on. Get it a custom rhinestone shirt saying so. The Mrs. Last Name and Soon to be Mrs. Last Name T-shirts are top selling bridal t-shirts at Just Jen.
Make the whole Bridal party dazzle with their very own personlized t-shirts. 
If neither of those fit your personality but you like the idea, tell them what you want and they can make it happen. The creativity is all in your head. Your the bride sparkle on your special day in your own way! 
Get started. Make your wedding day one to never be forgotten. 
Future Mrs. T-shirt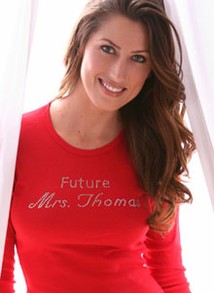 Future Mrs.
Bridemais Hoodie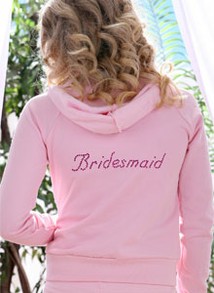 Bridemaids Hoodie
Borrowed, Old, New, Blue
There are many traditions that revolve around the bride's attire. However, there is a particular one that is practiced by many in the American Culture. 
You need Something Borrowed, Something Old, Something New, and Somthing Blue. 
These are best when each item means a little something special; however, there are more fun ideas to liven up a wedding. 
Something Borrowed- A necklace your family or friend wears that means something to them, that can mean to you on your special day. 
Something Old- A item from your grandma, or something your mom or friend cherished when she was young. 
Something New- Either grab a nice pair of earing out to match that necklace or get a new pair of shoes to slip on under your gown. 
Something Blue- Make your garter blue, or add a little lace blue on your bra under your dress. 
You can me creative, sentimental, or fun with this tradition. 
Bethanny Frankel Got Hers!
I do in sparkles
The fashion world is driven by peoples idead and innovative thinking. Well who doesnt like rhinestones? You can personalize and customize any piece of clothing as your own.
Bethanny Frankel ordered her very own rhinestone bride sweatsuit at JustJen.com. She wanted to make her wedding sparkle from start to finish. You place your bridal phrase anyone you want it. Be creatice and go design something that is just yours.
---
Disclosure: This page generates income for authors based on affiliate relationships with our partners, including Amazon, Google and others.