Customized Bridal Hoodies
Customized and personalized rhinestone sweatsuits, bikinis, t-shirts, etc, perfect for your pre-bridal gown attire or on your honeymoon.
Time to Say I Do!
Customized Hoodie
This is the perfect piece to wear before you put on your beautiful gown and even after! 
Everyone's wedding should be the happiest time of his or her life. No matter if it's your first or your fifth, every girl deserves their perfect wedding!! 
The most important part for the girl is the dress, and no one wants make up on his or her dress. For your pre-wedding outfit look at getting a customized or rhinestone bridal hoodie The most common phrases that are used on the hoodie are the following: Just Married, Future Mrs. Whoever, and of course Bride, but the ideas are endless.
The rhinestones come in your choice of color and size. The phrase printed is your choice as well. 
Pick between a cotton fleece hoodie or a velour hoodie, both in zip up or pull over.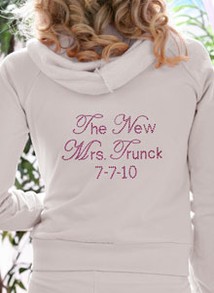 Bridal Hoodie
Bride or Soon to Be
Bride T-shirts
 Go all out and get a rhinestone t-shirt to match that bridal hoodie. From the day that he proposes," wedding" anything becomes embedded into your head, along with the excitement of the actual wedding day. 
These bride t-shirts are not just for your wedding day but they are for everyday starting with the engagement all the way through your married life. 
Get personal with it and start with a soon to be Mrs shirt, with your personalized future last name. Then go ahead and get the Just Married t-shirt that you can wear and parade your excitement around town showing your previous nuptials. Even drop the "Soon to be" and get a Mrs. shirt or just keep it simple with a rhinestone Wifey saying. The choice is all yours!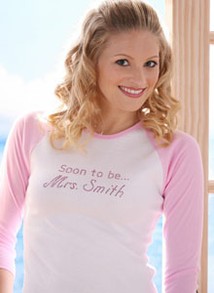 Soon To Be a Bride
There is a Bridal Party Too!
Bridemaids or Mother of the Bride.
Making something yours is fun and exciting especially when you and everyone walking by can see the results. 
I know its all about the bride on her wedding; however, these rhinestone options of a hoodie or t-shirt are also nice for the people around the bride on her wedding day.
Want to give a big thank you to your bridesmaids? They have been putting up with bridezilla for the past couple months. Go out and customized your own thank you rhinestone bridesmaids sweatshirt. You and your girls can all get ready with already having a little sparkle.
How about the your future mother-in-law or your sister-in-law? Getting a t-shirt that says "Mother of the Groom" or even one for your mom that says "Mother of the Bride" would show how much you appreciate both in your life.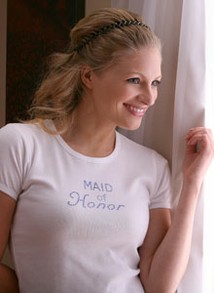 Maid of Honor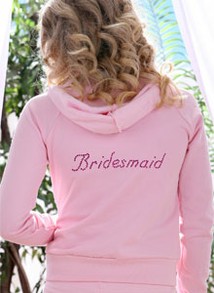 Bridesmaid Hoodie
Honeymoon Time
Just Married Bikini
Don't just think about the bottoms to your bikini, unless you are going to Europe or a nude beach you are going to need a top. In addition to the Just Married Bottoms there is a wedding ring top to match. Again you get to customize what and were you would like the rhinestones placed, and have an awesome honeymoon. 
Hello Bride! You have your flowers, the venue, and the honeymoon spot all booked and ready to go. The wedding is done and now what? The Honeymoon. You are going to need the special honeymoon bikini to wear. There is no better time to make a statement of your new marriage status. Just married and proud like any other newlywed would be with the man she loves, say it with a Just Married Bikini or a Mrs. Bikini, or both. The Just Married Bikini is made the all rhinestones is sure the make her envy of all women around the pool, beach, or tropical waterfall.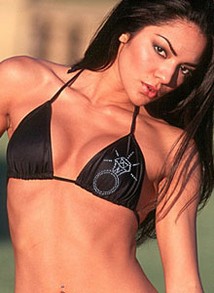 Bride Top Bikini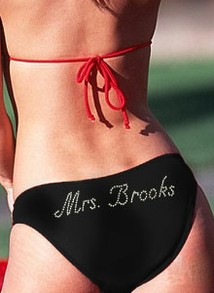 Mrs?
---
Disclosure: This page generates income for authors based on affiliate relationships with our partners, including Amazon, Google and others.