Why Squat Toilets Need No Novelty Toilet Seats
by mivvy
Black or white toilet seats are boring. Buy a cool novelty toilet seat, not needed for squat toilets, of course.
Novelty Toilet Seats Spice up Your Bathroom
Fed up with boring black or white toilet seats? Personalize your bathroom with a cool novelty toilet seat. A flushing clock, a dollar bill & coin or tropical fish toilet seat will amaze your friends and spice up after dinner talk. A pop up-red monster toilet seat will give your mother-in-law something to talk about when she sees her friends.
Why would you need a novelty toilet seat? There are lots of reasons. One of them is that they are easy to clean. Another reason is that they are comfortable to sit on. Especially if you like to do you crossword puzzles or do a Sudoku or two while doing your business. I have made our bathroom into a little room with lots of character; family portraits on the wall, a pile of funny books in a basket and a bunch of fresh flowers.
Squat Toilets Need No Toilets Seats
My first encounter with a squat toilet was in the 1960s when I studied at the Sorbonne University in Paris. Opening the loo door, I stopped short and hastily shut the door again and went in search for the ladies, but didn't find one. In the end, I quickly did my business squatting down.
A squat toilet is a hole in the ground and used by squatting. Some of them flush but most have a bucket of water which you fill from a low-placed tap. When you are done swirl the water down the hole to clean up. Squat toilets are being considered more hygienic because you never sit down meaning you are never into direct contact with the toilet seat or toilet bowl.
My worst experience was a squat toilet in southern Turkey because I could not straddle the hole. As the Pansyon where I stayed was close to the mosque, I hurried there to do my business there. Toilets in mosques are always very clean and everybody is welcome in mosques, whether you cone to pray or for other business.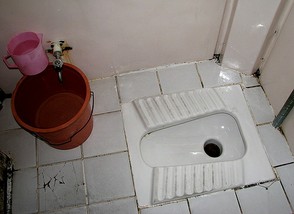 Squat Toilet
What to Look for When Buying Toilet Seats
You may not have realized that toilets are either a round or oblong. Choose a seat that fits your toilet and is easy to clean. I also like toilet seats that cannot be slammed down. If this is what you like, look out for a quiet close toilet seat. 
Wobbly toilet seats are very annoying. Wooden seats are sturdy, smooth and do not wobble. They look especially good in more traditional bathrooms. 
Buy a toilet tattoo, if you are happy with your toilet seat but would like something that looks more adventurous. Toilet tattoos is vinyl film that clings to the toilet lid. If you don't like the pattern, simply remove it. You cannot use them on wooden.
Western Toilet Guidelines
Mastering a western toilet is equally difficult for people who have never seen one.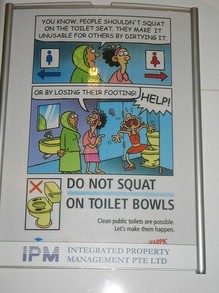 Do Not Squad
How to Use a Squat Toilet
When travelling in the Middle East, including Turkey, Asia or Africa, You are bound to come across squat toilets. When you have never seen them, you will have to experiment how to use them. Here are some guidelines. 
Knock on the door to see if someone is inside 
Put your feet on the grid on either side of the hole 
Squat the same way as you would sit on a toilet e.g usually facing the door 
Wear footwear, roll up your trousers and make sure your clothes don't touch the floor. The ground is usually wet because people use these toilets to wash themselves. Flushing is often done by means of a bucket of water. Even though some don't aim too well, these toilets are often surprisingly clean(ish). 
Squat low down on flat feet. If you rest on your toes you may topple over. 
Bring your own toilet paper and put it in the cardboard box or bin. Don't flush it through the toilet because it will block the system.
Brighten Up Your Smallest Room
Novelty toilet seats spice up your bathroom. They are available in all colours and many cool designs; Dollar Bill toilet seat with matching toilet paper. My favourite is Frogs in the Moonlight. It is a tattoo meaning I can remove easily and have a new design whenever I am fed up with frogs or moonlight. Novelty seat are fun and a cool way to spice up your bathroom. Why not brighten up your smallest room and buy your novelty toilet seat today.
Novelty Toilet Seats and Tattoos
The white toilet seat comes with whisper-close hinges.Brighten it up with a tattoo for that cool look
Write for Wizzley and Earn Money
If you love writing and would like to perhaps earn some extra money, then join Wizzley today!
Updated: 03/07/2012, mivvy
---
Disclosure: This page generates income for authors based on affiliate relationships with our partners, including Amazon, Google and others.