Canon EF-S 55-250mm f/4-5.6 Telephoto Lens Review
by Ethan_R
Many new Canon DSLR camera owners will often wonder what is the next best lens step up to after using the kit lens that is included with most Canon DSLR cameras. Here is one option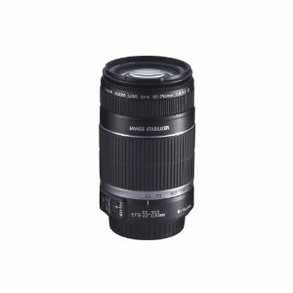 Canon EF-55-250mm lens
First Impressions Of The Cannon EF-S 55-250mm Lens
For shooting great long distance shots with a DSLR, there are a number of elements to look for in a great telephoto lens. For starters you want a great range, as it will allow you to zoom on something more easily from afar. Depending on what you are taking pictures of you probably will want a relatively fast auto-focus to quickly snap tack sharp pictures of your intended target. And finally for long distances and in different lighting environments having some type of image stabilization can often make tricky shots all that much easier for you. The Canon EF-S 55-250mm f/4-5.6 Telephoto Lens is a great option that fits the bill and is cheaper than the majority of the other Canon and third party lens options on the market while having the ability to shoot great shots. Read on to learn more about this lens.
Buy This Lens On Amazon.com
A Feature Packed Lens For An Unbeatable Price
Typically priced for under $300, this lens is likely the cheapest Canon telephoto lens specifically designed for Canon crop sensor bodies like the Canon T2i or Canon T3i DSLR cameras. Since this EF-S mount lens is designed to on crop sensor bodies, it cannot be used on a full frame sensor DSLR platform like the Canon 5d Mk II.
With a focal range between 55mm and 250mm, this lens is a great step up from the 18-55mm kit lens that is typically bundled with most prosumer grade DSLRs. At the maximum zoom you can easily focus on objects from a relatively long distance away.
While the Autofocus of the Canon EF-S 55-250mm won't be able to match the blazingly fast autofocus times of the high-end Canon "L" lenses that can cost more than a few thousand dollars, it is still fast enough to accurately focus on moving targets in the distance and deliver sharp pictures as if the target was sitting still in front of you.
Another invaluable feature of this lens has got to be Canon's propietary Image Stabilization feature. This will allow you to take freehand photos free of any sort of hand or motion blurring in lighting conditions that would have normally required a tripod or other stabilizer to achieve the same quality.
Whether you are a seasoned professional or just getting started in photography, there is plenty of value to be had from this telephoto lens. This lens can also make for an excellent and thoughtful birthday or Christmas gift for a family member or friend who is a photography enthusiast.
---
Disclosure: This page generates income for authors based on affiliate relationships with our partners, including Amazon, Google and others.