Ozeri Nouveaux II Electric Wine Opener Review
by Ethan_R
Make opening a bottle of wine fun and easy by using a electric wine opener like the Ozeri Nouveaux II.
Not all wine openers are created equal
Anyone who regularly drinks wine or has frequently handled and opened bottles of wine, has likely had a bad experience with a cheap poor quality wine opener. The exact problems may vary between different types of openers but usually the issues are relatively similar. Many cheap or freebie manual levers and corkscrews often require users to temporarily exert herculean strength to pry the cork out.
To add to all of that, more often than not all that extra effort will often partially damage or even completely shred a cork. This will often result in little pieces of the cork left to float in the wine, this can be an unpleasant inconvenience for you or your guests. 
Fortunately these problems can often be aleviated by purchasing a better quality wine opener. Electric wine openers like the Ozeri Nouveaux II are particularly good in this regard and are very afforable buys.
The Ozeri Nouveaux II Wine Opener
Lots of people have written off electric wine openers like the Ozeri Nouveaux II as overpriced gimicks. I thought that way for a while until I decided to buy one on whim after becoming so fed up with the low quality freebie corkscrew that I had gotten from some long forgotten tradeshow in the past. 
For starters the Ozeri Nouveaux II anything but overpriced, with a very affordable retail price on Amazon.com of less than $30. In contrast to my earlier struggles to open a bottle of wine with cheap tools, using the Nouveaux to smoothly open bottles with a press of a button without any fuss left me wondering why I had suffered using a substandard openers for as long as I did.
As I mentioned before, operating the Nouveaux is very simple, Just simply hold the opener over the cork on a sealed bottle press a button and the watch the opener smoothly dig in and then pull the cork. Press another button to reverse the corkscrew and remove the cork from the opener. The whole process takes less than a minute or two.
The battery that runs the motor is relatively long lasting. Ozeri, the manufactuer, claims that the battery can last up to approximately 60 uses prior to needing a charge, which is more than enough to last for weeks between recharges for most casual users who might open a few bottles of wine per week.
Between the convenience of the opener and its reasonably low price, this wine opener makes an excellent holiday or birthday gift for any friend and family member who are also wine aficionados. Apart from that its a great buy if you are like me and are fed up fumbling with a cheap opener that sucks the fun right out of opening a fresh bottle of red or white wine.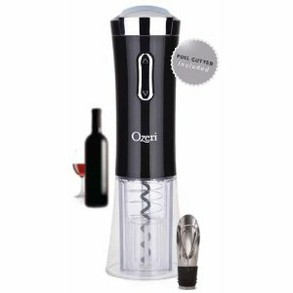 Ozeri Nouveaux II
Find the Ozeri Nouveaux on eBay
---
Disclosure: This page generates income for authors based on affiliate relationships with our partners, including Amazon, Google and others.