Cape Cod Vacation Summer Cottage Rentals
by kiwisoutback
Where to find the best summer cottage rentals on Cape Cod.
Stay at One of the Hundreds of Waterfront Cape Cod Cottage Rentals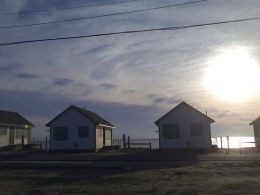 Everything on the Cape is small, close together, and easy to get to. When booking your summer cottage rental on Cape Cod, try to check reviews on Trip Advisor to see what's in store for you before staying. Also, compare prices on other comparable properties, which you can find on many sites like cyberrentals.com. You'll find that almost every place here has online reviews, so you can get a good feel for what the rentals look like prior to your stay.
What attracts many to the peninsula of Cape Cod, Massachusetts is the quaintness, exclusivity, and remoteness of the region, but full time residents look deeper and know the true beauty of the Cape. Winding salt marshes, rolling sand dunes, hidden lighthouses and remarkable beaches set the scene for the ultimate sunsets, relaxation, and endless days at the beach.
Photo by gypsy tears on flickr, licensed under Creative Commons 2.0.
Why Cottages vs. Inns and Hotels
Cottages don't have to be over-the-top either. The Truro cottages seen to the top right are a great example. These are no-frills, with the bare essentials for a vacation stay, yet you really can't find a better place to stay on Cape Cod. These simple little structures book in advance over a year!
The experience is always a lot more memorable if you're staying near the ocean, isn't it? The ocean is what Cape Cod is all about, and you aren't going to want to stay far from it. Yes, there are areas of the Cape which can be a little bit too inland -- and maybe not too scenic.
While inns and hotels often times have better rates, that isn't always the case. You can find some pretty amazing places to stay that cost less than some of the top tier Cape hotels and inns, and you won't have to deal with annoying, loud visitors in the room next door. You also won't be locked into actually buying anything, like a timeshare. In other words, privacy is worth every penny.
The other advantage of booking a cottage vs. a hotel is the proximity to the beach. There are some hotels that are close to or on the beach, but none have the luxury, privacy, or freedom that renting a seaside cottage on the Cape offer.
Popular Cottage Towns on Cape Cod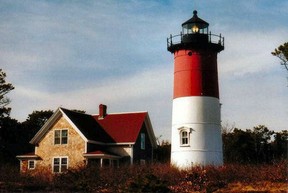 Cottages are located all over Cape Cod, but more so on the Outer Cape section. This includes Provincetown, Welfleet, Eastham, Orleans, Brewster, and especially Truro. The east side of the Outer Cape will give a great view of sunrises and often has steep sloped sand dunes on the open Atlantic. The west side has beautiful sunsets, as well as sandy beaches and rivers. 
Photo by muffinman71xx on flickr, licensed under Creative Commons 2.0.
Planning Ahead: Booking Your Vacation Rental
With the Cape, it books up very fast. You can sometimes find a last minute getaway, but they often book way in advance. We're talking months, not weeks. You'll also want to keep in mind that traffic is really congested heading towards the bridge on Route 3 during and right before the weekend. If you can avoid it, I suggest not staying on the Cape during Memorial Day or Labor Day. There's way too many people for my liking, but if you like long lines, traffic everywhere, and tourists at every turn, that's the perfect time to go.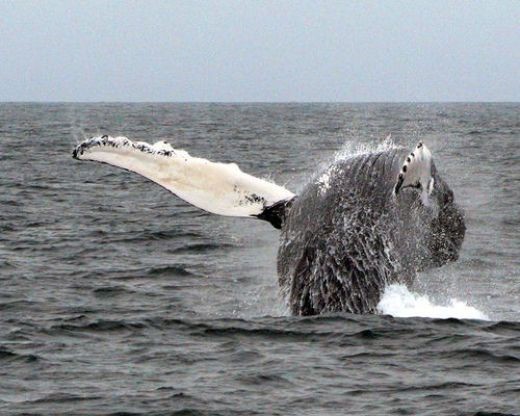 A whale on Cape Cod, as seen from one of the whale watches cruises that you can take from many towns in MA. Photo by Ric
Cottages on the Cape's South Side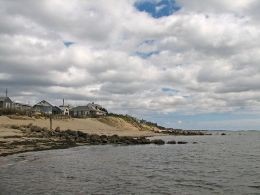 Yarmouth, Dennis, Chatham and Harwich all have beautiful shoreside cottages with beautiful oceanfront views. Some of the cottages are lumped together in groups, run by a hotel/resort community, while others are owned by individuals. 
Photo by smellyknee on flickr, under Creative Commons 2.0.
Whale photo: Photo by Rich Ellison, under Creative Commons 2.0.
What's My Second Choice For Accomodations on Cape Cod?
Besides a nice beachfront cottage, I'd like to stay at a bed and breakfast. These are quaint, easy to find, offer homemade food, and have everything done for you. I've reviewed my top five favorite Cape Cod bed and breakfasts here if you'd like some suggestions.
---
Disclosure: This page generates income for authors based on affiliate relationships with our partners, including Amazon, Google and others.