Road Trips in the USA
by kiwisoutback
Where to plan your next road trip in the USA, from National Parks to big cities, this guide covers it all.
Road Trip Routes Across America: North, South, East, and West
Traveling by Car Across the Great American Landscape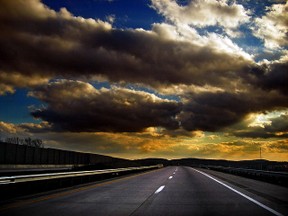 National Parks, big cities, famous museums, quaint towns, winding rivers, beautiful seaside vistas, mountaintop panoramas, unique wildlife, unique people...these are all things you would expect to see on a road trip in the US. Some of the sites you stumble across will be well known, and you're sure to find some lesser known gems as well. There's an infinite number of routes across the country, back and forth, zig zagging in every direction, but some of the more popular (and my personal favorite road trip routes across America) are as follows...
Route 66
The classic American road trip route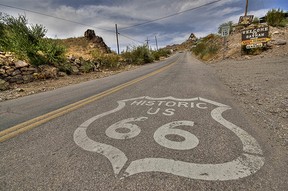 This classic route across the heartland of the United States is probably the most well known route for road trips...but is it a good representative of present day America? Definitely not, as you pass by old diners, gas stations, shoddy roads, Route 66 themed shops, and some of the midwest's little ventured small towns, you may start to have a skewed vision of what the country is all about. However, don't be alarmed! While it may be a fun road trip, keep in mind this road has been decommissioned and is now a historic road, not a well-kept US Interestate. Route 66 provides a look into the America of the past, the golden age of road trips and the near dawn of the automobile. Route 66 runs the huge expanse between Illinois and Los Angeles, California, a distance of approximately 2400 miles. While you can't travel the entire route because it simply doesn't exist, you can travel very close to the old road, and often times travel on the actual old Route 66.
The Northern Route
From New England to Pacific Northwest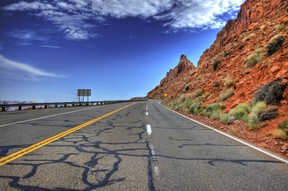 Besides major cities, you'll encounter famous National Parks like Badlands National Park, and monuments like Mount Rushmore. Approaching Wyoming, you'll have the choice of visiting Yellowstone National Park. Take this opportunity! It's a park not to be missed, with its amazing geological features, huge abundance of wildlife, and gorgeous views of mountains, lakes, geothermal pools, forests and volcanic activity. Further west, you'll reach the state of Idaho and eventually Washington state. A visit to Washington wouldn't be complete without a stop in Seattle, or one of its incredible parks like the Cascades, Mount Rainier, or Olympic National Park.
The northern road trip route across the United States will cover some of the great forests and wilderness the country has to offer, and would mainly travel along the stretch of I-90, which begins in Boston and ends in Seattle. It's a popular route that passes through the cities of Albany, Buffalo, Cleveland, Chicago, and into Wisconsin.
How to Budget Your Time for a US Road Trip
See the most you can across all 50 states!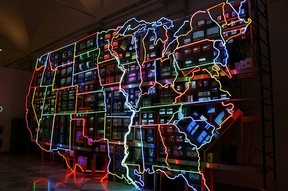 How much time off can you afford to take? This is the major determining factor that will tell you if you're going to see a little or a lot. You don't have to go across the entire country to see things, you just have to do some research. Blindly driving about is fun, but if you don't know where the the spectacular sites of the country are located, you'll be missing out (and maybe missing some great opportunities). To go from one coast to the other and back, this will take 3 weeks minimum. Double that time and you can see much of the entire country.
The Southern Route
California to Florida - including Texas, Arizona, and New Orleans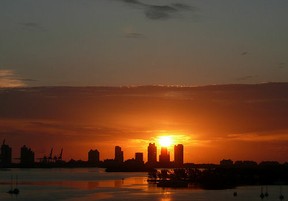 Florida awaits only a couple of hours drive east. Tallahassee, Panama City, and Pensacola all have beautiful white sand beaches and tourist-friendly downtown areas. The end stop on I-10 is Jacksonville, but don't stop there! Some of the best sites Florida has to offer lie due south, with St. Augustine, the oldest city in Florida, a short drive away. Miami, Orlando, Key West, Naples, Everglades National Park, Tampa and Daytona Beach are some of the most frequented parts of the Sunshine State.
The best way to see the southern portion of the United States is via I-10. While driving this superhighway can be a little boring, it's more the off-road sites nearby that make this trip spectacular. A trip down I-10 will come close enough to sites like the Grand Canyon and Big Bend National Park to make an affordable two week trip possible. Ending in Los Angeles, you'll be close to some of the great sites California has to offer, like Palm Springs, San Diego, Santa Barbara, and Death Valley. Further east, I-10 will intersect the desert city of Tucson, while only a few hours drive away are Phoenix and Sedona. New Mexico is next on the trip, with Carlsbad Caverns and Santa Fe being the top destinations here. Big Bend National Park is a few hours off the interestate in Texas, but well worth the ride to the Rio Grande.
Approaching the true southern states, you'll enter historic San Antonio, home of the Alamo and the famed Riverwalk. Texas' largest city, Houston, lies near the eastern border of the state on I-10, just outside of Louisiana. The Interstate will bring you directly through the capital of Baton Rouge, as well as New Orleans and the Gulf Coast. Business is up and running in most areas along the coast, but not what it used to be. Give them your support and stop by for a little tourism!
You can read more about the southern route on this guide.
Photo Credits:
All photos courtesy flickr, licensed under Creative Commons 2.0
For More Road Trip Information and Travel Planning, Please Visit:
---
Disclosure: This page generates income for authors based on affiliate relationships with our partners, including Amazon, Google and others.