Capture everyone's attention at the after-prom party
by Marylol
Prom is often an opportunity to dress to impress in formal wear, but what about the after party? Maybe it's a good time of start choosing the perfect fancy dress and make-up.
A prom is often the last chance for everyone to get together and celebrate. Not long after school or college most people will have scattered around the globe to study or to travel. 
It's an opportunity to dress to impress and be photographed in formal wear. Whether you plan to be suited and booted, or in long dress and heels, there's a question that often gets overlooked: what will you wear to the after party?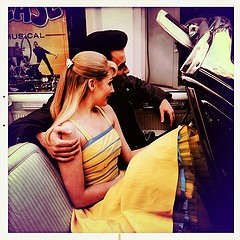 Grease - Das Kultmusical
After the amount of preparation put into your prom-night attire, you probably won't want to change into something equally formal. The after-prom party is more casual, and what you wear should match the informal mood.
Similarly, it is a chance for you to express yourself. Years later your peers will reminisce about this night together at reunions, so you want to leave a lasting, positive impression. At the after-prom 
party there is no room for shrinking violets – it is the time to let your hair down after all those exams and enjoy yourself.
For the prom itself hair and make-up often require as much planning as the perfect dress. Bear in mind that the event will be heavily photographed, often with flash, which can capture a shiny skin tone. Use a light finishing powder to reduce unwanted shine in photos and lean towards matt rather than light-reflecting products.
For the after party your make-up style will depend on your outfit. If you plan to dance till dawn, then use long-lasting products. To increase durability, cleanse and moisturise your skin beforehand and apply thin, light layers, which will blend more easily.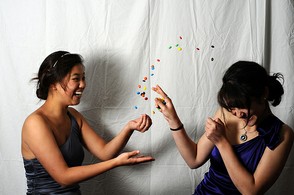 Friends at Prom
Chances are that there will be more than one after party following the prom. If you plan to party with your close friends, or are ready to come out of your shell, fancy dress costumes can be a great way to liven up the after-prom lull.
They show a confident and out-going personality, and needn't cost the earth to create.
If you're lacking a date then don't despair. The event shows everyone in a new light, and a little prom matchmaking isn't unheard of. Meeting a future love interest at the prom can make for a romantic beginning to a relationship, especially since a prom signifies the end of an era. A little caution is advisable, however, especially if a couple in the making have applied to far-flung colleges. Of course, many people go to the prom as couples, in which case you might want to keep your costume co-ordinated with your partner for the after party.
Retro costumes are always popular with the crowds, so consider a 50s, 60s, 70s or 80s fancy dress theme. Movies are another source of inspiration and Grease can tie in well with the 'high school' motif of prom night. More up-to-date themes could be made from recent blockbusters, such as Twilight or Harry Potter. These will be sure to keep your after-prom party lively.
It is also important to have a couple of activities planned in case the after party grows a little quiet. There are many resources and ideas online for hosting the perfect post-prom night. Most importantly, remember to have fun. Prom night requires a lot of organising and preparation, but all that effort is to ensure that everyone has a memorable experience.
Of course, planning your outfit for the prom can be enough of an ordeal in itself. If this is the case, there are countless stores where you can buy inexpensive pre-made costume kits that will get the after party off to a flying start. At shops such as Escapade fancy dress costumes come in all varieties. You might arrange a group theme, a celebrity look, or a novelty comedy costume. Stand out at the after-prom party and you'll leave a positive impression for years to come.
What is the best style for prom night?
Resource Box:
The Prom Organiser
The Prom Organiser provides a blog and free eBook with advice on planning large events for prom night.
Chiff.com – After Prom Party Ideas
Get prom stories, advice and ideas for the perfect after-prom party.
Seventeen
Seventeen magazine provides handy tips for do-it-yourself prom make-up, based on celebrity snap shots.
---
Disclosure: This page generates income for authors based on affiliate relationships with our partners, including Amazon, Google and others.