Cheap Backyard Wedding: a DIY Guide
by emmalarkins
Find ideas, tips, and thoughts on cheap backyard weddings from someone who has been down in the trenches!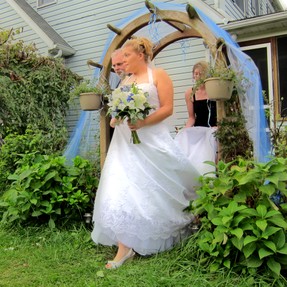 Just about everyone loves a cheap backyard wedding. The parents of the bride-and-groom to be love having the opportunity to reduce their financial obligations. The couple love getting to exchange vows in a place that's unique and close to both their hearts. And the guests love the flexibility of the festive and informal atmosphere. And who doesn't love starting a new chapter in their lives without one more mound of debt to pay off in these cash-strapped times?
I'll be honest - hosting a backyard wedding is not for the faint of heart, or those without a bevy of helpful friends, neighbors, and relatives. No one wants to be the bride folding napkins on the morning of her nuptials, or the groom sent out on a last-minute beer run. The key to cheap, backyard wedding success is planning, persistence, and a heavy dose of awareness about the limitations of you and the people generous enough to lend a hand.
Still, my experience is that backyard weddings on a budget can be just as magical and memorable as their pricier off-site brethren, leaving more money for all the things that a new life together will inevitably call for, and bringing your and those who love you a beautiful, spiritual closeness.
Your Wedding Budget
How Much Do You Have the Pleasure of Spending?
The first step to planning your cheap backyard wedding is to figure out how much you're willing to pay. The trick to enjoying this part of the process is to keep an open mind, and see your budgeting as a means to achieving the financial freedom to choose your money as you see fit, instead of as a punishment. We spent just a little over $2,000 on my sister's amazing backyard wedding, and I know people have spent much less. Don't think of all the things you'll be "missing out on" - in the blur of the day, you won't have time to even notice they're gone. Embrace this chance to have a ceremony and reception that are uniquely your own.
Here are some rough amounts to keep in mind, based on what we spent (for a guest list of 30). Of course, keep in mind that prices have virtually no upper limit, so you should look for the ranges in your area. I've stuck to lower-end numbers for my calculations.
Equipment rental (chairs, tables, tent): We spent $500, prices can range up to $2,000 to $5,000.
Officiant: We spent $200, prices can range from $100 to $1,500
Food: We spent $385, prices for catering can range from $30 per head to $200 per head
Drinks: We spent $500, drinks are often included in catering costs, and if you add mixed drinks to your bar expect a cost of around $700.
Photography: We spent $0 on a photographer (prints developed by us later ran about $75, and aren't included in the final cost). Professional photography can range from $300 to $3,000.
Decorations, flowers and table settings: We spent $463, cost of a decorator can range from $1,000 to $5,000.
Cake: We spent $30, costs can range from $200 to $1,000.
Music: We spent $0, costs for a DJ can range from $250 to $2,000.
Our cost for food and drinks was $885, or about $30 per guest. The overall cost was $2,078.
For more thoughts on costs, check out Backyard Wedding Budget.
Cheap Backyard Wedding Food
Keeping Costs Down, Deliciously
Few things can help you save as much money on your backyard wedding as DIYing the food - or having someone you love and trust "DIY" for you.
We spent $30 per guest for food, drinks, and wedding cake, and we had a ton of food left over to feed us for days afterwards. That's cheaper than just about any catering you can get, and you don't have to tip anyone! (Though presents for those who cooked for you are a nice touch). You can save even more by making the wedding a potluck affair, as long as your guests don't mind bringing a dish.
Plus, let's face it - most catered food really isn't that great anyway, unless you have thousands to throw away on it. After all, what's having strangers oven-bake steaks at 4 A.M., then keeping them chilled all day before reheating them in chafers compared to dishes made by your family and friends with love?
The trick is to use cooking methods that produce quantities of delicious food at once. We grilled some marinated sirloin steaks, and also smoked a suckling pig and a turkey. Adding a few salads, some baked beans, bread, chips, fruit, cheese and crackers rounded out the menu in a simple and inexpensive way.
You can find out more about how we prepared the wedding food here: DIY Wedding Food Ideas.
And here's how we made our tasty wedding cake alternative: Homemade Wedding Cupcakes.
Cheap Backyard Wedding Drinks
Save A Lot on Beverages
Having your wedding in your (or someone else's) backyard is a great way to instantly save on drink costs, as beverages tend to be the most marked-up items sold by restaurants and other venues. You'll also save on tipping costs, if you can get some free labor to serve, or have guests serve themselves out of coolers or ice buckets.
The number and types of beverages are up to you, based on your knowledge of what your guests like to drink. Here are a few tips to point you on the right path:
Get more than you think you'll need. Most beverages keep for a long time, so it's okay to have extra after the reception.
Don't forget water. Even if you provide water pitchers and cups, it's always a good idea to offer water bottles as well. They're easy for guests to grab, prevent dehydration, and can be taken on the car ride home.
Punches can stretch your budget. A sherbet punch or sangria is a great way to provide a lot of beverage for not a lot of cost (and can help keep guests from getting a little too tipsy).
Save money by sticking to beer and wine. This is, of course, a personal decision, but you can buy a lot of either for the cost of a small amount of spirits. Plus, there will be less worry about your guests getting home after the celebration.
A note on serving alcohol: As with any party, the hosts can often be held responsible for guest overindulgence. Giving some thought to safety before the big day will provide everyone involved with peace of mind.
Here's how we took care of the beverage situation: Wedding Reception Drinks.
Cheap Backyard Wedding Decorations
Let Your Creativity Bloom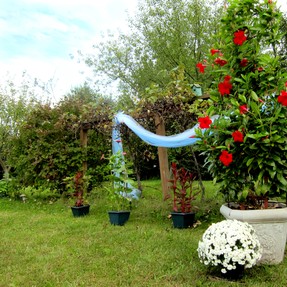 The decorating cost of your backyard wedding is one area of your budget than can either be slashed to a couple hundred dollars or balloon into the thousands - or more. Many brides have fantasy pictures of what they want their weddings to look like, but the truth is that the appearance of your wedding will easily be forgotten in the blur of the day's activities.
Here are some ways to cut costs, and also some areas that you're better off not skimping on.
Equipment rentals. Although it added a fair bit to the final cost, the rental of a tent (marquee), tables, tablecloths, and chairs really helped to up the "wow" factor of my sister's wedding. A tent instantly transforms a regular backyard from boring to festive, and doubles to protect guests, decorations and food from both sun and (light) rain. Call around and ask for recommendations to find the perfect intersection of size, quality and price.
The ceremonial backdrop. I have one word for you - tulle! Tulle can be purchased either online or at your local craft store, often for $0.99 a yard or less. Pair with large, potted flowering plants such as mandevillas or hibiscus for an easily-configurable look.
Dollar store delights. It might sound tacky, but you'd be amazed at how many attractive decorating items you can find at dollar stores. Some of our favorite finds included small glass vases, bags of colored glass gems, and battery-operated paper lanterns for $1 each.
Flower power. If you have the space, and start long before the big day, you can grow your own wedding flowers (or have a sympathetic gardening friends grow them for you). Growing or buying flowers in pots is a great way to add color to your celebration, and will last much longer than cut flowers.
Fancy feast. Melamine plates can be found in a startling variety of colors and patterns at most big box stores, and are reputable enough to eat off for this special occasion. Plastic champagne flutes are perfectly acceptable for the wedding toast. But there's one area not to cut costs: borrow silverware from friends instead of using plastic or buying cheap (which can have sharp edges). Alternately, all of these items are often available for rent.
Read more about our Outdoor Wedding Decorations Ideas and Outdoor Wedding Tents.
What's the Best Way to Save Money on a Backyard Wedding?
Vote Here!
Cheap Backyard Wedding Photography
Savings vs. Risk
Disclaimer: having a friend or family member take photos of your wedding can be a risk, and requires a lot more work than you think. Make sure you're willing to accept this risk before you decide to nix professional help!
Wedding photography adds a lot to the cost of a wedding (often starting at $2,000 or more). And for good reason - photographers spend years perfecting their skills, then hours both attending your wedding, digitally adjusting the look of your photos, and delivering them to you in print or digital format.
Still, who wouldn't want to shave a couple grand off of the wedding cost? With the proliferation of digital cameras, it's easier than ever to capture quality images.
If you're thinking of going the DIY route, don't forget to consider these things:
Don't bother with disposable cameras for each table. It's a popular choice, but most of the time you either get no photos (leading to wasted time and money) or inappropriate ones. Trust me: people who care about taking pictures will bring their own cameras.
Have at least two dedicated people with their own high-quality cameras taking photos. Don't expect that someone with a camera will simply "take care of" the pictures. You'll want people with a lot of photography experience, who know about lighting, contrast, depth of focus, framing, etc., and who are willing to take hundreds of pictures in various places and poses. And it's better if these people aren't also handling several other tasks (I know this from experience!)
Your primary photographer must know photo manipulation. It's virtually impossible to get great-quality shots without some form of post-processing. My work as a website designer and web content producer gave me the skills I needed to provide my sister with high-quality prints capturing her special day.
Alternate options? Perhaps you could take your wedding party to a studio to ensure that at least some of the photos are professionally produced. Or, look into hiring a photography student or someone just starting out in the business (though these things carry their own risks).
These Backyard Wedding Photography Tips will help you take great wedding-day photos!
Cheap Backyard Wedding Music
Make Use of Technology
Technology is awesome. A sound system that used to cost thousands of dollars and require a trained professional to use can now be cobbled together with some decent computer speakers and a MP3 player, smartphone, tablet, or laptop (one or more of which most people already own).
A laptop and compatible 2.1 sound system provided more than enough sound to fill our backyard with music for the wedding march, special dances, and general ambiance, making the cost of music for my sister's wedding a whopping $0. 
Song ideas and more can be found here: Outdoor Wedding Music.
Looking for More Great Backyard Wedding Resources?
Click on the Links Below!
---
Disclosure: This page generates income for authors based on affiliate relationships with our partners, including Amazon, Google and others.